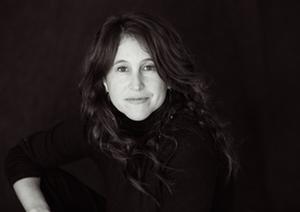 photo: Laura Turbow Photography
Yael Goldstein-Love is the author of The Passion of Tasha Darsky and The Possibilities (Random House), a novel about motherhood and the multiverse. She is completing her doctorate in clinical psychology, with a focus on maternal mental health, and lives with her son in Berkeley, Calif.
Handsell readers your book in 25 words or less:
The Possibilities captures the trippy psychological reality of becoming a new parent by reimagining motherhood as a hero quest with a sci-fi twist.
On your nightstand now:
Two galleys: Lydia Kiesling's Mobility and Edan Lepucki's Time's Mouth, both out midsummer, both phenomenally smart page-turners. (Full disclosure: the three of us used to be in a writing group together, but my opinion on this is still 100% accurate.) Also, two books from my other life in psychotherapy: Psychic Retreats by John Steiner and Trauma and Recovery by Judith Herman, both of which have been on my nightstand for about a year, because experiences with my patients keep sending me back to them. Finally, Junie B. Jones Is a Beauty Shop Guy. My six-year-old son and I are obsessed with this series.
Favorite book when you were a child:
D'Aulaires' Book of Greek Myths. I loved that the beauty of it wasn't sanitized or sentimentalized, that gorgeous images sat side by side with rage, violence, and cruelty. It felt so respectful to my child's mind, because this mingling of good and bad was clearly true of the world as I experienced it, and no one was lying to me about it in those pages.
Your top five authors:
This feels like a trap. If I don't say Henry James, some 25-year-old version of myself is about to cut ties with me. But if I don't say Emily St. John Mandel, then current me feels snubbed. I'll compromise with a mix of long-standing favorites and current obsessions: Octavia Butler, George Eliot, Virginia Woolf, Karen Joy Fowler, Victor LaValle. (Yes, I cheated and snuck in seven.)
Book you've faked reading:
When I was in sixth grade, everyone showed up one week, with no warning, talking about Island of the Blue Dolphins by Scott O'Dell. I have no idea why everyone just upped and read that book all at the same time. I had not, and couldn't stand being left out of the conversation, so I just went ahead and voiced strong opinions about characters and plot lines I was hearing about for the first time. It was frightening to me how well this worked, how the brazenness of my lies made them all the more believable. I think it made me more honest going forward, because I did not care for the black magic I'd just harnessed.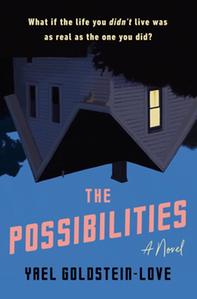 Book you're an evangelist for:
Torn in Two: The Experience of Maternal Ambivalence by Rozsika Parker, which is the best book about motherhood that I have ever read and probably ever will. It should be handed out to every birthing person upon discharge from the hospital, along with the mesh underwear. Actually, it occurs to me that it is the motherhood equivalent of D'Aulaires' Book of Greek Myths in that it takes the gorgeousness of the experience and sets it side by side with the ugly aspects in a way that does not try to sanitize away the bad or sensationalize away the good. It also occurs to me that this is exactly what I tried to do with The Possibilities.
Book you've bought for the cover:
I don't think I've ever done this and am now wondering what deficiency this reveals about me.
Book you hid from your parents:
Are You There God? It's Me, Margaret. by Judy Blume. It seemed very important that my parents not know I was subject to puberty, despite the increasingly obvious evidence of my breasts, and association with that book would have been a dead giveaway.
Book that changed your life:
Victor LaValle's The Changeling. I read that book in a single night when my son was a few weeks old, and it gave me a lifeline. It wasn't just how good the book was--although it's magnificent--it was that the book made me realize that there was meaning to be made from the dark chaos of my postpartum experience, and all I had to do in order to access it was switch the genre of my own internal narration, branch out past realism.
Favorite line from a book:
"If we had a keen vision and feeling of all ordinary human life, it would be like hearing the grass grow and the squirrel's heart beat, and we should die of that roar which lies on the other side of silence." --Middlemarch, George Eliot
Five books you'll never part with:
What makes a book precious to me is whether it cracks open (for me) some new level of understanding about what it's like to be a human being. Literature and psychology both do this, and I think with each of my favorites you could really call them either--literature that's like a secret key to the human mind, psychology that's so forcefully explanatory that it is literature. Among others, these include: Middlemarch by George Eliot; To the Lighthouse by Virginia Woolf; Oh William! by Elizabeth Strout; Playing and Reality by Donald Winnicott; Schopenhauer's Porcupines: Intimacy and Its Dilemmas by Deborah Anna Luepnitz.
Book you most want to read again for the first time:
The Zero by Jess Walter. There's something about that book that astounds me, no matter how many times I read it. It's so meticulously constructed that it seems you couldn't change a word without destroying the whole edifice--and yet so fully alive, I half expect the characters might rearrange the plot whenever I look away. I feel if I could read it again for the first time, I could cut through this paradox and know something new and true about how fiction works.