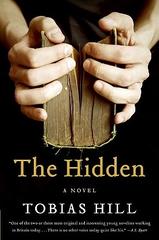 British author Tobias Hill died August 26 at age 53. In 2003, the Times Literary Supplement named Hill as one the best young writers in Britain. The following year he was selected as one of the country's Next Generation poets and shortlisted for the Sunday Times Young Writer of the Year, the Bookseller reported. His collection of stories, Skin, won the PEN/Macmillan Prize for Fiction and was shortlisted for the John Llewellyn Rhys/Mail on Sunday Prize. He also won the Eric Gregory Award in 1995 and the Ian St James Award in 1997. In 2014, shortly before the publication of What Was Promised, he had a stroke, after which he was unable to write poetry and fiction.

Hill's other books include Midnight in the City of Clocks; Zoo; Underground; The Love of Stones; The Cryptographer; Nocturne in Chrome & Sunset Yellow; The Lion Who Ate Everything; and The Hidden.

"I had the very great privilege of representing Tobias for 28 years," said his agent, Victoria Hobbs. "The work he leaves behind is exceptional in range and skill, from the poems to the short stories and the novels, always evolving but consistent in the extraordinary descriptive powers on display.... He was a lovely man to work with, absolutely and appropriately aware of his considerable gifts but also modest and unfailingly gentle and courteous in all his dealings. I will miss him and mind very much that we won't see new work from him in the future."

Paul Baggaley, editor-in-chief at Bloomsbury, told the Bookseller that Hill "was such a talented writer across many forms, and Bloomsbury was very proud to become his publisher of fiction with What Was Promised in 2014. We were also able to acquire his rich backlist, and we are committed to ensuring that Tobias's reputation as a unique voice in contemporary writing continues to be recognized.... It is a great sadness that such a remarkable writing career has been cut short so cruelly."

In the Guardian, Kamila Shamsie wrote: "The defining characteristics of his work are not to be found in place but in the lyrical precision of his language and his careful attention to structure. These were both qualities that he saw as tying his fiction to his poetry. Although he was perhaps best known for the novels, he saw himself as a poet first, and said that if he could have earned a living entirely from poetry he would never have written fiction."