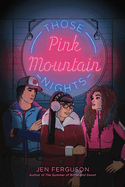 Three teens fight the capitalist agenda, grieve a missing Indigenous girl, and navigate friendship while slinging jokes and pizzas in the incisive, intimately told Those Pink Mountain Nights by Jen Ferguson (The Summer of Bitter and Sweet).
While working at Pink Mountain Pizza (PMP) in Alberta, Canada, Métis 17-year-old Berlin ("Bee") Chambers thinks she spots Kiki Cheyanne Sound, a missing Cree schoolmate. But Bee, usually "firing on all cylinders," isn't sure; she hasn't been sleeping, hasn't been caring. When her boss announces the next day that he is selling PMP to franchisers, Bee rages, vowing to prevent its corporate slaughter.
Jessie is white and doesn't want her father, who already owns half the province, purchasing PMP, either. Her new "messy, excellent" workplace is both a location to flirt with crush Bee and part of her "grand escape"; though her father sees her as his "investment," she wants to leave home and become a welder. Cam, PMP's only full-time employee, dropped out of school to help care for his sisters. He's worried that Bee could meet the same fate as his cousin, Kiki, and wants to help her. Together, maybe their hurt over Kiki can heal. Maybe they can save PMP.
Ferguson's stirring narrative from multiple points of view features a friendship breakup, a manifestation of depression as perfectionism, and racism in the "corrupt colonial country of Canada." Cam, who is Cree, fears his sisters will disappear because "it was what happened to Native women and girls. To Two-Spirit people." Achingly stunning prose, "absolute mischief," and exhilarating kisses compel a fast read. --Samantha Zaboski, freelance editor and reviewer