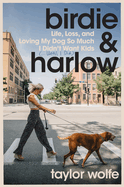 Birdie & Harlow, the first book by blogger Taylor "Tay" Wolfe, is an adventurous memoir filled with bittersweet stories about how Harlow, a much beloved dog, accompanied the author and her husband over 10 years of ups and downs on the way to becoming the parents of their daughter, Birdie.
When Wolfe--eccentric, inherently rebellious, and restless by nature--was in her 20s, she held tightly to the belief that she "wasn't a 'baby person.' " While struggling to find her place in the world, she decided to buy her boyfriend, Chris, a Hungarian vizsla puppy for their two-year dating anniversary. The puppy instantly bonded with Wolfe, who named him Harlow. The dog brought "permanence" to Wolfe's love for Chris as the two went on to marry, move several times, and start a family when they were in their 30s.
Wolfe's spirited narrative traces experiences shared while the couple spent time with sensitive, manipulative, mischievous, and energetic yet adoring Harlow. The trio moved to Chicago, where Wolfe spent many years trying to find her professional niche. She turned her focus to writing--maintaining a blog, The Daily Tay, which humorously documented her life experiences, the lovable antics of Harlow, and ultimately led to her launching a graphic T-shirt and sweatshirt line.
This fun, briskly paced memoir takes a more serious turn when Wolfe shares details about the many heart-wrenching challenges she and Chris faced on the bumpy road to parenthood. Wolfe, however, doesn't dwell or wallow in self-pity. The buoyancy of Wolfe's warm, witty storytelling will have readers tearing up one minute and laughing the next. --Kathleen Gerard, blogger at Reading Between the Lines