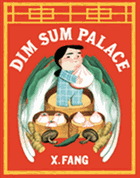 Visual artist X. Fang makes her picture book debut with the toothsome Dim Sum Palace, "inspired by childhood memories of epic dim sum feasts." Her inviting endpapers feature delectable sketches of the tastiest treats, whetting appetites for the royal culinary adventure within.
"Liddy was excited for bedtime, because the next day her family was going to the Dim Sum Palace." Liddy wants to know if it's a real palace with a real empress. Her mother's reply of "You'll just have to wait and see" keeps Liddy awake. When a "delicious smell waft[s] into her room," she must (of course) follow the aromatic trail, eventually reaching a humongous palace kitchen in the midst of oversized dim sum prep. Liddy inadvertently falls into a bowl and gets molded into a dumpling meant for a "very hungry" Empress. Luckily, Liddy's yell--"I'm NOT a dumpling! I'm a little girl!"--halts the Empress's chopsticks.
Every page emanates exuberant energy via Fang's stylized graphite and digitally colored illustrations. Liddy, standing on her bed, immediately takes a superhero stance, announcing she's utterly invincible. Being little never holds her back, as she climbs up bamboo steamers and uses bok choy as a convenient step. Even in the face of possible danger, as she's tossed and turned into dumpling filling, she's more annoyed than frightened.
When Liddy finally gets to the real Dim Sum Palace (a restaurant), Fang ensures it's full of appreciative eaters of all backgrounds, everyone sharing joyful nourishment with family and friends. --Terry Hong, BookDragon