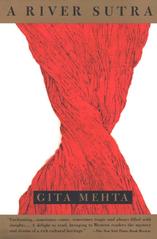 Gita Mehta, the Indian and American writer, journalist, and filmmaker, died September 16 at age 80. Mehta's first book was Karma Cola: Marketing the Mystic East, a work of nonfiction about Westerners who came to India looking for instant enlightenment, that was published in 1979. Her first novel, Raj, about a princess in the early 1900s as royal India was ending, was published in 1989, followed by A River Sutra, a collection of stories about people touched by the river Narmada, in 1993; Snakes and Ladders: Glimpses of India, about the country on its 50th anniversary of independence, in 1997; and Eternal Ganesha, a popular study of the Hindu deity Ganesha, in 2006.

Mehta also produced and directed TV documentaries for various European and U.S. networks and from 1970 to 1971 was a war correspondent for NBC. Dateline Bangladesh was her film compilation of the Bangladesh liberation war of 1971. Mehta was married to Sonny Mehta, longtime president and editor-in-chief of Knopf, who died in 2019.

In the New York Times, Edward Hower called A River Sutra "enchanting," adding that it "takes place in a fabled land of the romantic imagination, drawing on timeless literary traditions. Told with skill and sensitivity, Gita Mehta's tales are a delight to read, bringing to Western readers the mystery and drama of a rich cultural heritage." It is available from Vintage.