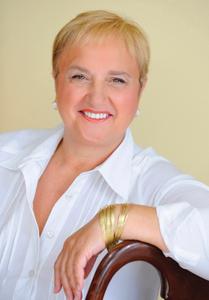 (photo: Diana Delucia)
Lidia Bastianich is an Emmy Award-winning public television host, a bestselling cookbook author, longtime restaurateur, and owner of a flourishing food and entertainment business. Lidia's: From Our Family Table to Yours (Knopf, $35), a tour through her family's favorite recipes, is her 16th cookbook.
Tell us about this book. How does it fit into your body of work? Where do the recipes come from?
This is my 16th cookbook. I've been on TV, on PBS, for 25 years, and in the restaurant business for 50 years. The audience wants the recipes, but they also always want to know more about my family. In this book, I tried to answer most of the questions about "what do your family members like?"
The book is also a tribute to my mother, Erminia, who passed away about two years ago. She was on TV with me; she was in my kitchen, she lived with me and raised my children with me. Inevitably, we would cook and the kids would get involved. It was like Play-Doh, but it was real dough. The recipes in this book are the ones that we have cooked through the years, and that we cook presently.
Do your children and grandchildren like to cook?
They all do like to cook! Some of them are better at it than others. I get these calls from college, from their first apartments in the city--"Grandma, people are coming over. This is what I have in the pantry. What should I make?" It's always a call to Grandma--even though they have my books. There's also a delivery service I run for those [kids and grandkids] here in New York City! I have my soups I make, and I make extra for them. They can come over and pick them up.
I always tell them what I tell everyone: get in the kitchen and cook a good meal. It doesn't have to be a four-course, elaborate meal. A plate of baked lasagne will be so satisfying to your friends or your roommates or family, and it doesn't have to be complicated.
These are all family recipes, but do you have any particular favorites?
Grandma's Chicken and Potatoes! That recipe is trans-generational. My mother had chickens in the coop, potatoes in the garden, the bay leaf bush and the rosemary bush near the house. It started with my grandmother, who also had all the ingredients close by. That's one I really like.
The Mussel Bruschetta is very popular as well. It could be mussels, it could be clams. You cook them and you make the sauce and you grill your bread and put them in the sauce. They make a great appetizer. The Eggplant Rollatini was my mother's favorite. Sometimes people are afraid of eggplant, but you grill the slices and you make the filling with ricotta. Easy. You have it with a little bit of marinara sauce; I tell you how to make marinara sauce in the recipes. I also like filet of sole in lemon sauce--this is an old recipe. Simple, traditional, straightforward--you got yourself a great dish.
One of our other favorites is goulash. The area [of Italy] that I come from, Istria, is on the border. Now it's part of Croatia, and it was part of the Austro-Hungarian empire, way back when. Goulash is a great way to use the secondary cuts of meat. You can use the legs, the shoulder, whatever. It's like stew, but it has that northeastern Italian flavor. And let's not forget soups! I love soups. I make a big pot, and they will last for several meals. I love the corn and bean soup in this book. Like a pasta e fagioli, but instead of the pasta you have fresh sweet corn.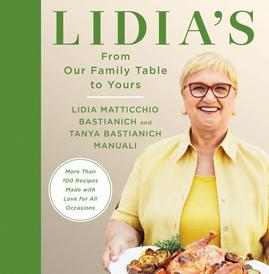 Are there any recipes that would surprise readers to find in this book?
Rabbit in tomato sauce with peppers! We had rabbits when I grew up. Rabbits, ecologically, are an ideal source of protein. They don't need all that much to grow. We had the chicken coop, we had the ducks, rabbits, and goats. I used to feed the rabbits, gathering the young grass to feed them. They reproduce very quickly and they are nutritious.
Vegetables! I love veggies, so they'll see a lot of vegetables, and that's the Italian way. They are also economically sound: braised cabbage, rosemary chickpeas, fennel, roasted onion. The roasted spaghetti squash is interesting; I turned it almost into pasta! You scrape it out with a fork, and it looks like spaghetti.
There are also a few surprising desserts, like Kaiserschmarrn--kind of a pancake topped with jam. You get them at these little chalets, called baite, when you go skiing in the Dolomites. There's also semifreddo: you whip some heavy cream with egg whites and sugar, and it's a very light rendition of a frozen dessert. I also love fruit that is roasted, grilled, poached--we love to have our fruit over dessert.
Tell us about the process of putting this book together. Did it bring up memories?
Food is culture. Food tells a story. I have to put it in the context of me and my family, and people out there know us by now. What I hope to do is bring our family and our flavors into their homes. I don't know if they'll ever get to my restaurant, but they can get some of my flavors, some of my philosophy, into their homes. People send me e-mails saying they made my dishes, and "it's like having Lidia here with us." They send me pictures and all. And it is. I can enter into someone's home with my flavors.
I'm not an inventive chef. These are the recipes and the flavors of the Italian tradition. My other books take the viewer and the cook all over Italy, but these are my home recipes. I also want to emphasize that it's not hard to get a good meal going, a nutritious meal. Italian cuisine is about that. I focus on the quality of the products and the simplicity of them. I want people to get in the kitchen--and to know that they can do it! --Katie Noah Gibson, blogger at Cakes, Tea and Dreams