Week of Tuesday, April 19, 2022
In this issue, we review Spear, Nicola Griffith's Arthurian-inspired novella that draws on legend, myth and history; Katherine Locke's YA novel This Rebel Heart, which incorporates surprising elements of fabulism into a breathtaking, affecting work about historic change in 1956 Hungary; and Karthik Delivers--in more ways than one--in this middle-grade novel by Sheela Chari, in which Karthik moves from delivering groceries to lines in a play--along with many more great new books.
In the Writer's Life, poet and cellist Khan Wong describes the influences that brought him to his first foray into science fiction writing, The Circus Infinite.
The Best Books This Week
Fiction
New and Selected Stories
by Cristina Rivera Garza, transl. by Sarah Booker et al.
Cristina Rivera Garza, one of Mexico's most important contemporary authors, is progressively gaining renown in the U.S. (where she's lived since 1989) and has won a 2020 MacArthur Fellowship and a 2020 National Book Critics Circle finalist nod in Criticism. Indie press Dorothy's release of New and Selected Stories, which gathers 30-plus years of intriguing work, gives English-speaking readers access to Rivera Garza. Sarah Booker, who also translated Rivera Garza's The Iliac Crest, leads the translation team, which includes Francisca González Arias, Lisa Dillman, Alex Ross and Rivera Garza herself.
The collection's four parts retain their original Spanish titles: the first three sections were previously published, the fourth is a collection as yet unpublished in Spanish. In Part I's "La Guerra no importa" (War Doesn't Matter), Rivera Garza's main character in both "Unknowing" and "Like Bitches, Like She-Devils" is a woman named Xian, who recounts an overnight encounter with an abandoned lover in the former and who becomes the victim of a kidnapping in the latter. Xian returns, at least in name, in "The Last Sign" in Part III, La frontera más distante (The Utmost Border), in which she becomes a missing object-of-sorts for "the Man Who Swore He Had Lost a Woman from China." An unnamed Detective also recurs through numerous stories--searching but never quite finding.
Gender disparity, violence, migration and disorientation are a few of the recurring themes throughout this collection; Rivera Garza's presentations invite continued interpretations and investigation. As if aware of her stories' lingering, puzzling effects, Rivera Garza presciently summarizes, "We have shared the unintelligible together. We are kin now. We will never be alone." --Terry Hong, Smithsonian BookDragon
Dorothy, $16, paperback, 280p., 9781948980098
Shadows of Berlin
by David R. Gillham
An ocean and roughly six years separate Rachel Perlman from the horrors of World War II, yet in Shadows of Berlin, David R. Gillham's third novel, life as a Manhattan housewife can't erase the trauma and memories that haunt her.
Rachel's experiences--living undercover as an adolescent, hiding from the Gestapo who patrol Berlin, her new life as a refugee in New York in 1949--underscore the dramatic contrasts that trauma survivors often face. Her marriage to Aaron, "a Jew from Flatbush," offers love and security. But Rachel can neither disclose nor forget her horrible secret, and "it's her guilt that pushes her to mad thoughts. But her desire for a just atonement is strong. Biblical, even." Gillham (Annelies) alternates seamlessly between passages set in Berlin and New York to reveal Rachel's past and present. He liberally weaves in Yiddish and German, both languages serving as a reminder of the lives Rachel must bridge. Imaginary conversations with the specter of her mother--her "eema," who appears in the "clogs and rags" of Auschwitz--are haunting. Her mother had been a renowned artist in Berlin, and a famous portrait that appears in New York (in a credible turn of events) leads Rachel to confront the most horrific episode of her life.
Shadows of Berlin and its details of Jewish persecution balance the tragedy of the Holocaust with glimpses of hope and redemption, the latter bringing Rachel closer to healing and peace. --Cheryl McKeon, Book House of Stuyvesant Plaza, Albany, N.Y.
Sourcebooks Landmark, $26.99, hardcover, 416p., 9781728250441
The Shadow House
by Anna Downes
A woman's latest move jump-starts the deliciously creepy plot in The Shadow House. This second superb psychological thriller from U.K.-born author Anna Downes (The Safe Place) smoothly incorporates a foreboding house that may be haunted, nosy neighbors, domestic suspense and a soupçon of the supernatural--all occurring in a seeming utopia that could spiral out of control at any moment.
Single mother Alex Ives copes with stress and bad relationships by fleeing, jamming her belongings and her children, Oliver, age 14, and Kara, eight months old, into their aging car. Her latest move is to the new "ecovillage" of Pine Ridge in the Australian countryside--a decision made after taking a pamphlet from a stranger. Pine Ridge with its "Lego-spill of buildings" promises isolation and "absolute" safety, far from city chaos, but the real chaos may be within Alex. Before she even opens the door of the demo house she's renting for three months, she finds a box with a dead bird on the doorstop. She then hears rumors of a witch haunting the woods, sees weird carvings on the trees and learns about a teenage boy who disappeared from the mysterious empty farmhouse on the grounds. Most of her new neighbors seem friendly, especially helpful Jenny, who lives in the upstairs unit, but a few are downright rude and seem angry that Alex has arrived.
Tensions are high as the mentally fragile Alex vacillates between staying or leaving and Oliver's teenage angst escalates. Downes makes Pine Ridge simultaneously a paradise and a frightening enclave. --Oline H. Cogdill, freelance reviewer
Minotaur, $27.99, hardcover, 320p., 9781250264848
Science Fiction & Fantasy
Nicola Griffith (Hild) draws on legend, myth and history in Spear, an Arthurian-inspired novella centered on tales of Peretur, one of the legendary Knights of the Round Table. Peretur was once a girl with no name, loved by her mother and hidden in a protected cave in the woods. But over time, the "urge to roam increased upon her like thirst" until it came time for her to leave her home and explore the world, no longer protected by her mother's wards or the cover of secrecy. "You are my Bêr-hyddur," her mother tells her before she departs, "my spear enduring. You are Peretur."
In the wilds of the world, Peretur takes refuge in the guise of a man. She drops her voice and hides her power until a chance encounter with Llanza, one of the Companions of Arturus, and eventually with Nimuë, a woman with deep wells of power who serves as Arturus's counsellor. As Peretur is drawn increasingly into the circle of Arturus's court, Griffith deftly weaves tales of the Tuath Dé and their coveted objects of power with legends of Camelot and Arthur's court. What emerges from these threads is a lush and lyrical novella, steeped in the historical details of sixth-century Wales and the unreliable, if plentiful, Arthurian legends. In her author's note, Griffith describes this source material as "fantastic fuel for the imagination." In her capable hands, this fuel fires a beautiful, atmospheric novella, a queer retelling of an age-old myth that is a wonder to behold. --Kerry McHugh, freelance writer
Tordotcom, $19.99, hardcover, 192p., 9781250819321
Time Zone J
by Julie Doucet
Julie Doucet (Dirty Plotte) is a legendary alternative comics pioneer, especially in an arena dominated by men. Her fame was further elevated by her frustrated abandonment of the industry in 2006.
Welcome now to Time Zone J--as in Julie, most likely--an intense, electrifying, diary-inspired autobiographical title. "This book was drawn from bottom to top. Please read accordingly," Doucet directs. Already, her work is unpredictable--rarely are comics viewed so unconventionally. Even more striking is Doucet's flowing presentation, originally created in an accordion-style notebook: the result is that every panel-less, borderless page overlaps into the next so that if the pages could be lined up, long edge to long edge, the effect would be that of a continuous scroll.
Multiple images of Doucet immediately greet audiences, with the lower-most bubble announcing "me." On the page, Doucet reminds readers (and herself?), "I had vowed to never ever draw myself again." Despite hurting eyes and a migraine (as if her body is literally getting in her way), she quickly fills pages with random dreams: visiting a friend, meeting a cigar-smoking girl, a bulldog-driven sports car. In between, she hints at her past--"it's me, at 12," her 52-year-old-self says, pointing at another version of herself; then "it's me at 16"--until a small head pops up from Doucet's hair, rather Athena-esque, demanding "c'mon, tell us a story!"
Thirty-one years ago, Doucet won the 1991 Harvey Award for Best New Talent. Her reemergence makes her new all over again to another generation of comics fans. And savvy, knowing enthusiasts will have a field day reacquainting themselves with her work. --Terry Hong, Smithsonian BookDragon
Drawn & Quarterly, $29.95, paperback, 144p., 9781770464988
Deaf Utopia: A Memoir--and a Love Letter to a Way of Life
by Nyle DiMarco and Robert Siebert
Nyle DiMarco's inspiring memoir captures his joy of growing up, along with his twin brother, in a home with three other generations of Deaf family members and the frustrations of navigating a world designed for and run by hearing people. The innovative way in which DiMarco and coauthor Robert Siebert tell these stories is by interspersing American Sign Language (ASL) into the English text. What is known as ASL gloss is a transcription, sign by sign, of ASL on the page, and it is represented in the memoir in ALL CAPS. ASL gloss has its own style rules, so it can be read initially as broken English. But it reminds readers that ASL is syntactically different from spoken or written English.
After graduating with a mathematics degree, DiMarco began freelance modeling and appeared on America's Next Top Model in 2015 and Dancing with the Stars the following year. He won both competitions. (The chapter on DWTS is a rollercoaster of emotions.) He was outed by a Deaf vlogger at age 26 and came out on Twitter as "sexually fluid." This memoir affords him the space to explore his sexuality with much more depth and honesty. Mixed in with his empowering autobiographical tales are fascinating historical facts and stories from Deaf history and culture. He explains the difference between ASL and Signed Exact English (SEE); how the average lip-reader captures only around 30% of a speaker's words; and the invention in the 1960s of the teletypewriter (TTY), which could be considered a kind of text messaging between Deaf people using the machine. Deaf Utopia is an empowering, eye-opening and beautifully expressed memoir. --Kevin Howell, independent reviewer and marketing consultant
Morrow, $27.99, hardcover, 336p., 9780063062351
The Man Who Invented Motion Pictures: A True Tale of Obsession, Murder, and the Movies
by Paul Fischer
Paul Fischer (A Kim Jong-Il Production) is a meticulous writer, screenwriter and film producer known for dismantling the secretive worlds of true-crime stories. In The Man Who Invented Motion Pictures, Fischer probes the life of Louis Le Prince, a struggling independent inventor largely lost to history, who, in 1888, first captured moving images of his family, and later secured patents in four countries for his innovation. But, in 1890, one month prior to unveiling his brainchild far and wide, Louis visited his estranged brother in Dijon, France. At the reunion of these now middle-aged siblings, Louis, with fervent passion and zeal, shared details about his creation and how he believed motion pictures "could alter the course of humankind" and "revolutionize the human experience, as drastically as the railroad and the telephone." After their visit, Louis set off to take an express train back to Paris, en route to the U.S., but somewhere between Dijon and Paris, he vanished and was never seen again.
His disappearance was never solved, but his devoted, long-suffering wife spent the remainder of her days trying to prove her husband had been kidnapped and killed--all arranged by Thomas Alva Edison, who she claimed stole his invention and, in 1894, launched it as his own. Edison claimed that his Kinetoscope technology marked the birth of motion pictures.
With a spellbinding presentation supported by painstaking research, Fischer puts forth evidence to try to unravel the mystery of Le Prince's life and death. The Man Who Invented Motion Pictures is a work of art unto itself. --Kathleen Gerard, blogger at Reading Between the Lines
Simon & Schuster, $28.99, hardcover, 416p., 9781982114824
That Summer
by Jennifer Weiner
Jennifer Weiner's page-turning, revealing novel That Summer, set in a suburb of Philadelphia and on Cape Cod, examines the gray area of denial that holds the tension between innocence and guilt.
Daisy Shoemaker is lonely. Her handsome, successful husband, Hal, is busy with his career as a lawyer; her teenage daughter, Beatrice, back home after her recent expulsion from boarding school, wants space to develop her online enterprise; and Daisy's best friend recently died. So when a flurry of e-mails come to Daisy instead of to another woman with a similar e-mail address--someone more successful, surely, with a fuller life--she arranges to travel from Philadelphia and meet up with this other woman in New York.
Jennifer Weiner (Mrs. Everything; Hungry Heart) starts with an idyllic summer on Cape Cod. But it soon becomes clear that something dark and disturbing happened there. The author nimbly exposes the underbelly of wealth and social position, and the harm that comes to perpetrators as well as their victims. Everyone has kept a secret from Daisy. But when it's out, she must decide whether to live a lie or embrace the truth, whatever the cost. Weiner explores the after-effects of trauma, and honesty as the first steps out of the pain and shame that often accompany it. The plot points she layers in from the very first pages contribute to a wallop of a reveal; just when readers might think they know where she's headed, she takes a turn, ever true to the authenticity of her characters. --Jennifer M. Brown, senior editor, Shelf Awareness
Washington Square Press, $17.99, paperback, 448p., 9781501133558
Helen Oyeyemi's command of magical realism is practically mind altering in her unforgettable seventh novel. Under a somewhat twee pretense, freshly committed partners Otto and Xavier Shin, accompanied by their faithful mongoose, travel by boutique train carriage for their "non-honeymoon." But from there, Peaces--a Shelf Awareness Best Book of the Year--sprawls into astonishing, and even frightful, territories of the interior, more so than new horizons abroad.
The couple's peculiar accommodations aboard The Lucky Day's Clock Carriage are a gift from Do Yeon-ssi, the aunt who raised Xavier during "strange times for the Shins of Sangju." The train is owned by the mysterious theremin savant Ava Kapoor, and is managed by the hilariously blunt Allegra Yu. The only other consistent occupant seems to be the "neither hostile nor curious, but quite French" Laura De Souza, "a black [Catherine] Deneuve" (circa 1968) with unsettling ties to both Xavier and Ava's pasts.
Oyeyemi (Boy, Snow, Bird; Gingerbread) may appear to direct this beguiling novel off the rails at times, but its manic twists never spin out. They instead serve to reorient the gravity of the situation. The Shins' getaway becomes hitched to the rising stakes surrounding a sizable inheritance promised to Ava by a former employer. The only catch is that she must prove her sanity on the final day of a train ride riddled with apparitions: phantom whistling, disappearing mongoose catchers, perplexing incidents of "bespoke vandalism" and mystifying "canvases... bathed in white."
A superbly fun Rorschach test of staggering creativity, Peaces asks how much attention one person can spare another in an increasingly chaotic world. --Dave Wheeler, associate editor, Shelf Awareness
Riverhead, $17, paperback, 272p., 9780593192344
Razorblade Tears
by S.A. Cosby
Ike Randolph, who is at the center of S.A. Cosby's brutal and beautiful Razorblade Tears--a Shelf Awareness Best Book of the Year--has no illusions about his mission to avenge the death of his son: "Folks like to talk about revenge like it's a righteous thing but it's just hate in a nicer suit." Ike has been out of prison for 15 years and is making good money running Randolph Lawn Care and Landscaping when his only child, Isiah, is fatally shot, as is Isiah's husband, Derek, in Richmond, Va. At the funeral, Ike meets Derek's father, trailer-dwelling ex-con Buddy Lee; neither man could say that his behavior toward his gay son was supportive, which ratchets up the grief.
The murder case stalls out, in no small part because people who knew Isiah, a reporter, and Derek, a chef, won't talk to the cops, so in a private moment Buddy Lee proposes to Ike that they take charge: "Folks are liable to tell a couple of grieving fathers shit they wouldn't tell the police." Ike is reluctant at first, but not for the reason Buddy Lee suspects: "He wasn't afraid to spill blood. He was afraid he wouldn't be able to stop."
Buckets of blood are spilled, but in a volume that's proportional to the amount of soul-searching going on and the number of jokes being cracked. If Cosby's previous novel, Blacktop Wasteland, confronted fans of noir with a setting that's miles outside the white urban stronghold typically home to the genre, Razorblade Tears ups the ante by introducing characters forced to grapple with their thoughts on homosexuality and interracial love while Confederate flags fly around them. --Nell Beram, author and freelance writer
Flatiron, $17.99, paperback, 336p., 9781250252715
Karthik Delivers
by Sheela Chari
Karthik has a great memory, but what is that good for? All it's done lately is help him remember delivery orders for his dad's store. However, when a customer offers another way to put his memory to use, he gains a new perspective in this ambitious middle-grade coming-of-age novel.
Fourteen-year-old Karthik thinks in lists and can memorize most things without trying, like all 50 flavors at Carmine's Ice Cream Parlor. But instead of spending the summer eating said ice cream with his friends, Karthik's dad has him delivering groceries to help keep the family's struggling store afloat after the financial crisis of 2007-2008. During one delivery, Karthik meets Shanthi, a grad student working on her first play. Shanthi is convinced he's perfect for the starring role of Leonard "Lenny" Bernstein. As the son of Indian immigrants who has no background in acting, Karthik is skeptical. But when he decides to give it a try, Karthik's worldview and sense of self expand.
Karthik Delivers by Sheela Chari (The Unexplainable Disappearance of Mars Patel; Finding Mighty) is a memorable, contemporary story about growing up and learning about yourself. Karthik grapples with timeless teen issues--fitting in, bullying, parental pressures--as well as more modern problems that might parallel issues kids are dealing with today. Chari focusing Shanthi's play on Leonard Bernstein builds in a fun West Side Story soundtrack. Karthik's categorical lists about the other characters--"Miles (short, glasses, crossword)"--provide quick and often telling introductions. At its center, Karthik Delivers is about finding your own path at any age and daring to follow it. --Kyla Paterno, freelance reviewer
Amulet Books, $17.99, hardcover, 272p., ages 10-14, 9781419755224
This Rebel Heart
by Katherine Locke
This Rebel Heart incorporates surprising elements of fabulism into a breathtaking, affecting work about historic change in 1956 Hungary. Katherine Locke (The Girl with the Red Balloon) also includes a swoon-worthy relationship among three young people perched on a "knife's edge of tension."
With two weeks remaining until she and her aunt, her one living relative, escape Communist Budapest, Csilla only has to keep her head down and avoid attracting the attention of the secret police. But then, on the cusp of the ill-fated Hungarian Revolution, Csilla meets two young men who change the course of her life. One, with "moppish hair and long, gangly limbs," has an uncanny ability to show up when he is most needed. The other is a handsome, dark-eyed boy who lost his lover in a government raid. Csilla is drawn into the ill-fated uprising, driven by her rage at the political machine that "disappeared" the majority of the Jewish community during the Holocaust and the violent years that followed.
The Hungarian Revolution may not be a familiar moment in history for many young readers, but the queer characters, gentle three-way romance and passionate socio-political activism in This Rebel Heart are likely to strike a recognizable chord for teens of any era. Locke so smoothly blends magic with historical fiction, it might take a moment to realize that Budapest is actually--not figuratively--colorless and that the Danube does, in fact, have magical powers. As does this book. --Emilie Coulter, freelance writer and editor
Knopf Books for Young Readers, $18.99, hardcover, 448p., ages 12-up, 9780593381243
The Writer's Life
Reading with... Khan Wong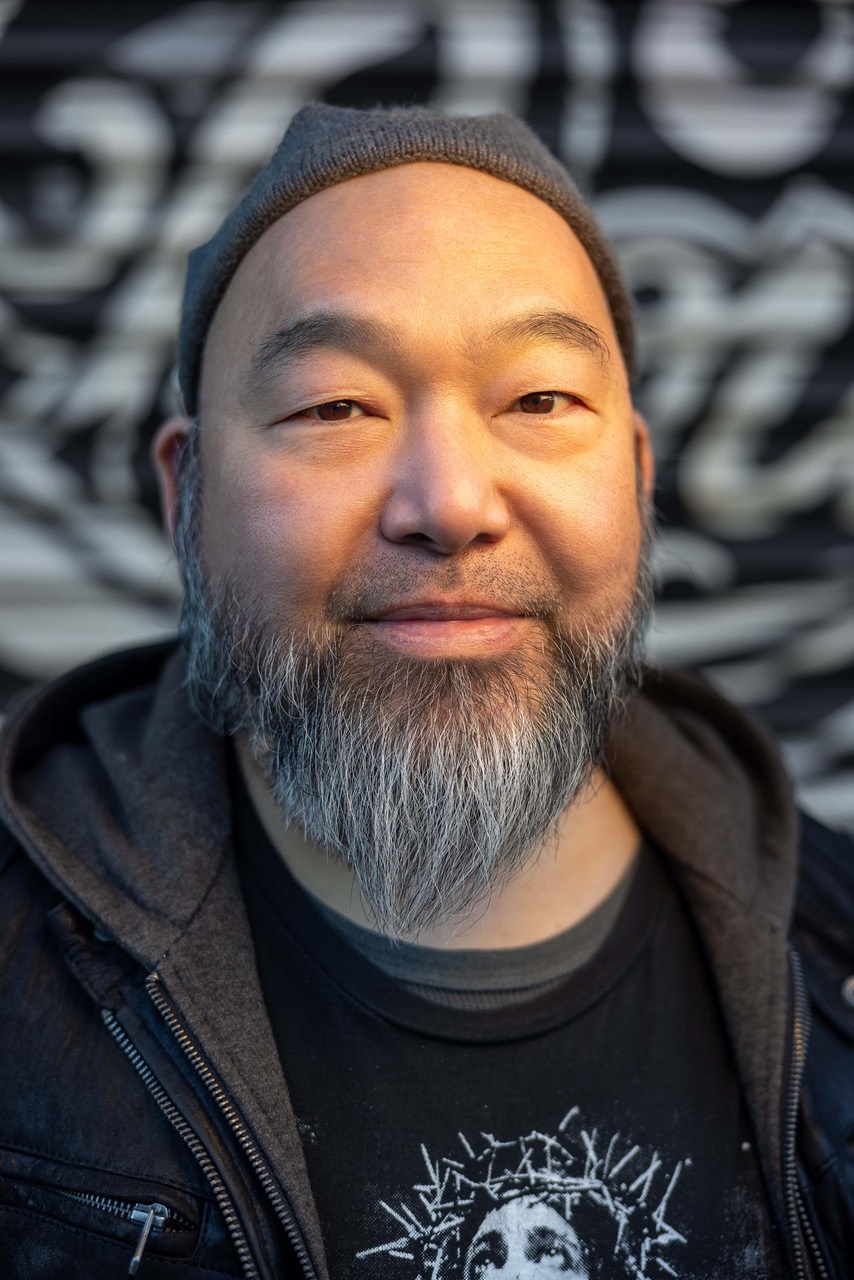 photo: Rich Porter
Khan Wong has published poetry and played cello in a folk-rock duo. As an internationally known hula hoop teacher and performer, he's also toured with a circus, taught workshops all over the world, and produced flow arts shows in San Francisco. He's worked in the nonprofit arts for many years, most recently as an arts funder for a public sector grantmaking agency. His science fiction/fantasy debut is The Circus Infinite (Angry Robot Books), a found-family, queer space fantasy.
Handsell readers your book in 25 words or less:
Love found families, aliens and circuses? Want to dive into the bohemian underbelly of a spacefaring civilization? This book is for you. With love!
On your nightstand now:
Currently in the middle of Jade City by Fonda Lee. A bit late to the party on this one, but it is definitely living up to the hype. A martial arts crime syndicate fantasy featuring jade-fueled magic? All the yes. I'm looking forward to finishing the whole trilogy.
Favorite book when you were a child:
Stowaway to the Mushroom Planet by Eleanor Cameron. This was my first exposure to aliens and space travel in a book and it really impacted my imagination. I got it at a Scholastic Book Fair.
Your top five authors:
Ursula K. Le Guin: For her emphasis on the social sciences and the way she explored race, gender, sexuality and different ways society can be organized. Everyone knows the big novels, but my favorite of hers is The Word for World Is Forest, a novella with a very strong environmentalist theme.
Octavia Butler: I admire the way she explores race and power dynamics (related to race and other factors) and politics. And just really great stories. My favorite work of hers is the Xenogenesis Trilogy (re-issued as Lilith's Brood), which features some amazing aliens and a deep exploration of what's essentially human.
Neil Gaiman: The Sandman series is a foundational text for me. I love it for how it blows open what comics can do, the meta-narrative about storytelling and myth, the worldbuilding. The Endless are a brilliant creation. I also love his prose novels, with Neverwhere being a particular favorite.
Jonathan Lethem: I've followed his career since his debut, and admire the way his work erodes the line between genre and "literary." It's an aspect I hope to nurture in my own writing. That being said, I do prefer the early works. Amnesia Moon is my favorite.
Maxine Hong Kingston: Her deep exploration of the Chinese American experience, and the way she blends nonfiction and fiction really inspired me when I first set out to write. I feel like I'm hearing stories from a wise auntie when I read her. My favorites of hers are her earliest works, The Woman Warrior and China Men. I think of them as a duology.
Book you've faked reading:
Moby-Dick by Herman Melville. It was assigned reading for a class in college, and I somehow got a B+ on the paper I wrote for it.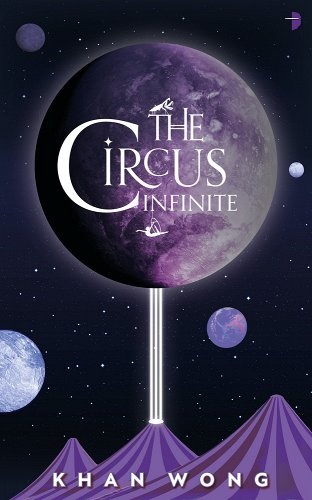 Book you're an evangelist for:
I have two: Geek Love by Katherine Dunn and Imajica by Clive Barker. I fell in love with the, shall we say, eccentric, carnival family of the former and the epic worldbuilding and unfolding mysteries of the latter. Both of these books had their heyday but seem to be fading in the mists of time. They're both masterpieces, in my opinion. Both of these books deserve to be read, studied and analyzed especially by aspiring writers. Both would make for fantastic adaptations in the right hands. Imajica just cries out for the big-budget premium cable/streaming series treatment.
Book you've bought for the cover:
The Ten Thousand Doors of January by Alix E. Harrow. It was the combo of the wonderful, evocative title and the cover art that did it. I rarely buy a book on this basis alone; I can't really think of another one.
Book you hid from your parents:
The Lord Won't Mind by Gordon Merrick. Because it's very, very gay. I was 16 and was so nervous buying it on my lunch break at my job at the mall.
Book that changed your life:
I can't say that any book has changed my life, to be honest. But the book that blew my mind the most and really shifted my perspective on life and the world and humanity was Ishmael by Daniel Quinn.
Favorite line from a book:
"The sky above the port was the color of television, tuned to a dead channel."
The famous opening line from Neuromancer by William Gibson. Not a profound line that reveals the meaning of life or anything, but the conciseness, the rhythm, the mood and hint of worldbuilding in this simple sentence is just *chef's kiss*.
Five books you'll never part with:
Brief Lives by Neil Gaiman. It's my favorite arc of the Sandman series. If I can count the whole series as one book, I would. But if I have to consider them individually, this one. It's also signed, made out to me and my partner, with a sketch of Dream by Neil's own hand. I watched him draw it!
Imajica by Clive Barker. One of the books I evangelize. I just love it and have re-read it multiple times. Also a signed edition.
The Complete Poems of Cavafy, Rae Dalven translation. Before I focused on writing SFF, I wrote poetry and Cavafy was foundational for me.
Engine Summer by John Crowley. Along with Imajica, one of the books I've most re-read. I love the world, and the pervasive melancholy just gets me.
The Heart Is a Lonely Hunter by Carson McCullers. I read this for the first time during an idyllic summer between my freshman and sophomore years of high school. The hauntedness, the longing, the FEELS.
Book you most want to read again for the first time:
The Fifth Season by N.K. Jemisin. For the revelation. If you know, you know.
The story or concept you wish you had come up with:
Not a book, but the concept of the Netflix series Sense8. Disparate strangers who find themselves mysteriously psychically linked? All the themes of connection, empathy, community with action and in-your-face-queerness? Yeah.
Rediscover
Rediscover: The Last Days of Ptolemy Grey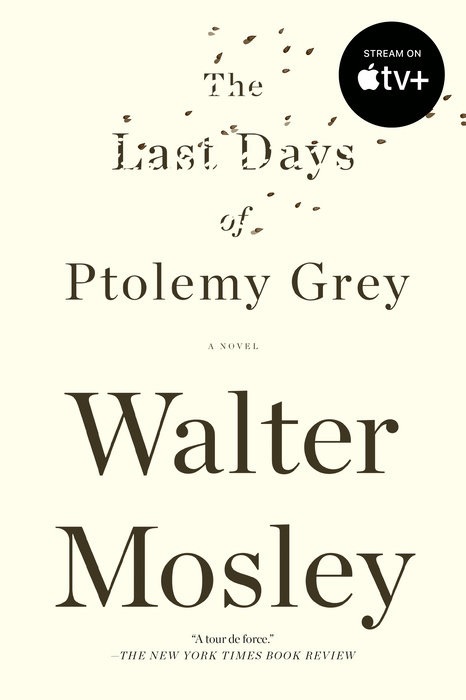 The Last Days of Ptolemy Grey, a six-episode miniseries based on the novel by Walter Mosley, recently ran on Apple TV+, with Samuel L. Jackson starring as the titular Ptolemy, a 91-year-old man with dementia who is given the opportunity to remember his past at great cost. In a lucid frenzy, Ptolemy discovers deadly secrets from his long life. The cast also includes Dominique Fishback, Cynthia Kaye McWilliams, Damon Gupton, Marsha Stephanie Blake, Walton Goggins and Omar Miller. Mosley adapted the script from his book and served as executive producer alongside Jackson and Mosley's producing partner Diane Houslin. The series has an 87% approval rating on Rotten Tomatoes.

While he has also written science fiction and children's books, Walter Mosley is best known for his crime fiction, particularly the series starring Black private investigator Easy Rawlins--beginning with Devil in a Blue Dress (1990) through Blood Grove (2021). His other series include Fearless Jones, Leonid McGill, Socrates Fortlow and Crosstown to Oblivion. Mosley received the National Book Foundation Medal for Distinguished Contribution to American Letters in 2020 and is also the author of several plays, works of nonfiction and television scripts. The Last Days of Ptolemy Grey is available in paperback from Riverhead Books ($17).