Week of Friday, October 7, 2022
AUTHOR'S RECOVERY JOURNAL INSPIRES NOVEL
Michael Eon's These Things Happen is "raw and compelling" (Readers' Favorite), "urgent [and] beautifully written" (BookLife) with "smooth, evocative prose, well-drawn characters, and the intriguing time and place of 1970s Brooklyn" (BlueInk Review).
Flashing through Daniel Zimmer's life, past and present, These Things Happen is an unflinchingly honest account of the inevitable ups and downs of coming-of-age and recovery. With the atmospheric backdrop of 1970s Brooklyn, These Things Happen fearlessly examines generational abuse, the transformative power of confronting addiction, and the profound life-changing potential of redemption. "With a vivid, engaging storyline," Eon's debut novel is "a thoughtful read" (BlueInk) that "imparts a compelling message" (BookLife). "The energy of being a child in a city that will eat you up, if you let it, seeps through the pages" (Readers' Favorite).
Daniel Zimmer will do almost anything to end his pain -- except for the one thing that might work.
Growing up in 1970s Brooklyn under the shadow of his tyrannical father, Daniel Zimmer struggles to find a sense of safety and belonging. Daniel and his brother Max find moments of solace in the rebellious rhythms of early punk and metal bands. But when faced with an unexpected family tragedy--for which Daniel feels responsible--Daniel finds escape in the numbing grip of alcohol, offering temporary relief from his pain and guilt. Carrying childhood trauma into adulthood, Daniel spirals deeper into the clutches of addiction. Just as he finds the strength to embrace sobriety, the ghosts of his past resurface, forcing him to confront his demons head-on.
What began as catharsis through writing about his own recovery journey inspired Michael Eon's powerful examination of a life-long relationship with addiction and recovery in his debut novel, These Things Happen.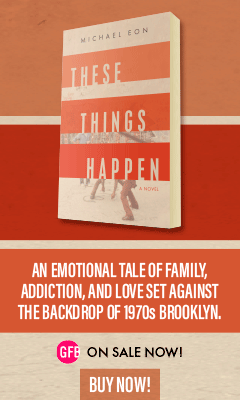 Sponsored Content