Week of Friday, September 22, 2023
We review a pair of star-worthy history titles this week: Bartleby and Me by Gay Talese, who takes readers from his days as copyboy at the New York Times to a Sinatra concert--three pieces in all, "written with painterly precision and respect for hard workers"; and Scott Shane's Flee North, the "riveting account" of Thomas Smallwood, a freedman who helped other enslaved people escape. Plus three teens fight the capitalist agenda and grieve a missing Indigenous girl, while slinging jokes and pizzas in the "incisive, intimately told" Those Pink Mountain Nights by Jen Ferguson. And so many more!
And don't miss The Writer's Life with Booker Prize-winner Anne Enright discussing how generations grapple with a family legacy in The Wren, the Wren (reviewed in this issue).
The Best Books This Week
Fiction
Science Fiction & Fantasy
Starter Villain
by John Scalzi
There's no loyalty among thieves or supervillains in Starter Villain, the laugh-out-loud science fiction comedy from John Scalzi (The Kaiju Preservation Society; The Last Emperox; The End of All Things). Charlie's life has hit a wall. He's a divorced journalist-turned-substitute teacher, living in a house owned by his late father's estate, and has hopes to buy the local pub. But he can't put the house up for collateral on a loan without the agreement of his half-siblings, who would rather sell it. Then his estranged Uncle Jake dies, and what initially seems like a small provision in the will to reward him for representing the family at the funeral turns out to be much more. Besides the parking-structure empire via which Jake allegedly made his billions, he had a thriving supervillain business, and Charlie has inherited it all. That includes a feud with a band of villainous competitors.
Starter Villain is one of Scalzi's lighter works, as evident by the premise. There is the occasional pointed jab at the nefarious and frequently incompetent nature of billionaires as a class, but things like talking dolphins who go on strike and discussions of the logistics of throwing somebody into a volcano make for a summer blockbuster action-comedy of a novel. The genetically enhanced cats employed as spies and trained in typing are particularly delightful, especially when it comes to Charlie's bond with Hera, whom he unwittingly took in as a stray. Fans of Scalzi's more comedic novels will find this to be everything they could want. --Kristen Allen-Vogel, information services librarian at Dayton Metro Library
Tor, $28.99, hardcover, 272p., 9780765389220
Bartleby and Me: Reflections of an Old Scrivener
by Gay Talese
Gay Talese (High Notes), a pioneer of literary journalism, has long been beguiled by character, as he has proven across decades of writing. Bartleby and Me: Reflections of an Old Scrivener is a three-part this-and-that victory lap showcasing Talese's worthwhile specialty: writing about unsung people. The book's title is a reference to "Bartleby, the Scrivener," what he calls Herman Melville's "great short story about a nobody," and Talese borrows Melville's subtitle, "A Story of Wall Street," for the first offering in Bartleby and Me. The piece focuses on the Bartlebys that Talese observed at the New York Times, where he began his career as a 21-year-old copyboy in 1953. The book's second piece, "In Sinatra's Shadow," is the story behind "Frank Sinatra Has a Cold," Talese's canonized 1966 Esquire article. His subject--both here and in 1966--isn't Sinatra so much as the people around him. The book's third offering, "Dr. Bartha's Brownstone," is about what led a successful Romania-born physician to literally blow up his Manhattan home, and himself with it, in 2006. This being a Talese story, it's also about the people who were in Bartha's orbit and part of the brownstone's history and post-explosion fate.
All three pieces are written with painterly precision and respect for hard workers. Talese's own working-class roots surely had a hand in nurturing his lifelong democratizing impulse, which he calls "my reporting on the lives of non-newsworthy people: doormen, bootblacks, dog walkers, scissor grinders...." The list continues, and it's readers' good fortune that Talese does too. --Nell Beram, author and freelance writer
Mariner, $28.99, hardcover, 320p., 9780358455479
Flee North: A Forgotten Hero and the Fight for Freedom in Slavery's Borderland
by Scott Shane
In Flee North: A Forgotten Hero and the Fight for Freedom in Slavery's Borderland, Scott Shane (Objective Troy; Dismantling Utopia) tells the story of the man who led hundreds along the underground railroad and the first--in a letter published in 1842--to call it by that name in print. (The letter "marked a signal moment in the history of both the American battle against slavery and the American language.") Thomas Smallwood, born into slavery in Maryland, was in the rare position of being able to purchase his freedom from an enslaver who first ensured he was taught to read and to write, and then fulfilled a pledge to manumit him when he turned 30. Smallwood lived and worked quietly for a decade as a shoemaker in Washington, D.C. Although his own journey to freedom did not begin with an escape to the northern states, Smallwood reached out to white activist Charles Torrey and formed a partnership that would actively encourage and aid hundreds in fleeing slavery, often taking whole carriage-loads of families at a time. All the while, Smallwood wrote biting satirical articles for the newspapers in which he mocked the slave traders and slave catchers his charges eluded.
Using Smallwood's newspaper columns, his memoirs, and other contemporaneous documents, Shane builds a convincing case that history unjustly erased Smallwood and left the spotlight on Torrey alone. Readers will find this riveting account an excellent step toward restoring to Smallwood the place in public memory he richly deserves. --Kristen Allen-Vogel, information services librarian at Dayton Metro Library
Celadon, $30, hardcover, 352p., 9781250843210
Poet and creative writing professor Mary Quade (Local Extinctions) won the Non/Fiction Prize from the Journal literary magazine for her third book, Zoo World. Quade explores the interconnectedness of life and conservation strategies in these 15 thoughtful nature and travel essays, which exemplify compassion for people and, particularly, animals. The collection makes a round-trip journey, beginning at Quade's Ohio farm and venturing further afield in the Americas and to Southeast Asia before returning home. The opening piece, "Hatch," juxtaposes her ducklings' fragility with the aftermath of an oil spill to pose probing questions about human responsibility. Often, alternating segments have a personal experience running in parallel to an environmental or societal issue; "In the Classroom" compares a former school in Cambodia--once a Khmer Rouge prison and interrogation center and now a genocide museum--with the spate of U.S. school shootings, including one in the author's area.
The title essay considers conditions in zoos in Vietnam and elsewhere, and ponders notions of human dominion and animals as "ambassadors." "In Harmony with Nature" examines dairy-industry marketing, and wonders what it might mean to truly live in concord with the natural world. The overall standout, "Project Monarch," investigates the species' 85% decline, contrasting outside research with Indigenous knowledge of their Mexican wintering grounds. A past vs. present structure illustrates improvement, as in "The Galápagos Shooting Gallery" (tourists now employ cameras rather than guns), or laments a lack of progress, as in "Songs of the Humpback Whale." These passionate, nuanced environmentalist essays are perfect for Barbara Kingsolver fans. --Rebecca Foster, freelance reviewer, proofreader and blogger at Bookish Beck
Mad Creek Books/Ohio State University Press, $21.95, paperback, 208p., 9780814258774
Mom Rage: The Everyday Crisis of Modern Motherhood
by Minna Dubin
Considering why mothers often feel a rage "so hot it is blinding," Minna Dubin wonders: "What if we were normal mothers reacting to unjust circumstances? What if mom rage were a widespread, culturally created phenomenon, and not just personal problem?" These questions, prompted by her own experience, resulted in a 2020 essay she wrote for the New York Times, which she expanded into the full-length Mom Rage. Using additional research and critique, Mom Rage moves between the contextual and the individual, exploring the oft-hidden rage that many experience alongside motherhood. Dubin focuses first on the broader context in which mothers operate, then zooms in to the individual, exploring the physiological and psychological causes. She offers suggestions for individuals seeking to navigate their own anger before zooming back out to consider systemic solutions to the same. This combined micro and macro view of the issue veers Mom Rage well away from any risk of victim-blaming; Dubin works overtime across these pages to dispel the myths that "conflate women's anger with harm," especially when considered in the context of race and culture.
Drawing on years of interviews with parents across the globe, of varying backgrounds, races, cultures, sexualities, and family structures, Mom Rage is a searing indictment of the failed systems of support and flawed narratives that too often surround parenthood. Dubin calls Mom Rage a "rebellion against the supremacy of the googly-eyed, cooing narrative, and the way it silences moms by erasing the harder parts of modern motherhood." It is bound to resonate with any woman who has experienced the shift to motherhood as anything less than perfect. --Kerry McHugh, freelance writer
Seal Press, $29, hardcover, 256p., 9781541601307
The Writer's Life
Anne Enright: The Damage Lessens with Each Generation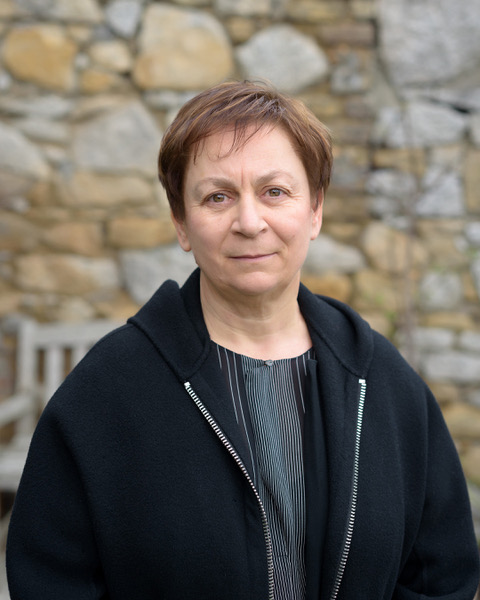 (photo: Hugh Chaloner)
Anne Enright is the author of eight novels, two short story collections, and a memoir of motherhood. She was the first Laureate for Irish Fiction (2015–2018), and won the Man Booker Prize for The Gathering in 2007. She is also a professor of creative writing at University College Dublin. The Wren, the Wren (reviewed in this issue), a novel about the generations descended from Irish poet Phil McDaragh, bears her hallmark themes of family legacy and creativity.
We're seeing a real flourishing of Irish writing--this year's Booker Prize longlist, 'the Sally Rooney effect.' Do you see Irish writers as a sort of literary vanguard? Or has it ever been thus, and the world only realizes it occasionally?
The world realizes how flourishing the Irish literary scene is about every five minutes, and it's like no one can figure it out--is it something in the water? A culture is like an ecosystem; it is hard to say what one factor makes it work so well. When I came of age, earnings from fiction were completely tax-free, so that was certainly encouraging. But actually, if you are a smart young person in Ireland, you see people winning prizes and whatever else gets the press excited, and you think quietly to yourself, "Someday, that is going to be me." Then, in your early 20s, you walk into a launch in a bookshop in Dublin, and the writers are not just on the shelves, they are in the room. It is profoundly exciting. It is a fun place to be.
Did you have particular poets in mind as you were crafting Phil McDaragh's verse? (Seamus Heaney? Michael Longley?)
Phil is 15 years older than Heaney or Longley, and he wrote before the amazing flowering of Northern Irish poets that happened in the 1970s. So, no, not those two--and besides, I would not dare! Though a lesser talent, Phil had some of the same influences as they did: medieval Irish verse is important to him, as are Paddy Kavanagh, Austin Clarke, and Padraic Colum. Michael Hartnett is in there, especially his translations from the Irish, and I used a sprinkling of Louis MacNeice in satirical mode. Phil shares my love of John Donne, which would be unusual perhaps for an Irish lyric poet. He is, however, completely himself. I found him very easy to access as a character, but his poetry was amazingly hard to write (I suspect he found it difficult, too).
Carmel thinks of Phil: "He had a self-important heart. Confidence? Was that all it took? Surely here was some extra stupidity required." Is the narcissistic artist a specifically male type? (cf. Monsters by Claire Dederer).
Some artists are lovely, modest people--warm, empathetic, good to their mothers, nice to their children--and some are monsters. What they all share is a sense that their work is necessary: it is something they need to do, and they think other people might want to see it. For someone like Carmel, that's a fairly astonishing claim to make on the world's attention. You can call it narcissism if you like; she certainly would.
But here's my theory about all that: a person's narcissism expands to fill the available space. We let men get away with being monstrous, in ways that are quashed in women from their earliest days. Sometimes, we expect male monstrousness: we admire and reward it. So I would not gender either art or monstrousness--society plays a role, too.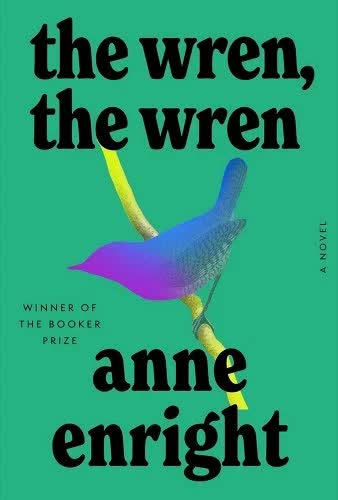 I found Nell an utterly convincing mouthpiece for the preoccupations, wit, and ennui of today's young people. How did you go about tapping into a modern sensibility to create her voice?
I suppose I went online. I teach and I have children, so young people are not a mystery to me. But actually, the secret answer is that I went back to my own early work. I tapped into the modernist sensibility at play in my first short stories, which I wrote in my 20s. Nell's interaction with her period app, for example, is very close to work I did about women and modernity, women and television, women and machines.
There's a striking moment when Nell is at the top of the Utrecht cathedral tower and is overtaken by a conjunction of beauty and fear that she identifies as awe. Is this a depiction of Stendhal syndrome? What did you intend with this scene?
I had to look this up! Stendhal syndrome is a kind of panic attack suffered in the presence of great art. It reminds me of the ecstatic response some Romantic artists had to landscape. Way back in 1757, the Irish philosopher Edmund Burke talked about the sublime as having the power to compel and destroy us--beauty is calming, but the sublime is agitating. Nell is not a religious person (she does not belong to any tradition), but she is interested in the existence of what she calls a higher form of consciousness. Going up the spiral staircase of the church tower, she suffers a mixture of claustrophobia and vertigo, and she has a panic attack that ends with a feeling of revelation. Nell discovers the sublime. I don't want to be too literal, but this mixture of ecstasy and fear is a tiny bit like the feeling she had in bed with her abusive lover, Felim. So the experience of the tower releases her from that dependency, somehow.
The McDaragh family seems to be caught in cycles of damage. I wondered if there might also be an environmental parable in their psychology: greed and self-importance versus love and dependence. How do we get trapped in these patterns?
I think the damage gets less with each generation, so it's not a cycle, it's a kind of spiraling outwards towards better, easier times. The first rupture is the loss of Carmel's father, Phil; that is the trauma that takes time to heal. I am not sure there is a parable there about dependence. Carmel and Nell love each other absolutely, as Nell says, but that doesn't make for happiness, at least not in the short term. I was about to protest that I don't write parables, but then realized how much I was influenced by the story of Martha and Mary in the New Testament. Carmel gets to tend and fret--she is the Martha generation. On either side, her father and her daughter have adventures: they get to believe, imagine, be passionate; they have the luxury of making mistakes, they allow themselves to blunder around. --Rebecca Foster, freelance reviewer, proofreader and blogger at Bookish Beck
Rediscover
Rediscover: Gita Mehta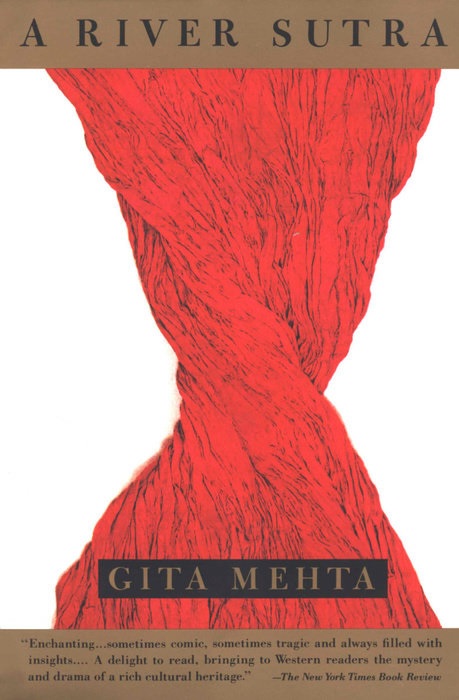 Gita Mehta, the Indian and American writer, journalist, and filmmaker, died September 16 at age 80. Mehta's first book was Karma Cola: Marketing the Mystic East, a work of nonfiction about Westerners who came to India looking for instant enlightenment, that was published in 1979. Her first novel, Raj, about a princess in the early 1900s as royal India was ending, was published in 1989, followed by A River Sutra, a collection of stories about people touched by the river Narmada, in 1993; Snakes and Ladders: Glimpses of India, about the country on its 50th anniversary of independence, in 1997; and Eternal Ganesha, a popular study of the Hindu deity Ganesha, in 2006.

Mehta also produced and directed TV documentaries for various European and U.S. networks and from 1970 to 1971 was a war correspondent for NBC. Dateline Bangladesh was her film compilation of the Bangladesh liberation war of 1971. Mehta was married to Sonny Mehta, longtime president and editor-in-chief of Knopf, who died in 2019.

In the New York Times, Edward Hower called A River Sutra "enchanting," adding that it "takes place in a fabled land of the romantic imagination, drawing on timeless literary traditions. Told with skill and sensitivity, Gita Mehta's tales are a delight to read, bringing to Western readers the mystery and drama of a rich cultural heritage." It is available from Vintage.