Week of Friday, November 10, 2023
Among the stellar fiction reviewed this week: Alice McDermott's "smart and memorable" novel Absolution, which explores the question of whether help is consequential, or merely the feel-good actions of the well-meaning but misguided; deftly integrated into a familiar narrative of discordant strangers bonding, The Vulnerables by Sigrid Nunez is a "penetrating interrogation" of the nature of reading, writing, and creating fiction; and in the "breathtaking" middle-grade adventure Three Tasks for a Dragon by Eoin Colfer, illustrated by P.J. Lynch, young Prince Lir must choose between banishment and a dangerous quest. Plus so many more!
In The Writer's Life, Girlfriends author Emily Zhou talks about the writers that influenced not only the way she thinks about writing, but also where to live.
The Best Books This Week
Fiction
The Rom Con
by Devon Daniels
The Rom Con by Devon Daniels (Meet You in the Middle) is the charming story of Cassidy Sutton, an editor and writer for a feminist web magazine, and Jack Bradford, co-owner and -founder of a rival men's website. When Cassidy dumps the man she's been seeing, she receives some interesting advice from her 90-year-old grandmother: date like it's the 1950s. Reluctantly, and only because of her love for her grandmother, she decides to try it--and write about it for work. When she learns Jack's identity after a meet-cute at a press event, her story becomes about more than dated courtship rituals as she begins to date him for her article.
Told in the first person, the romance between Cassidy and Jack is sweet and genuine, despite beginning in a lie. Jack is the quintessential male lead--sensitive, adoring, handsome, and rich. Cassidy is funny and knows herself, which is what initially draws Jack to her. The spice is there, but it's not the main point of the novel. The relationships among the side characters are well-developed and add depth to the story without detracting from the romantic plot.
Tropes include fake dating, workplace romance, enemies-to-lovers, and slow burn--all with a happily-ever-after ending. The Rom Con is perfect for readers who enjoy classic romantic comedies and draws inspiration, as noted in the story itself, from the movie How to Lose a Guy in 10 Days. -- Alyssa Parssinen, freelance reviewer and former bookseller
Berkley, $17, paperback, 384p., 9780593199237
Polish'd: Modern Vegetarian Cooking from Global Poland
by Michal Korkosz
Polish'd: Modern Vegetarian Cooking from Global Poland by Michal Korkosz (Fresh from Poland), a compendium of vegetable-centric culinary and visual delights, presents 100 new recipes, full-page photographs, and bright graphics sure to entice home cooks. Polish cuisine is a "patchwork of regional recipes," thanks to a melting pot of immigrant cultures. Poland, Korkosz writes, was once a "mosaic of nations" with diverse culinary influences, including Turkish, Jewish, and Italian. Though Polish food is stereotypically meat-heavy, Warsaw is "one of the most vegan-friendly cities in the world." Korkosz notes the Poles' awareness of animal rights, climate change, and healthy fare.
Creatively arranged by 12 "cooking methods," including raw, steamed, smashed and blended, and deep-fried, these 100 recipes feature unexpected ingredients. Korkosz incorporates Japanese miso and Middle Eastern tahini into these recipes as easily as he does Polish farmer cheese and beets. As the creator of the Polish food blog Rozkoszny (which means "delightful"), Korkosz urges readers: "Liberate yourself with creativity," modeling his philosophy that cooking "is a playground." Each two-page recipe presentation includes anecdotes, tips, mouth-watering photos (note the iconic Polish ceramics) and intriguing names, such as "All the Leaves with vinaigrette, blackberries, and so many herbs" and "Salted Szarlotka (Apple Pie) with no-churn brown butter ice cream." The international flavors of Korkosz's recipes never slight his unabashed love of his homeland. He notes seasonal and traditional ingredients (mushrooms, potatoes, the famous Wieliczka and Kłodawa salts). And the two pierogi recipes will delight cooks hungry for iconic Polish fare. --Cheryl McKeon, Book House of Stuyvesant Plaza, Albany, N.Y.
The Experiment, $32.50, hardcover, 256p., 9781615199952
The Forgers: The Forgotten Story of the Holocaust's Most Audacious Rescue Operation
by Roger Moorhouse
In The Forgers, perfect for history buffs, historian Roger Moorhouse (Poland 1939; Berlin at War) tells in riveting detail the story of a group of Polish diplomats in Bern, Switzerland, who provided forged travel documents to more than 10,000 people between the years 1940 and 1943. Led by Aleksander Ładoś, they worked in secrecy and, subsequently, history nearly forgot them. As early as 1940, the Polish embassy secured the safety of Polish Jews by providing false documents, something that accelerated with the increasing barbarity of the Nazi occupation of Poland. Moorhouse provides fascinating details of how those involved made and processed the requests, as well as stories of some individuals whose lives were saved by the documents provided by the Ładoś Group. Oftentimes, the circuitous route from request to recipient was such that the person receiving the document never knew where it had come from.
Many of the documents produced were Latin American passports from countries such as Paraguay, Honduras, and Peru. Cooperation from those countries and sometimes even other diplomats presented challenges, as seen in this comment from an official working in the U.S. State Department in Switzerland: "This group of persons has obtained false papers to which they have no claim and has endeavoured to obtain special treatment.... We are being placed in the position of acting as nurse-maid to persons who have no claim to our protections." The Forgers is a wonderful complement to the history of diplomacy and heroism during the Holocaust--one that's been relatively unknown until now. --Elizabeth DeNoma, executive editor, DeNoma Literary Services, Seattle, Wash.
Basic Books, $32, hardcover, 352p., 9781541619852
In the Pines: A Lynching, a Lie, a Reckoning
by Grace Elizabeth Hale
In the Pines: A Lynching, a Lie, a Reckoning is a story with personal significance for Grace Elizabeth Hale (Making Whiteness), who tackles some of the greatest race-relations demons--historical and continuing--in the United States. In this thoroughly researched account, Hale investigates the 1947 murder of a man named Versie Johnson in rural Jefferson Davis County, Miss. The author's beloved grandfather served as sheriff at the time, and her mother originally offered this tale as one of righteous heroism: her white grandfather stood up to a mob and refused to release his Black prisoner, who was somehow nevertheless removed to the woods where he died. But Hale learns that her grandfather's involvement was neither innocent nor heroic.
In her thoughtful narrative, Hale places the death of Versie Johnson in layers of context. She works to find personal information about Johnson, with limited results: one theme of her book is the lack of recorded facts about people judged inconsequential by the record-keepers. A historian of American culture, Hale began to do research for this book as she finished a doctoral dissertation on southern segregation, Jim Crow, lynching, and white supremacy. In the Pines is elevated by lovely writing: "Family trees are metaphors. They share with pines both a basic structure and a tendency to flourish only when conditions are right." It is also marked by incisive thinking about race in history and in the present. Hale's work is a significant contribution to that larger conversation. --Julia Kastner, librarian and blogger at pagesofjulia
Little, Brown, $29, hardcover, 256p., 9780316564748
Paris Is Not Dead: Surviving Hypergentrification in the City of Light
by Cole Stangler
Like many of the world's great cities, Paris--especially its best-known, iconic neighborhoods--is gentrifying at an astonishing pace, with developers and wealthy investors threatening to destroy the very character they want to enjoy. Marseille-based journalist Cole Stangler's insightful first book, Paris Is Not Dead, dives into the past, present, and future of French housing policy, working-class protests in Paris, and the (shrinking) opportunities for people of all economic strata to build lives in the City of Light.
Stangler focuses his present-day narrative on northeast Paris, whose working-class arrondissements currently are buzzing with immigrants, many of them from the Maghreb and the Middle East. Despite challenges, including long commutes, racism, and a housing shortage, many of these residents are proud to live where they do and want to stay in their communities. Stangler then gives a brief French history lesson, highlighting several seminal uprisings (including the French Revolution of 1789 and the June Rebellion in 1832) and exploring their connections to housing concerns in Paris. He touches on the banlieue (the suburbs) and the geographical constraints of Paris proper; the "museumification" of formerly lively, diverse central neighborhoods such as the Marais; and the vibrancy Paris stands to lose if its policies continue to allow developers and wealthy foreign buyers to dominate the housing market. Insightful and well-researched yet thoroughly accessible, Stangler's book will prove fascinating to urban-planning geeks, Paris aficionados, and anyone invested in the future health of dynamic, walkable, and diverse global cities. --Katie Noah Gibson, blogger at Cakes, Tea and Dreams
The New Press, $27.99, hardcover, 304p., 9781620977828
Dressing the Part: Television's Most Stylish Shows
by Hal Rubenstein
With Hal Rubenstein's Dressing the Part: Television's Most Stylish Shows, readers finally have a book that tells them not only what to wear but also what to watch, if occasionally with the sound off.
Rubenstein (The Looks of Love; 100 Unforgettable Dresses) is no fan of the show Girls, but he can't deny its sartorial impact, nor that of the 49 other series he writes about here. The usual suspects are present (Sex and the City, Bridgerton), but so are some wild cards (Soul Train, The Golden Girls). Each selection is bundled into one of eight themed chapters: period dramas, crime shows, reality TV, and so on. For many series, Rubenstein finds or solicits insights from the original costumers, some of whom he interviews in sidebars effortlessly integrated into the book's sumptuous, photo-rich layouts.
Rubenstein manages to be a no-nonsense connoisseur of style without taking his mission too seriously. (He suggests that while bingeing the final season of The Mary Tyler Moore Show, readers should drink a shot "every time you spot Mary's striking open square metal brooch prior to its appearance on her lapel in the final episode.") Rubenstein is also a keen-eyed decoder of looks, reading a message to female viewers in sequins-and-feathers-favoring designer Bob Mackie's work on The Carol Burnett Show: "you don't have to be a classic beauty to feel and look like a star." Dressing the Part doesn't presume readers' familiarity with designers, brands, or fashion lingo--just a passion for style. A passion for TV? Unrequired. --Nell Beram, author and freelance writer
Harper, $40, hardcover, 224p., 9780063272590
The Writer's Life
Reading with… Emily Zhou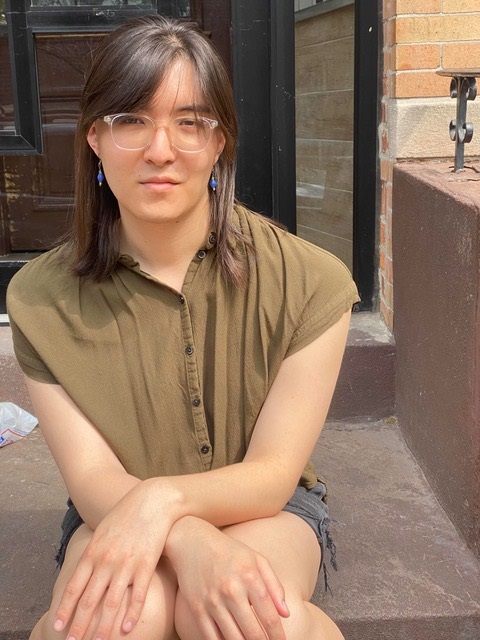 photo: Hannah Account
Emily Zhou is a writer from Michigan who lives in New York City. Her first book, Girlfriends (LittlePuss Press, October 17, 2023), is a collection of seven short stories about Gen Z queer life.
Handsell readers your book in 25 words or less:
Introspective stories about aimless trans women, aged 19-25, who are all having some sort of inarticulate, poorly managed crisis. Quiet with a few loud moments.
On your nightstand now:
I'm about halfway through Robert Caro's biography of Robert Moses, The Power Broker. I expected it to be about urban planning, a subject I've recently become fascinated by, but Moses's oversights are easy to see in retrospect and were obvious even at the time--building highways through cities is bad, etc. It's more about how power works in New York City municipal politics, and how good Robert Moses was at holding on to it for a long time. I might not finish it, but I tend to be stubborn about finishing books, even long ones.
When I'm bored with Caro and Moses, I rip through novels by Ivy Compton-Burnett, an English modernist who wrote almost entirely in dialogue. She's inspiring me to do more with less, even if she would be a difficult author to emulate directly. My favorite one so far is Pastors and Masters, which is a lot more fun than its title suggests.
Favorite book when you were a child:
As depressing as this is in retrospect, I loved the Harry Potter series when I was very young, and I generally read a lot of other high fantasy stuff that I mostly don't remember at all. The book that made me interested in literature was probably Dostoevsky's Crime and Punishment, which I read in ninth grade and haven't revisited since.
Your top five authors:
In no particular order:
Henry Green. His novels, which I read one after the other in a rapturous blitz last year, totally decentered my way of thinking about fiction in ways I'm still thinking through. Back and Doting are two of the funniest books I've ever read.
Sarah Schulman. I find her work tremendously inspiring in its clarity.
Patricia Lockwood. I haven't read all of her books, but I have canceled plans to read her essays when a new one comes out.
Elif Batuman. It's hard to think of a novel that captures better what it's like to be a confused, curious young person than The Idiot.
Ben Lerner. I generally don't read neurotic-male-intellectual novels all that much unless they're really good, and Ben Lerner's novels are really good.
Book you've faked reading:
Anna Karenina. I want to get to it someday, but I find Tolstoy daunting. I've read a lot of George Eliot, so it isn't just about the period or the length. Part of it is that I'm indecisive about which translation to read. People have alarmingly strong opinions about this, and it's a long book. That said, my girlfriend came home the other day with the Pevear/Volokhonsky, so I guess that'll be the one--eventually.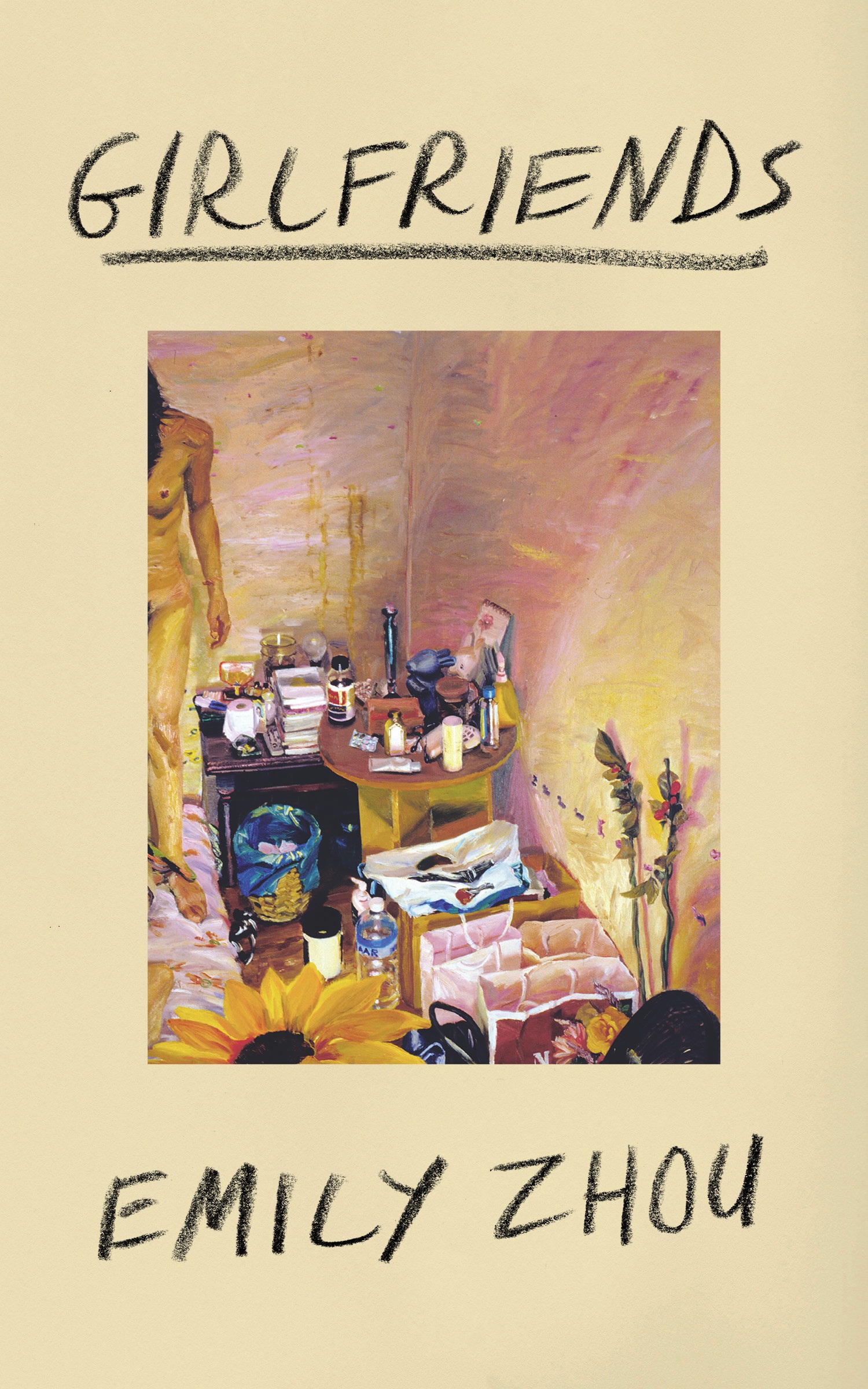 Book you're an evangelist for:
When I lived in Michigan, I talked nearly every trans woman I met into reading Imogen Binnie's Nevada, which at that time was out of print. That book was talismanic to the trans micro-generation immediately preceding mine (especially to a certain sort of white, overeducated trans lesbian), and--believer in literature that I was--I was dismayed that my younger peers weren't reading it. I lent out my copy to maybe six or seven people and encouraged them to write in the margins, and it's now a palimpsest of annotations in different colors.
Book you've bought for the cover:
Andrew Martin's Early Work, which has a Balthus painting on it and a very nice font. I've since read it three times, so I'm glad the book designer did such a good job.
Book you hid from your parents:
When I was 10, I hid my mom's copy of Charles Baxter's The Feast of Love in my locker at school and then, when my mom found it was missing, I had my friend Will hide it in his. I have my own copy now, and it's a book I'm still fond of. It's about existential loneliness and how we try to salve it with love, and it's the best Ann Arbor novel, but it also happens to open with a young couple breaking into Michigan Stadium at night and having sex on the 50-yard line. (Baxter writes "making love," which gives you an idea of what kind of book it is.) The school administrator who made Will and I fess up seemed bemused that this was what I was clandestinely reading, and I was hugely embarrassed--not because the book titillated me, but because all the adults around me thought I was. I was fascinated by it because the book seemed like a window into an adult way of looking at the world that was still comprehensible to my 10-year-old self. Sex was a part of that, but it wasn't the whole picture--but no one else understood that, and it's impossible to explain anything to an adult when you're 10.
Book that changed your life:
Torrey Peters's Detransition, Baby made me want to move to New York, which I did in 2021 with very little preparation or planning. This is, in retrospect, extremely naive and borders on delusional, but things worked out mostly fine for me, even if the New York depicted in that book had been totally displaced by the time I hopped off the train.
Favorite line from a book:
"The betrayer is always the debtor; at best, he can only work out in remorse his deficit of love, until remorse itself becomes love's humble, shamefaced proxy." That's from Mary McCarthy's The Company She Keeps.
Five books you'll never part with:
Sybil Lamb's I've Got a Time Bomb. This, to me, is the ultimate trans novel. Someone should get it back in print.
Elizabeth Hardwick's Sleepless Nights. This book terribly frustrated me the first time I read it (I wrote in my diary at the time that she "treats humans like malfunctioning automatons"), but it's a book that's deepened with each rereading.
Mary Ruefle's Madness, Rack, and Honey. At one time, it seemed like everyone I knew in the Ann Arbor musical/literary community had read this book at some point, or was recommending it to someone else. There's a good reason they were--it's great and undiminished by time and many rereadings.
Joan Murray's Drafts, Fragments and Poems. Murray is criminally underrated, probably because she died at age 24 without having published much. I think she's a visionary in the vein of Emily Dickinson and Laura Riding, and I hope more of her work gets published someday.
Susan Sontag's diaries (which are two volumes, but I'm counting it as one). A lot of young, bookish women who need a role model for their frustrated sense of seriousness have fallen under the spell of these diaries, and I'm no exception. They led me to so much else, and they're just so fun to read, even if I've outgrown emulating her.
Book you most want to read again for the first time:
Adam Ehrlich Sachs's The Organs of Sense, a satire of Enlightenment philosophy and science, repeatedly made me laugh so hard I cried the first time I read it. It's still a pleasure to reread, but I sometimes wonder if any other book is going to make me laugh like that.
Rediscover
Rediscover: Natalie Zemon Davis
Natalie Zemon Davis, a social and cultural historian "whose imaginative and deeply researched investigations of the lives of marginalized figures--peasants, long-forgotten women, border crossers of all sorts--profoundly influenced the discipline," died October 21 at age 94, the New York Times reported. Drawing on anthropology and literary criticism, as well as archival digging, Davis "both represented and inspired an emerging approach to history in the second half of the 20th century, often by filling in gaps in the historical record with informed speculations based on deep immersion in the period under study."

Her best-known book was The Return of Martin Guerre (1983), based on the tale of a 16th-century peasant in Languedoc, France, who for several years successfully impersonated a man from a rural village who had abandoned his family. The Times noted that the book was "a kind of follow-up to a 1982 movie," Le Retour de Martin Guerre, and Davis, who had published a groundbreaking essay collection, Society and Culture in Early Modern France (1975), was the historical adviser to director Daniel Vigne and the screenwriter Jean-Claude Carrière while they were working on the film.

Upon its release, Davis realized the movie could not convey the nuances of the story and so decided to give "this arresting tale," as she put it in a preface to the book, "its first full-scale historical treatment, using every scrap of paper left me by the past."

Her next book, Fiction in the Archives: Pardon Tales and Their Tellers in Sixteenth-Century France (1987), explored stories that common people accused of homicide told in order to secure a pardon from the king. Other books include Women on the Margins: Three Seventeenth-Century Lives (1995), The Gift in Sixteenth-Century France (2000), Slaves on Screen (2000), and Trickster Travels: A Sixteenth-Century Muslim Between Worlds (2006).

During a long teaching career, Davis eventually moved from Toronto to Princeton in 1978 and stayed for 18 years, succeeding Lawrence Stone as director of the Shelby Cullom Davis Center for Historical Studies. She retired in 1996 as the Henry Charles Lea professor of history. She had helped found women's studies programs at both Princeton and UC Berkeley. Returning to Canada, she was named a professor emerita in the University of Toronto's history department.

Davis became president of the American Historical Association in 1987, only the second woman to hold that position. She was made a Companion of the Order of Canada in 2012 and was presented with the 2012 National Humanities Medal by President Barack Obama.

In a speech to the American Council of Learned Societies, she considered how her years of study had given her confidence in the resilience and adaptability of societies: "No matter how bleak and constrained the situation, some forms of improvisation and coping take place. No matter what happens, people go on telling stories about it and bequeath them to the future." She added, "The past reminds us that change can occur." The Return of Martin Guerre is available in paperback from Harvard University Press.