Week of Tuesday, August 13, 2013
There's no shortage of books about F. Scott Fitzgerald and his wife, Zelda. Three more novelizations of the couple's history have been released this year, with two (Z: A Novel of Zelda Fitzgerald by Therese Anne Fowler and Call Me Zelda by Erika Robuck) taking a particular interest in Zelda. Many readers' fascination with the lives--and wives--of the rich, famous and creative extends beyond the Fitzgeralds.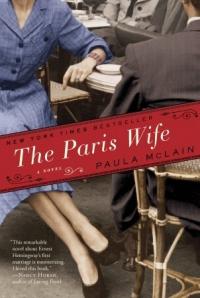 Paula McLain's The Paris Wife presents the story of Ernest Hemingway and his first wife, Hadley. Though history spoils the ending a bit--knowing that Hadley was Hemingway's first wife implies the inevitable dissolution of their marriage--the novel is a touching tale of intimacy and of Paris in the 1920s.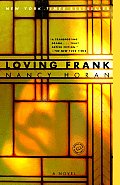 Only a decade or so before the Fitzgeralds took the world by storm and Ernest and Hadley moved to Paris, Mamah Cheney shocked Chicago society by leaving her husband and children to pursue an affair with architect Frank Lloyd Wright. Loving Frank, Nancy Horan's debut novel, brings this little-remembered figure back to life, positing that Cheney had a considerable amount of influence on Wright's work even as she herself struggled to find a voice for her own creativity in an era not known for its feminist ideals.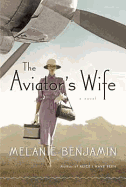 The Aviator's Wife focuses on Anne Morrow, wife of Charles Lindbergh. Author Melanie Benjamin follows the arc of their relationship from early courtship through the loss of their son to their fallout over political differences, revealing details not only of an oft-troubled marriage, but of a woman strong enough to maintain her own identity through it all. --Kerry McHugh, blogger at Entomology of a Bookworm
The Best Books This Week
Fiction
The Memory Key
by Conor Fitzgerald
In 1980, Stefania Manfellotto blew up a train station full of people. Thirty years later, after serving a long prison sentence, she's shot in the head on the campus of a Roman university. The magistrate investigating the attempted murder is convinced a bystander named Sofia Fontana must have seen something, but before he can ascertain that, she is killed.

The magistrate doesn't trust the local carabineri to do a proper job, so he turns to Commissario Alec Blume--the protagonist of three previous mysteries by Conor Fitzgerald--to do a little unofficial investigating. Blume's bosses aren't happy about him getting involved in yet another off-the-grid investigation; neither is his girlfriend, Caterina. But Blume can't help himself, he's intrigued by the intertwined stories of Stefania and Sofia. He starts to probe into their lives, and quickly discovers a strange professor--a man who claims to have the key to memory, enabling anyone to remember anything--who had connections to both. As the case heats up, and more deaths occur, Blume must race to find the truth.

With The Memory Key, Fitzgerald has created another gripping mystery featuring the irresistibly stubborn Blume (following 2012's The Namesake). Blume pigheadedly continues down the path he has chosen, no matter the consequences--yet readers cannot help but root for him. Fans of Donna Leon or Andrea Camillieri are bound to enjoy The Memory Key and its vivid Roman setting. --Jessica Howard, blogger at Quirky Bookworm
Bloomsbury, $26, hardcover, 9781620401118
The Passion of the Purple Plumeria
by Lauren Willig
With nine novels in the Pink Carnation series under her belt, it's obvious that Lauren Willig has hit upon a winning formula: mix Napoleonic spies with a dash of intrigue, add buckets of humor and romance. But the irreverently named The Passion of the Purple Plumeria contains a fantastic surprise in the form of its heroine: the irascible, eminently practical and decidedly middle-aged Miss Gwen.

Posing as chaperone to Miss Jane Wooliston, while secretly serving as second-in-command to the secret agent known as the Pink Carnation, Miss Gwen has reveled in the independence and adventure of her double life. But when Jane's youngest sister goes missing, Gwen reluctantly discards her costume breeches and false mustaches to investigate the girl's disappearance. She is thrown into the company of roguish Colonel William Reid, newly returned from India, whose daughter has also vanished. Following the trail leads them to secret orgies and back-alley ambushes, but Gwen finds in Colonel Reid himself what may be her most stimulating adventure yet.

One of Willig's strengths is writing hilarious and faintly ridiculous characters who can, at the drop of a hat, become deeply, poignantly real. Gwen and Reid are both well drawn, with nuanced back stories, and the two come together by thoroughly entertaining fits and starts. The scene is effectively stolen, however, by the subtly corroding relationship between Gwen and Jane, which gives us tantalizing hints at the true personality behind the Pink Carnation and will leave readers salivating for Willig's next book. --Judie Evans, librarian
NAL, $15, paperback, 9780451414724
March: Book One
by John Lewis and Andrew Aydin, illus. by Nate Powell
Congressman John Lewis, one of the last living icons of the civil rights movement, has teamed with co-writer Andrew Aydin and Eisner Award-winning cartoonist Nate Powell for March: Book One, the first installment in a three-part graphic novel series.

March begins with a pivotal moment in the movement--the Bloody Sunday march of 1965 in Alabama--before backtracking to document Lewis's life from his humble beginnings as a sharecropper's child to the struggle for racial equality as a nonviolent protestor during the lunch counter sit-ins of the 1960s. Education and a road trip north with an uncle open the young Lewis's eyes to a world where black and white can coexist on more equal footing, but the turning point in his transformation from dreamer to advocate occurs when he listens to a radio broadcast of Dr. Martin Luther King, Jr. It is then he realizes the possibility of change through peace, love and nonviolence and emerges as a champion of racial equality and social justice.

Through Powell's powerful graphical recreation of Lewis's life, we slip past the political struggles and into the soul of a man of courage and belief. Though much has been accomplished in diminishing the racial divide, much remains to be done to erase the economic divide; and in that, Lewis's story carries the same relevance today as it did for a generation nearly 50 years ago. --Nancy Powell, freelance writer and technical consultant
Top Shelf Productions, $14.95, paperback, 9781603093002
The Telling Room: A Tale of Love, Betrayal, Revenge, and the World's Greatest Piece of Cheese
by Michael Paterniti
In 1991, as a struggling young writer working as a proofreader for the fabled Zingerman's Deli in Ann Arbor, Mich., Michael Paterniti chanced upon a description of the most expensive cheese the deli sold. The rich, dense and intense cheese was made in small batches in Guzman, a tiny hill town in Castille, Spain, from an ancient family recipe, with milk collected daily from cheesemaker Ambrosio Molinas's own sheep.

Still obsessed a decade later, Paterniti found himself in Ambrosio's "telling room"--a harvest room and neighborhood gathering place--listening to the story of the "world's greatest cheese," along with hints about the terrible betrayal that led the end of Ambrosio's cheese business. Seduced by the charismatic cheesemaker and his larger-than-life story of accomplishment, loss, revenge and betrayal, Paterniti was determined to write a book about the mysterious fate of the cheese. He returned to Guzman often over the next 10 years, even moving with his growing family for months at a time. As he uncovered the information that finally solved the puzzle, he began to understand his real story was not about the cheese, but about one man's attachment to an idealized version of life--and his ultimate acceptance of his own choices.

Funny, exuberant, celebratory and sometimes over-the-top in its enthusiasms and story-telling, with digressions and footnotes as long as stand-alone chapters, The Telling Room will entertain while it reminds the reader of the human need for story and, finally, acceptance. --Jeanette Zwart
Dial Press, $27, hardcover, 9780385337007
The Lost World of Fossil Lake
by Lance Grande
An animal is caught in a landslide of ash, or perhaps stone, its bones preserved for millions of years exactly as it was in the moment of death--for kids, that's like a time machine made real. Some children are so impressed that a fascination with prehistoric creatures sticks with them into adulthood. Lance Grande is one such person, and along with his work in paleontology he teaches future scientists. His interest has led to The Lost World of Fossil Lake, a combination of complex scientific examinations and curiosity-inspiring stories centered on a paleontological treasure trove in Wyoming.
Millions of fossils have been excavated from Fossil Lake over the last 150 years, with hundreds of different species found. Grande describes it as "the most comprehensive picture of Eocene life that we know of," and while we may be far from exhausting Fossil Lake's repository of history, the record he assembles reads like a comprehensive overview of the region.
There are certainly sections that might be clearer to someone with a background in fossil research--there's no oversimplification to be found here. The bulk of the text, in fact, would likely be more engaging to someone already exploring a career in paleontology. Where the book shines is in its remarkable photography, showcasing a wide swath of creatures and flora fossils. Come for the amazing pictures, stay for the science; if Grande aims to inspire young people to learn more, he can consider The Lost World of Fossil Lake a success. --Matthew Tiffany, counselor, writer for Condalmo
University of Chicago Press, $45, hardcover, 9780226922966
Turn Around Bright Eyes: The Rituals of Love & Karaoke
by Rob Sheffield
Rolling Stone columnist Rob Sheffield's previous memoirs, Love Is a Mix Tape and Talking to Girls About Duran Duran, relate meaningful moments of his life to rock and roll, as does his latest, Turn Around Bright Eyes. It's a comedic chronicle centered on karaoke--a practice he defines as "a temporary but intense bond between strangers, a shipboard romance, a republic we create where we gladly consent to treat the other people around us like rock stars." Yet it also a book about grief: Sheffield's wife died while he was still in his 20s, and he lived in New York's Financial District during the 9/11 attacks.

Karaoke proved deeply therapeutic. Singing a Neil Diamond song, he explains, "makes you engage with your own emotions on a more extravagant level. And when that spills over into your everyday life, it brings out the sequins in your soul."

As Sheffield's humor relies on getting his references, Turn Around Bright Eyes will be most appreciated by those who also love rock and roll. He is fond of threading popular lyrics (like "every now and then I fall apart") seamlessly into his sentences, without calling attention to them. Recognizing the allusions feels like sharing a light joke, and is a reminder that amid tragedy, there is humor, love and music. --Annie Atherton
It Books, $25.99, hardcover, 9780062207623
Journey
by Aaron Becker, illus. by Aaron Becker
With this wordless tour de force, Aaron Becker gives a nod to the likes of Crockett Johnson and Shaun Tan--but in a completely original work.

The title page sets the tone, as a girl rides a red scooter beneath a blue lantern on an otherwise gray and beige city street. With the turn of a page, the girl sits on her stoop, her red scooter parked within arm's reach. Two stoplights glow red, and a boy nearby holds a purple crayon. A cutaway view of her house shows a mother, father and sister involved in various activities. She tries to engage each of them but returns to her room alone. Even her cat departs, but in its former resting place is a red crayon. With the crayon, the girl draws a red door into a verdant world, a red boat that floats into a city of interconnected canals, and a red balloon to save her from a waterfall. While in flight, she witnesses the capture of a purple bird by the crew of a steampunk airship, and becomes determined to free it. The book comes full circle when the bird leads her to a boy with a crayon the color of its feathers.

Becker's breathtaking urban and bucolic scenes map out a visual narrative that reflects the girl's journey--both external and internal. By the conclusion, readers see that all she needs is a likeminded friend. Here's hoping there's more to come from this talented newcomer. --Jennifer M. Brown, children's editor, Shelf Awareness
Candlewick, $15.99, hardcover, 40p., ages 4-8, 9780763660536
The Shade of the Moon
by Susan Beth Pfeffer
In Life As We Knew It, Susan Beth Pfeffer showed us what might happen if the moon was hit by a meteor large enough to knock it off course. As the new orbit brings it closer to Earth, a rash of volcanoes, earthquakes and tornadoes ensues, fouling the air and causing temperatures to plummet. Food becomes scarce. In The Dead and the Gone and This World We Live In, Pfeffer continued her story of people struggling to cope with new and horrific conditions.

Now, in The Shade of the Moon, readers see just how much society has changed. Seventeen-year-old Jon Evans lives with his stepmother and stepbrother in the privileged enclave of Sexton, Tenn. His own mother, along with his sister and her husband, live nearby in the "grubber" town of White Birch. Society has polarized, with clavers reaping all the privileges while grubs scrape by, doing all the labor. When Jon's girlfriend points out how unfair the new system is, Jon is tempted to listen to his newly awakening conscience. But Jon isn't a full-fledged claver: he slipped in on a technicality, and he knows that one careless mistake will see him ousted, bringing irreparable harm to his entire family.

At times, the dialogue seems a bit stilted, but the plot hums along. Pfeffer makes us care about this "cold and sunless world" and the mounting problems its inhabitants face. A page-turning addition to a series that has captivated readers. --Lynn Becker, host of Book Talk, the monthly online discussion of children's books for the Society of Children's Book Writers & Illustrators
Houghton Mifflin Harcourt, $17.99, hardcover, 304p., ages 12-up, 9780547813370
Read ahead with our friends at Walker Books US and bring your besties with you!
As a subscriber to Shelf Awareness, you're already eligible to enter to win a set of ALL THREE books in the Gifts series by Caroline O'Donoghue, from Walker Books US! But why hog all of the fun for yourself? Invite your bookish friends to sign up, too!
The more of your friends who sign up, the more chances you will have to win!