Week of Tuesday, June 9, 2015
With Father's Day coming up, we'd like to suggest a few books for young people that celebrate dads (and granddads).

Pete's a Pizza by William Steig gives readers all the ingredients they need to make a pizza--with the child as the dough--based on a game Steig played with his daughter. In Mitchell's License by Hallie Durand, illustrated by Tony Fucile, a boy gets to drive his dad; Mitchell checks the tires (his father's feet) and engine (stomach) before taking the driver's seat. And just before 8 a.m., Every Friday (by Dan Yaccarino) Dad and the boy narrator head to the diner, "even if it is cold, sunny, snowing, or raining."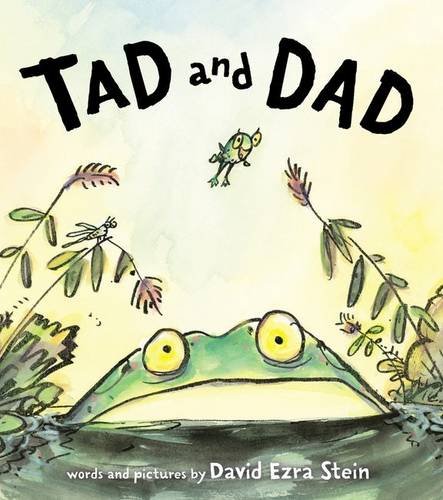 Tad and Dad by David Ezra Stein zeroes in on a tadpole who refuses to leave Dad's side--even at bedtime--which gets more complicated as Tad gets bigger.

Two warmhearted picture books celebrate grandfathers: Abuelo by Arthur Dorros, illustrated by Raúl Colón, and Noodle Magic by Roseanne Greenfield Thong, illustrated by Meilo So. In the first, Abuelo and the child narrator share a close relationship, riding the plains together on horseback. When the boy moves to the city, his grandfather's teachings sustain him. In Noodle Magic, young Mei learns from her grandfather how to make his famous noodles, and to find the magic within herself.

Tiger Boy by Mitali Perkins, illustrated by Jamie Hogan, takes middle-grade readers to the Sunderbans of West Bengal, where Neel's chance to win a scholarship forces him to make hard choices--especially when he must stand up to his beloved father. And don't forget Kate DiCamillo's Because of Winn-Dixie, whose dog hero helps 10-year-old Opal open up her single father, or the incomparable dad in Dead End in Norvelt by Jack Gantos, whose tough-guy exterior is cracked by his loving narrator son. And for a madcap adventure, there's Neil Gaiman's Fortunately, the Milk, with its time-travel conundrum, aliens and pirate ships. Happy Father's Day to all! --Jennifer M. Brown, children's editor, Shelf Awareness
The Best Books This Week
Fiction
The Guild of Saint Cooper
by Shya Scanlon
The Guild of Saint Cooper is a wistful, elegiac and far-reaching cosmic dystopian novel set in Seattle and its suburbs. Blake, the narrator, is a struggling writer burdened by the collapse of the United States due to the drying up of its fossil fuels, the collapse of his ambitions and a mother with terminal cancer. A chance encounter with a mail carrier gets Blake invited to the Guild of Saint Cooper, a group attempting to prop up Seattle's fading sense of self and history by rewriting its past. The tenuousness of memory is an especially bittersweet thread in the book: "my memories seemed to have been swallowed up during the general implosion. Where do memories go to die? Was it trauma that locked them away, or had disinterest kept them from forming in the first place?"

The tales of the guild come surrealistically true; reality and Blake's narrative become joyously unhinged. The metropolis becomes suffused with rhododendrons, as if the city itself is striving toward fertile consciousness. "Perhaps in the vacuum caused by the sudden disappearance of dense civilian life, what remains shifts, reorganizes, compensates for the absence." There are aliens with questionable intent, narratives that switch from first person to third person, gender fluidity of main characters and even the appearance of Twin Peaks's legendary Agent Dale Cooper.

Shya Scanlon is a major talent, rightfully compared to other reality-bending masters like Philip K. Dick and Haruki Murakami. His narrative moves toward an ending that is either apocalyptic or some grand and alien resurrection, leading readers on a wild ride as gorgeous and layered as Russian nesting boxes, provoking as many questions as answers in the end. "A road like a Möbius strip that led to the underside of itself, until you traveled it again to arrive where you'd begun." --Donald Powell, freelance writer
Dzanc Books, $14.95, paperback, 9781936873616
Science Fiction & Fantasy
Naomi Novik, author of the Temeraire series, departs from alternate history to explore a fairy tale setting in Uprooted. The story begins with the familiar trappings of a folk story: a medieval village, a sorcerer, a dark forest and two girls, one seemingly perfect, the other nearly comically flawed.

Dangerous creatures and malevolent magic from The Woods threaten Agnieszka and Kasia's small village. Only the Dragon, a solitary sorcerer who lives in a distant tower, can keep the village safe. But the cost of his services is high: every decade, the dragon selects a girl from the village to serve him for the next 10 years, during which time she will not leave his tower.

Everyone in the village believes Kasia, a girl of exceptional skill and grace, will be selected. But when her closest friend, Agnieszka, is chosen instead, Uprooted takes its first step away from the well-worn path of fairy tales as Novik explores the consequences of Agnieszka's sudden captivity. Nothing about Agnieszka's new life is easy, and the decisions she makes while in the Dragon's tower further compound her suffering. For Kasia, who was raised to believe she would be the Dragon's tribute, trying to lead the life she wasn't prepared to have proves nearly fatal.

Novik features multifaceted characters who, even as they pursue a common goal of eradicating evil, seek to satisfy their own desires. Novik successfully creates an inspired world in which good and evil exist on a spectrum, and no one is safe from the corruption of The Woods. --Justus Joseph, bookseller at Elliott Bay Book Company
Del Rey, $25, hardcover, 9780804179034
The Thrilling Adventures of Lovelace and Babbage: The (Mostly) True Story of the First Computer
by Sydney Padua
Steampunk icons Ada Lovelace and Charles Babbage were frustrated pioneers of 19th-century computer science. Babbage spent many years and government grants developing his Analytical Engine, a steam-powered calculating machine, and Lovelace wrote the first computer program. But Babbage never completed his machine, and Lovelace, like her father, Lord Byron, died at the age of 36.

In her first book, The Thrilling Adventures of Lovelace and Babbage, London animator and cartoonist Sydney Padua creates an alternate history for them, or as she puts it, "a pocket universe" in which they enjoy a lifetime of happy collaboration and fantastical adventures. They amuse Queen Victoria, battle Luddite mathematicians and meet with great minds of the century. One chapter is a raging satire of economic theory; another dramatizes Lovelace as Alice in the Wonderland of her career and her detractors; another sends George Eliot into the cat-infested guts of the Difference Engine in desperate pursuit of the only copy of her first novel, wandering through a flowchart and some loops in the process.

Padua's writing overflows with wit and charm and enthusiastic geekery. Her cartooning is artistic and energetic. She is no computing expert, but her love of these characters inspired her to do extensive research, and she enriches her comic with substantial and entertaining footnotes, many of which lead to even more substantial endnotes and original sources in two appendices. Lovelace and Babbage is an exhilarating ride through a rich period of scientific history, both as it was and should have been. --Sara Catterall
Pantheon, $28.95, hardcover, 9780307908278
The Odd Woman and the City: A Memoir
by Vivian Gornick
At times, The Odd Woman and the City, Vivian Gornick's collection of reflections on her decades of life as a New Yorker, feels impersonal for a book subtitled "A Memoir." However, memoir is not necessarily synonymous with autobiography, and instead, the essayist and former Village Voice reporter is more interested in impressions, opinions and vividly drawn vignettes of urban life than in assembling facts and dates in chronological order.

The Odd Woman and the City is strewn with scenes of everyday New York City--on the street, in the subway, in coffee shops and grocery stores--in which Gornick (Fierce Attachments) is both participant and observer. Many of her anecdotes have a particular feel: encounters with friends and contemporaries are shaded with an awareness that the city where they grew up and came of age is now the city where they are getting old. Bits of the ongoing, 20-year-long conversation she's had with her friend Leonard are woven through the book, frequently leading into or out of longer discourses on literature, history or city culture.

In one of those literary discussions, Gornick describes a novel as "all voice, and very little plot." It's not meant to be disparaging, and the same summation might be applied to The Odd Woman and the City. A compelling voice can keep a reader engaged even when the narrative wobbles; Gornick doesn't really attempt to build a narrative here, but she certainly has the voice. Moving easily between the intimate and the grand scale, this is memoir as conversation--an intelligent, rambling, provocative conversation accompanying a long walk across New York City. --Florinda Pendley Vasquez, blogger at The 3 R's: Reading, 'Riting, and Randomness
Farrar, Straus & Giroux, $23, hardcover, 9780374298609
More Happy Than Not
by Adam Silvera
If you could forget the worst moments of your life, would you? That's the promise offered by the Leteo Institute in this provocative debut novel from Adam Silvera.

Aaron's family is shattered when his father commits suicide, and Aaron's downward spiral leads to his own suicide attempt. In his near-future Bronx neighborhood, everyone suffers, though no one discusses it. Aaron's older brother and mother are distant, lost in their own grief. His girlfriend, Genevieve, is supportive but heading to art camp, and he can't discuss things with his friends. Then Aaron meets Thomas, who's willing to show emotion, reluctant to fight and lets Aaron talk about his past. Aaron comes to realize his feelings for his new friend are more than platonic. But being gay in a tough neighborhood doesn't feel like an option to Aaron, and he begins to consider a controversial medical procedure that can alter and eliminate unwanted memories. Leteo Institute may be able to suppress his feelings for Thomas, but can they erase Aaron's sexuality?

Silvera's powerful debut shows brutal honesty, painful truths and the power of memory. Those in Aaron's life show an array of responses to homosexuality--acceptance, anger, ignorance and indifference--but all resonate with remarkable realism. Silvera (who reviews for Shelf Awareness) explores the possibilities of a world where death, and life, can be forgotten, roles rewritten and broken hearts mended. This is a story not just of a young man coming out, but a dramatic and heart-wrenching exploration of first loves, first heartbreaks, grief and the quest for happiness. --Kyla Paterno, reviewer
Soho Teen, $18.99, hardcover, 304p., ages 14-up, 9781616955601
Water Is Water: A Book about the Water Cycle
by Miranda Paul, illus. by Jason Chin
This engaging picture begins with familiar childhood experiences of water--a pond, rain, a drink--then moves into its more wondrous properties.

In a series of wordless watercolor and gouache images, Jason Chin (Gravity) introduces a sister and brother catching a turtle in a nearby pond; their mother calls them home, and a sudden rainfall suggests the reason. Everywhere there's evidence of water at work: a garden blooms near a water hose, and a toy boat floats in a shallow inflatable pool. Inside the kitchen, the children head for the faucet: "Drip./ Sip./ Pour me a cup," Miranda Paul's (One Plastic Bag) lyrical text accompanies the boy filling a glass with water while his older sister gives some to their newly acquired turtle. "Water is water/ unless..." (a page turn reveals the answer), "it heats up." We see the siblings' father pouring cocoa. Rising steam tells readers the kettle is hot ("Whirl./ Swirl./ Watch it curl by"). Paul and Chin continue to show water's stages through cause and effect. As steam "cools high," it forms clouds ("A dragon/ in a wagon?"). If steam cools low, it's fog. Rain forms puddles; puddles freeze to make skating rinks. They also carry this logic (solid to fluid) to apples, which become cider.

Together author and artist convey the wonder of nature while explaining abstract scientific ideas through examples children come across every day. A diverse cast of characters, including the central multiracial family, plus detailed back matter, make this a rich resource for homes, classrooms and libraries. --Jennifer M. Brown, children's editor, Shelf Awareness
Neal Porter/Roaring Brook, $17.99, hardcover, 40p., ages 6-10, 9781596439849
AUTHOR'S RECOVERY JOURNAL INSPIRES NOVEL
Michael Eon's These Things Happen is "raw and compelling" (Readers' Favorite), "urgent [and] beautifully written" (BookLife) with "smooth, evocative prose, well-drawn characters, and the intriguing time and place of 1970s Brooklyn" (BlueInk Review).
Flashing through Daniel Zimmer's life, past and present, These Things Happen is an unflinchingly honest account of the inevitable ups and downs of coming-of-age and recovery. With the atmospheric backdrop of 1970s Brooklyn, These Things Happen fearlessly examines generational abuse, the transformative power of confronting addiction, and the profound life-changing potential of redemption. "With a vivid, engaging storyline," Eon's debut novel is "a thoughtful read" (BlueInk) that "imparts a compelling message" (BookLife). "The energy of being a child in a city that will eat you up, if you let it, seeps through the pages" (Readers' Favorite).
Daniel Zimmer will do almost anything to end his pain -- except for the one thing that might work.
Growing up in 1970s Brooklyn under the shadow of his tyrannical father, Daniel Zimmer struggles to find a sense of safety and belonging. Daniel and his brother Max find moments of solace in the rebellious rhythms of early punk and metal bands. But when faced with an unexpected family tragedy--for which Daniel feels responsible--Daniel finds escape in the numbing grip of alcohol, offering temporary relief from his pain and guilt. Carrying childhood trauma into adulthood, Daniel spirals deeper into the clutches of addiction. Just as he finds the strength to embrace sobriety, the ghosts of his past resurface, forcing him to confront his demons head-on.
What began as catharsis through writing about his own recovery journey inspired Michael Eon's powerful examination of a life-long relationship with addiction and recovery in his debut novel, These Things Happen.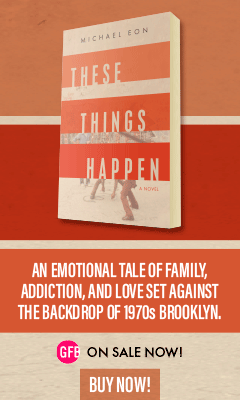 Sponsored Content