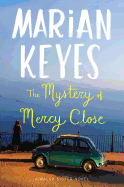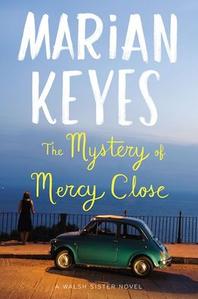 Marian Keyes has treated readers to the stories of the Walsh sisters in Watermelon, Lucy Sullivan Is Getting Married and other novels. This time, in The Mystery of Mercy Close, it's Helen Walsh's turn to take center stage. She is the youngest of the five siblings and is having a hard time. After being fired from job after job, she took a course to become a private investigator and became rather good at it. But with Ireland's economy turned upside down, business dried up: if a woman thinks her husband is having an affair, she turns her head the other way--where would she go if she left him? She doesn't hire a private investigator.
Helen is at her nadir. Her flat has been repossessed, she is in debt and the only thing left for her is to move back home again; Mammy Walsh isn't any more thrilled about it than Helen. The one good thing Helen has going is Artie, her gorgeous Viking boyfriend. He is in law enforcement, the father of three children on whom he dotes and has a very friendly ex-wife. Sometimes, though, the baggage is too much for Helen, who feels like she's spending the evening with the Waltons or the Brady Bunch--and will those kids ever go to bed?
She ignores several calls from an old boyfriend, but when she finally answers, he makes her an offer she can't refuse. He's arranged a series of reunion concerts for the mid-'90s boy band he manages, but one of them has gone missing--and the contracts specify that they all have to show up. Helen brings her investigative talents to bear and gets nowhere, but the search puts her in contact with some interesting--and potentially dangerous--characters.
Keyes's writing is funny and poignant. She has been through a serious depressive episode herself and replicates the experience through Helen, who is always on the verge of suicide. Her descriptions of the "black dog" plaguing her are reminiscent of Styron and others on the downside of bipolar disorder. Yet Keyes always rescues the reader from despair with a crackling one-liner or an entirely inappropriate comment. She has written an entertaining and heartfelt novel with The Mystery of Mercy Close, a story that keeps the reader guessing and, in the end, leads to a very satisfying wrap-up. --Valerie Ryan
Shelf Talker: Keyes focuses on Helen, the youngest of her fictional Walsh sisters, bringing her to life in a story that combines mystery, comedy and an exploration of crippling depression.