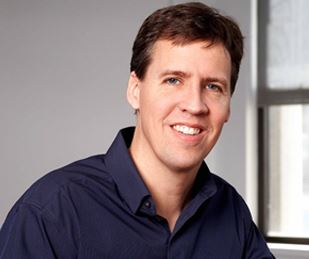 While it's short on details, the Boston Globe Magazine had a q&a with Diary of a Wimpy Kid author Jeff Kinney about the bookstore he plans to open in his hometown of Plainville, Mass., 35 miles southwest of Boston, this summer. (He said last year that the store will be in a new three-story structure and that he has taken a two-day Paz & Associates workshop on opening a bookstore.)
Among our favorite parts of the q&a:
"The reason that we wanted to create a bookstore in our town of Plainville is because, quite frankly, I feel angry that so many bookstores have gone away. Bookstores have always been such a big part of my life and my wife's life, and we wanted to do something about it. We wanted to provide our kids and our community with a place where they could be exposed to new ideas, cultural events, and other people who love to read...
"I think that a lot of independent bookstores are thriving these days. People love books and they don't want to see them go away. We'd like to be a part of that movement....
"I do plan to be an occasional part of [the store], but if this is about me, then it's not going to succeed, or if it depends on my presence, it's not going to succeed. I want it to succeed on its own merits. I think that I'll make appearances, do things like teach a cartooning class or maybe down the line a screenwriting class. I am actually eager to work as a staffer there. I'd like to receive books and shelve books and maybe do some book talking of my own. That's something that I'm actually looking forward to, maybe working the cafe occasionally. I never got to do that kind of a thing, and I think it would be fun."