Around 18% of Americans, or just under one in five, listened to an audiobook in 2017, according to a Pew Research Center survey conducted in January, marking an increase of 4% from 2016. The split between print books and e-books, meanwhile, has remained consistent, with the shares of print and e-book readers similar to figures from a 2016 survey.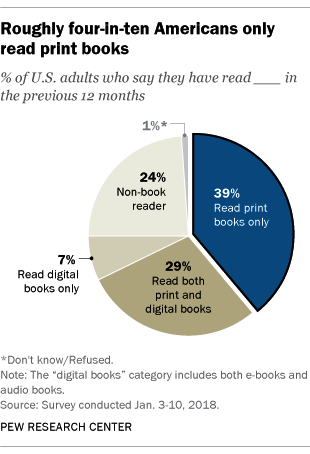 The survey found that 74% of Americans read a book in any format in the previous 12 months, with print remaining the most popular format for reading. Nearly 40% of Americans said they read print books exclusively, 29% said they consume a combination of print and digital formats, and only 7% said they prefer digital formats and have not read a single print book in the last year. And while people between the ages of 18 and 29 are slightly more likely to read only digital books, exclusively digital readers still make up only 10% of that demographic.
On average, Americans read 12 books per year, while in the past year, the typical (median) American read four books. Pew reported that these figures have stayed approximately the same since it began researching American reading habits in 2011.