"When people come in, I tell them this is the mini version of the store we're bringing here," said Alsace Walentine, owner of the pop-up bookstore Tombolo Books in St. Petersburg, Fla. Since moving to St. Petersburg in 2015, Walentine has wanted to open an independent bookstore of her own and is hoping to open a 1,200-1,500-square-foot store this fall. Over the last four months Walentine has introduced her store to the St. Petersburg community as a pop-up shop, beginning with several festival appearances in November 2017 and continuing through the holiday season with a longer term "winter pop-up" that is still running.
The winter pop-up is a 180-square-foot space in an arcade-style building, located on St. Petersburg's Central Avenue, that is home to several other start-ups and small businesses. Walentine sells new books for all ages and across many genres, including picture books, middle grade and YA, adult literary fiction, nonfiction, poetry, and a selection of books in translation and small press titles, of which she said she is particularly proud. She reported that the inventory changes frequently, and most of what she sells is "hot off the presses." Around 25%-30% of the space is shared with a local stationery store from Tampa, which handles most of the sidelines.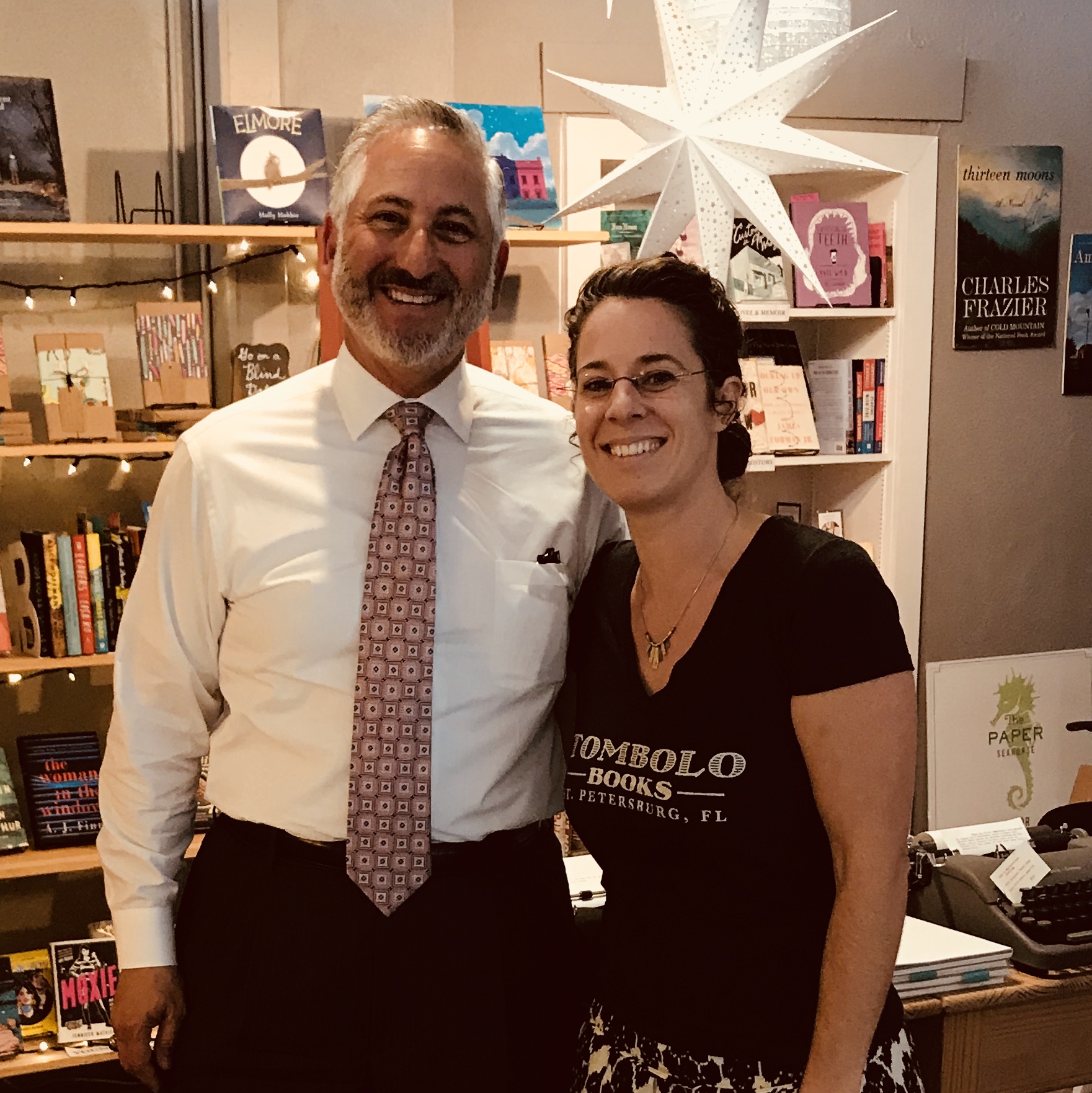 Alsace Walentine with St. Petersburg Mayor Rick Kriseman
"The community response has been just totally astounding and so gratifying," said Walentine, who worked at Malaprop's Bookstore/Cafe in Asheville, N.C., for 16 years prior to moving to Florida. "It feels so good to provide what people are looking for and to do what I love doing."
And though the winter pop-up has moved since opening in December, from a street-front space to an interior location with no real signage, return customers are still coming in and other shoppers continue to discover the store. Soon, Walentine will have to decide if she wants to extend the semi-permanent pop-up into the spring, or focus entirely on festival and market appearances over the next few months.
Tombolo Books made its debut as a pop-up shop at the Tampa Bay Times Festival of Reading last November. At the time, Walentine planned for that to be her only pop-up appearance, envisioning it as more of a marketing event than anything else. She figured that after the festival ended on November 11, she would be back to scouting for locations and working on raising start-up funds.
"It was going to be a one-off thing," remarked Walentine.
But the pop-up was such a success that in less than a week she was set up at another Tampa Bay-area festival called Et Cultura, which Walentine described as "Florida's little mini South by Southwest." At Et Cultura, Walentine met a few people who wanted to arrange a meeting between Walentine and a local developer known for incubating local entrepreneurs. The reception to the pop-up appearances had been fantastic, with Walentine selling "way more" than she expected. That got her thinking about carrying that momentum into a holiday pop-up shop.
When she finally had her meeting with the developer on November 30, he broached the subject of opening a pop-up shop in his Central Avenue property. Walentine pounced on the opportunity, and set up the store the next day, on December 1.
With the winter pop-up still open, Walentine continues to do other pop-up events at festivals and markets. In early February, she brought Tombolo Books to the fifth annual Localtopia, a one-day celebration of "all things local," and in the middle of the month Tombolo was featured at a Techstars' Tampa Bay Startup Week.
Whether she decides to extend the Central Avenue residence or not, Walentine has plans for several events this spring. Last week, she sold books at the Association of Writers & Writing Programs Conference as well as participated in AWP's Literary Death Match. And on April 12, Tombolo Books will hold its first official author event: an off-site launch party for the children's history book Pride: The Story of Harvey Milk and the Rainbow Flag by Rob Sanders and illustrator Steven Salerno.
Walentine said that when she lived in Asheville, she always had "so much confidence" in independent bookstores, though she would occasionally catch herself wondering whether the rest of the world was as "cool" as Asheville, or if, in other parts of the country, people were simply more devoted to huge discount retailers than local businesses. But since coming to St. Petersburg, she said, her worries have been assuaged. Added Walentine: "The go local movement here is thriving." --Alex Mutter