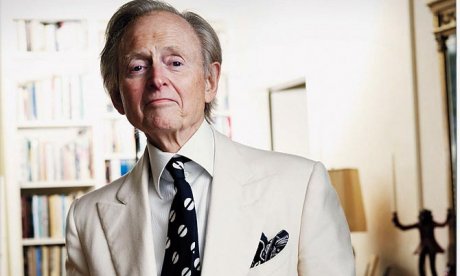 Tom Wolfe (via)
Tom Wolfe, a legendary journalist and novelist "whose technicolor, wildly punctuated prose brought to life the worlds of California surfers, car customizers, astronauts and Manhattan's moneyed status-seekers in works like The Kandy-Kolored Tangerine-Flake Streamline Baby, The Right Stuff and Bonfire of the Vanities," died May 14, the New York Times reported. He was 88. Beginning in the 1960s, Wolfe's "use of novelistic techniques in his nonfiction... helped create the enormously influential hybrid known as the New Journalism."
Describing him as an "unabashed contrarian," the Times wrote that Wolfe "was almost as well known for his attire as his satire. He was instantly recognizable as he strolled down Madison Avenue--a tall, slender, blue-eyed, still boyish-looking man in his spotless three-piece vanilla bespoke suit, pinstriped silk shirt with a starched white high collar, bright handkerchief peeking from his breast pocket, watch on a fob, faux spats and white shoes. Once asked to describe his get-up, Mr. Wolfe replied brightly, 'Neo-pretentious.' "
From 1965 to 1981, Wolfe produced nine nonfiction books, including The Electric Kool-Aid Acid Test and Radical Chic & Mau-Mauing the Flak Catchers, while continuing "to turn out a stream of essays and magazine pieces for New York, Harper's and Esquire. His theory of literature, which he preached in print and in person and to anyone who would listen was that journalism and nonfiction had 'wiped out the novel as American literature's main event,' " the Times noted.
Bonfire of the Vanities, his first novel, was a runaway bestseller, but "divided critics into two camps: those who praised its author as a worthy heir of his fictional idols Balzac, Zola, Dickens and Dreiser, and those who dismissed the book as clever journalism, a charge that would dog him throughout his fictional career," the Times wrote. Wolfe published three more novels: A Man in Full, I Am Charlotte Simmons and Back to Blood.
"What I hope people know about him is that he was a sweet and generous man," Michael Lewis told the Associated Press. "Not just a great writer but a great soul. He didn't just help me to become a writer. He did it with pleasure."
Gay Talese noted: "He was an incredible writer. And you couldn't imitate him. When people tried it was a disaster. They should have gotten a job at a butcher's shop."
In a New Yorker tribute, Adam Gopnick observed that Wolfe "was--as even those of us who did not share his politics and often deplored his taste and even doubted the fashion wisdom of all the white suits have to admit--one of the central makers of modern American prose.... Possessed of perhaps the best pure eye and ear for American manners since Sinclair Lewis, he can be described in one way with certainty: no account of American letters in the last half of the twentieth century can be credibly written in which Tom Wolfe will be ignored."