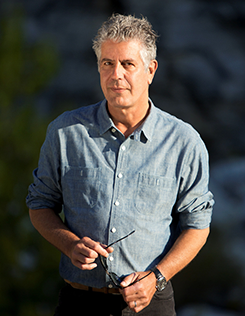 photo: CNN
Very sad news this morning: chef, author, TV host, publisher and raconteur Anthony Bourdain has died, apparently by suicide, according to CNN, which hosted his food travelogue show Parts Unknown. He was in France working on an episode for the show. He was 61.
In 2000, Bourdain became an instant celebrity when his darkly funny memoir Kitchen Confidential: Adventures in the Culinary Underbelly was published by Bloomsbury. With scalding wit and frankness, he related his road to becoming a chef and his hectic, often drug-fueled work in high-end New York City kitchens during the 1980s as well as shared inside restaurateur tips, like not to order fish on Monday (it's left over from the weekend) and never order steak well done (overcooking masks low-quality cuts).
He followed Kitchen Confidential with A Cook's Tour (2001), The Nasty Bits (2006), No Reservations (2007), Medium Raw (2010) and Appetites: A Cookbook (2016). He also wrote several works of fiction in the 1990s prior to Kitchen Confidential and returned to that genre in 2012 as co-author of the graphic novel Get Jiro! for DC Comics/Vertigo. Another co-authored comic, Anthony Bourdain's Hungry Ghosts, comes out this October. Ecco published an updated version of Kitchen Confidential in 2007.
In 2011, Bourdain started his own imprint at Ecco, which has published books by chefs, musicians, athletes and others.
Parts Unknown began its 11th season last month. It was his fourth such series, after the Travel Channel's No Reservations (2005-2012) and The Layover (2011-2013), and the Food Network's A Cook's Tour (2002-2003).