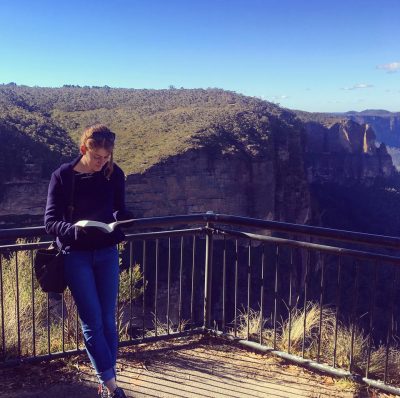 In the week leading up to the Australian Booksellers Association 2018 conference, June 17-18, Books+Publishing is interviewing each of the five shortlisted nominees for Young Bookseller of the Year. In the first installment, Stephanie Beck, events manager at Better Read Than Dead in Newtown, Sydney, answered the question:
What are the top three things you wish you'd known when you were starting out in the book industry?
When I started working in this industry I was 17 years old, and hired to come in on Saturday to wrap books. I knew next to nothing about bookselling, although I could fold a perfect corner and curl ribbon like a pro. I was also an avid reader (the Matilda sort), and almost everything else I knew about books came from my English teachers, pop culture or my grandmother. I hoped my experience would be a little more Notting Hill, and a little less Black Books. I therefore had this preconceived notion of what bookshop work would be like, which turned out to be fairly inaccurate. I wish I'd known that:
I wouldn't have time to sit down at the front counter and read my book!
I would accumulate books at a rate bewildering to myself and to everyone around me. My obsession with complete sets and matching spines and colored fore edges and limited editions and signed copies would only intensify. Entire paychecks would be spent on books. I'd no longer be able to visit another suburb, town or country without checking out its bookshops, and I now find myself alphabetizing, reordering and facing out books wherever I go. Working in a bookshop almost becomes a way of life; taking over my house, my holidays and a lot of my head space!
There is so much more to bookshop employment than I imagined. My role as events manager in particular has taken me places I hadn't anticipated, I've been introduced to people I never dreamed I would meet and have been able to support books I really believe in. I love the customer service and retail sides of my work, but being a part of the wider book industry and working alongside publishers and authors has been equally as rewarding. I think booksellers are perfectly positioned between the world of publishing and the world of readers, and can do so much to inspire a love of literature, champion important writing and pioneer change both in the industry and in society more broadly. I am digressing from the question a little here and I don't mean to gush, but I really do wish I'd realized the potential of my job and the weight of this industry a little earlier.