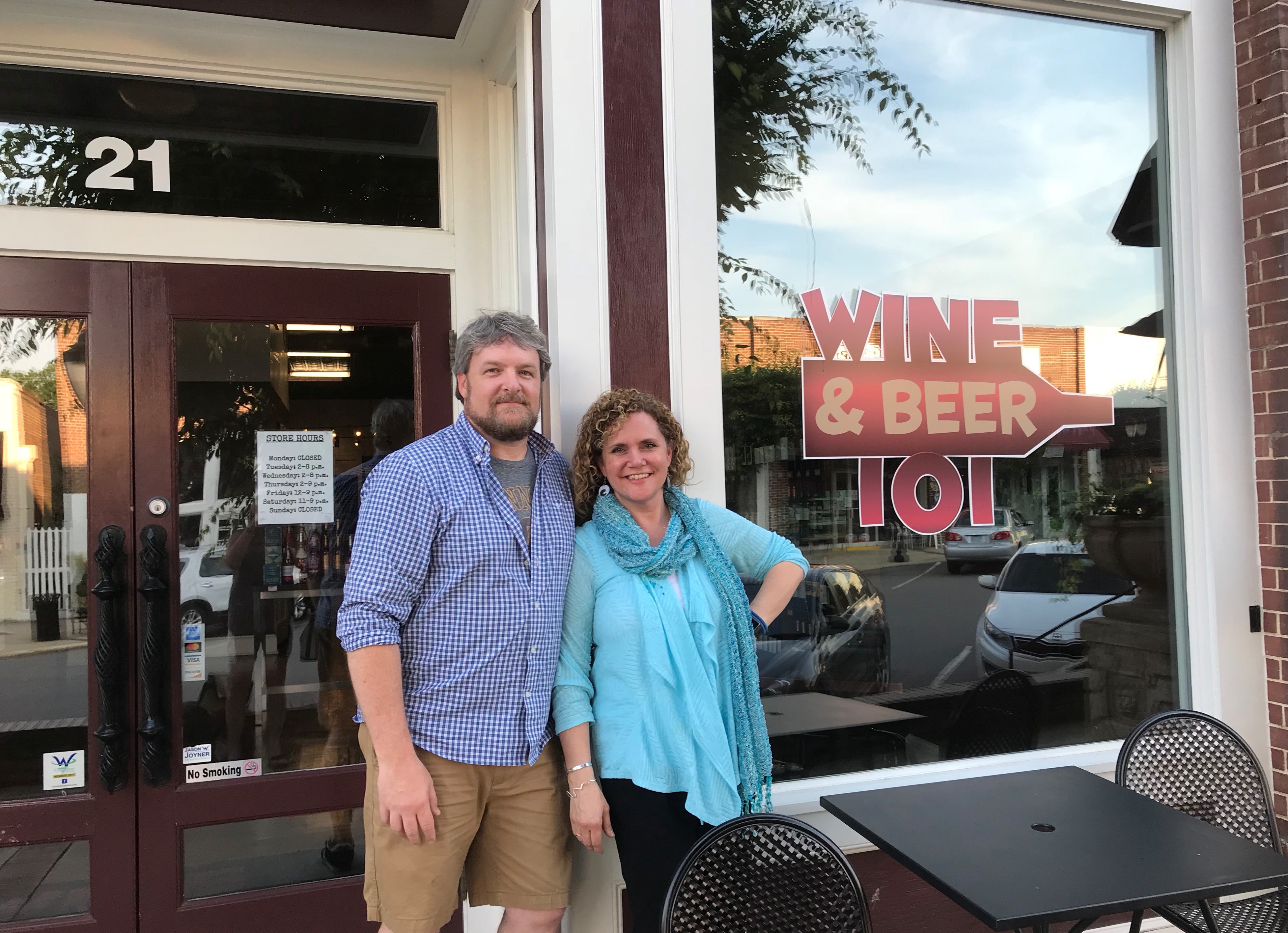 Dave and Suzanne Lucey
"It'll give us the opportunity to get a little more creative with our events," said Dave Lucey, co-owner of Page 158 Books, a general-interest, independent bookstore in Wake Forest, N.C., that will soon have a second location on N. Main St. in nearby Wendell, N.C. He and his wife, Suzanne Lucey, plan to open the new store in time for the Fourth of July.
While the new location will technically be smaller than the original store--about 600 square feet of selling space compared to 1,600--the new Page 158 Books shares a larger, connected space with a wine store and tap room called Wine and Beer 101. From the outside, Wine 101 and Page 158 will have their own entrances and storefronts, but inside, customers will be able to move freely between the two. The building also has a second-floor events space that, at 1,500 square feet, is nearly as large as the entire Page 158 original store.
"It feels like you're in a bookstore for wine," Lucey described Wine and Beer 101. "It has a relaxing atmosphere."
Lucey explained that although the Wendell location will be a general-interest, all-ages store like the original, he and his wife will adjust the inventory not only to fit into a smaller space but also better suit a new clientele. Given that they'll be sharing a building with a wine and beer store, the Luceys plan to expand their selection of wine- and drink-related books significantly.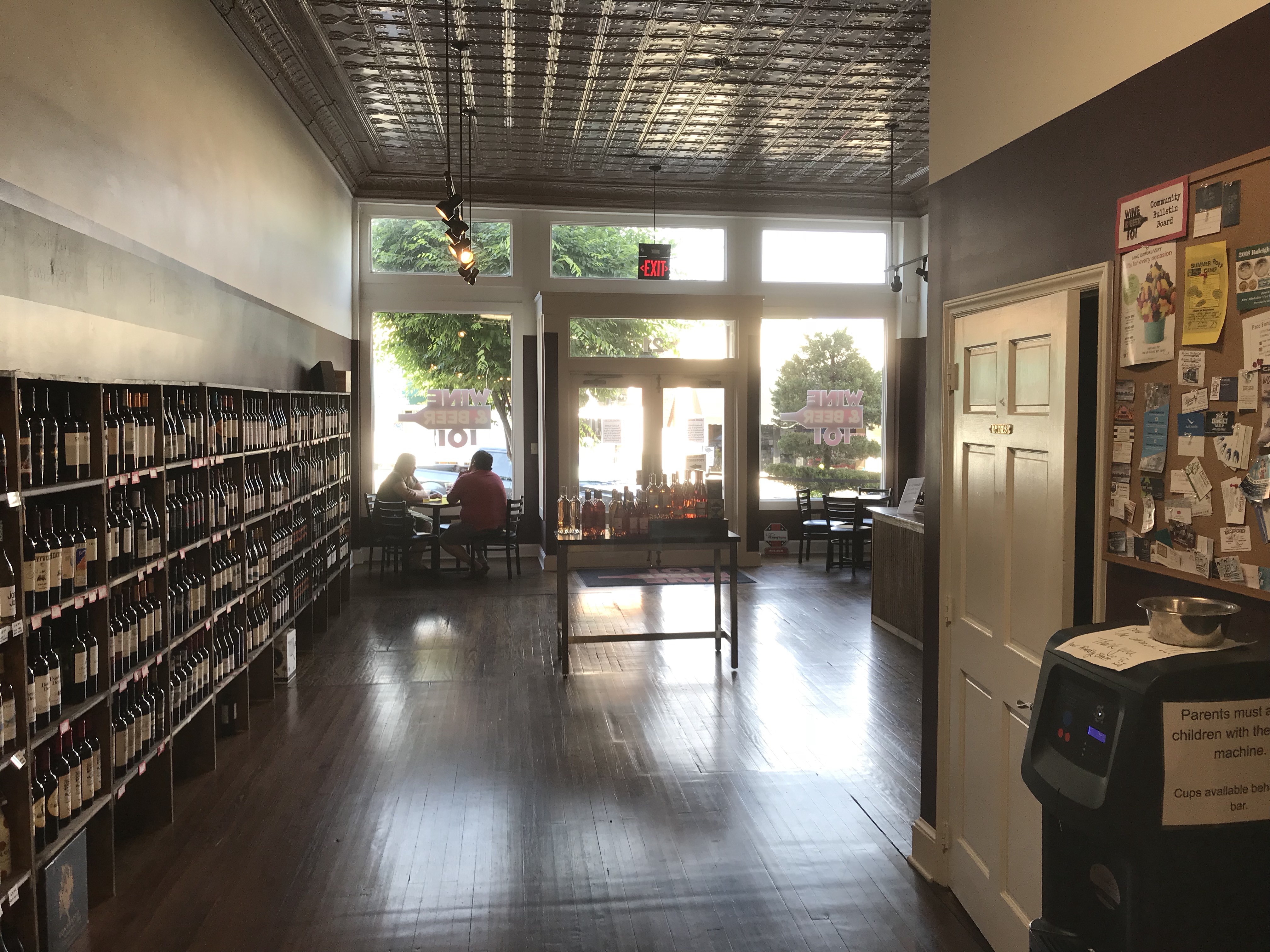 He also reported that though it specializes in alcoholic drinks, Wine and Beer 101 has a calm, family-friendly vibe, and younger couples and families often bring their kids. As such, they plan to make sure to have plenty of children's books to "help keep the kids occupied." Lucey noted, too, that the area between Raleigh, N.C., and the state's coast is something of a "book desert," and he and his wife look forward to bringing a variety of new fiction and nonfiction to that community.
As for events, Lucey added that they are excited about the flexibility that will come from sharing space with Wine and Beer 101. One thing they'd like to do in Wendell that they can't do at the original store is host cookbook clubs, where they hope to bring in cookbook authors and share food made from the author's recipes.
"We really want to try to be creative and figure out what the community wants," he said. "Now we can do something with 50 people without moving a shelf."
Asked whether he and his wife had been looking to open a second store for a long time, Lucey said they hadn't--in fact, they had the opportunity kind of "fall in our laps." Since they opened Page 158 Books in 2015, the Luceys became good friends with Joe O'Keefe, the owner of Wine and Beer 101, which has several locations in the area. Lucey described O'Keefe as a fixture of the local business community, the kind of person "you go to for advice," and said that he had consulted with O'Keefe frequently in 2017 when he and his wife had to vacate their bookstore's original storefront while their new space was still being built out.
More recently, O'Keefe had already been looking for something to add to the Wendell location, Lucey continued, when he read a Facebook post from a Wendell resident saying they wished they had a bookstore in town. "He had a thought and called us the next day," recalled Lucey. "That was in January."
The Luceys have committed to a trial period of six months; assuming all goes well, they'll extend the Wendell location into 2019 and see where it goes from there. Dave Lucey, who has a day job in IT, said that at first Suzanne Lucey is "going to spend quite a bit of time" at the new location, along with two part-time employees. Should they bring on more staff, the Luceys would like to hire someone local to Wendell.
Lucey said they're hoping to open on July 1, but fully intend to be open on the Fourth of July. The town's annual parade will pass right by the building, and he and his wife will "make sure we're open for that." --Alex Mutter