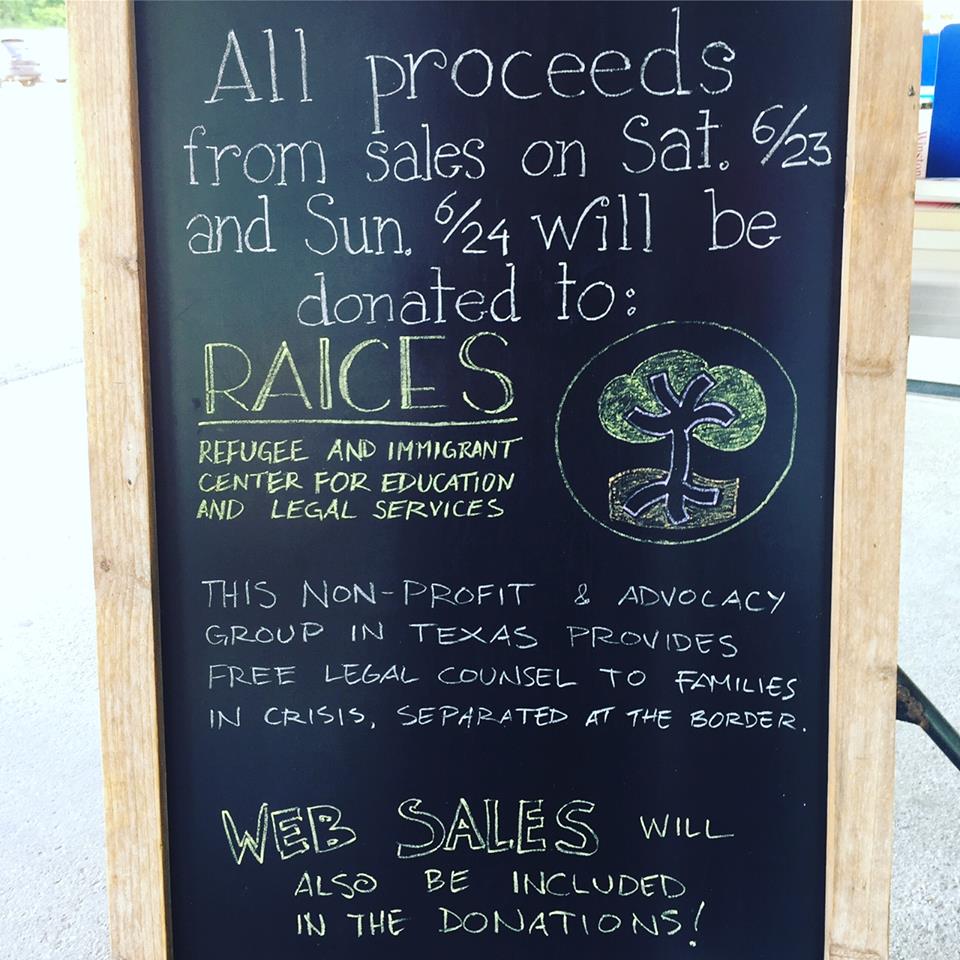 Chalkboard at Bookloft in Great Barrington, Mass.
Bookstores around the country are making donations to and highlighting organizations that are helping immigrants, particularly asylum-seekers along the border with Mexico whose children have been separated from them by the federal government.
This weekend, Print: A Bookstore, Portland, Maine, is donating 20% of all profits from its sales in-store and online to KIND (Kids in Need of Defense), which works to protect children who enter the U.S. immigration system alone to ensure that no child appears in court without an attorney. The store commented: "We, like many others, take moral issue with the current administration's continued effort to detain families indefinitely at the border and separate children from their parents. KIND and many other terrific organizations like RAICES and the Florence Project are working tirelessly to make sure the rights of immigrants and those seeking asylum are protected. Because we believe that we become stronger as a country, as citizens and as human beings by doing things that bring us together--not things that tear us apart."
Last weekend, the Bookloft, Great Barrington, Mass., donated all proceeds from its sales to RAICES (the Refugee and Immigrant Center for Education and Legal Services), which provides free and low-cost legal services to underserved immigrant children, families and refugees in Central and South Texas. The store posted: "Your purchases allow us to put a check in the mail to RAICES today for $6,609.04."
Last Saturday, Third Place Books, with three stores in Seattle, Wash., donated 20% of all sales to RAICE. The day of donations was the idea of Avery Peregrine, a bookseller at Third Place Books Seward Park who recalled the store's fundraising last October for Hurricane Maria relief in Puerto Rico and suggested doing something similar for the current crisis stemming from President Trump's "zero-tolerance" immigration policy.
Third Place managing partner Robert Sindelar said that the stores raised $7,488 for RAICES and that customer reaction was "incredibly positive. Readers at all three stores were making a point of thanking us throughout the day and purchasing stacks of books in the process." Sales were up almost 80% in the stores and online. Noting that Third Place raised $6,585 for Hurricane Maria relief, he added, "I am thrilled that Avery had the instinct and intuition to suggest a similar campaign to help the children in crisis at the border."
On June 20, United Nations' World Refugee Day, Left Bank Books, St. Louis, Mo., donated 20% of its proceeds, which amounted to $973.28, to RAICES. "All credit is due to the wonderful community we serve," said store co-owner Jarek Steele. "They responded in force when we put out the call... We are grateful and heartened by the response."
In announcing the event, the store wrote:
"We at Left Bank Books are appalled by the stories of children being separated from their families at the border of our country. We condemn in the strongest terms the cruel actions taken against these families in our name.

"We are obligated, every one of us, to seek a higher ground. To be better than this. To be the best selves we can be. This is our time to show who we are as citizens of this country and grasp the highest moral ground, the strictest code of kindness and compassion. We must use our time on this earth to do good and to leave it a better place for those who come after us.

"That means holding our elected officials accountable, insisting that this practice stop by protest in any form we are able, and showing support to the organizations who are doing the hard work of protecting these families and the rest of us from ourselves.

"This is our watch."
Also in honor of World Refugee Day, Brazos Bookstore, Houston, Tex., gave a 20% discount through the end of last week to any customer who could show proof of a donation to RAICES.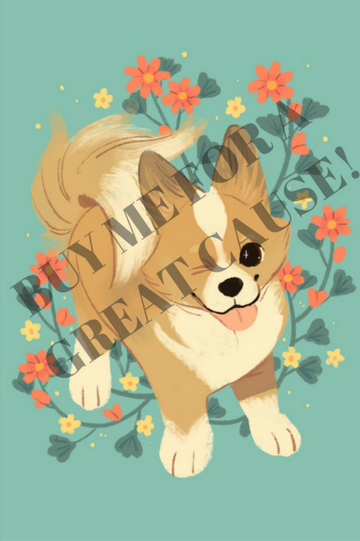 Ripped Bodice's Fitz print.
The Ripped Bodice: A Romantic Bookstore, Culver City, Calif., is donating 100% of the proceeds from the sale of a print of Fitzwilliam Waffles, "the most famous romance bookstore dog in the world," to RAICES. Orders for Fitz's Fundraiser must be placed by July 9.
And in related effort, starting on Monday, July 2, One More Page Books, Arlington, Va., is giving away 25 copies of On Tyranny: Twenty Lessons from the Twentieth Century by Timothy Snyder (Tim Duggan Books) to the first 25 people who show the store their voter registration cards. Owner Eileen McGervey called On Tyranny "a small and powerful book. We've sold many, many copies, but we want to get it in the hands of even more folks and emphasize the importance of voting."