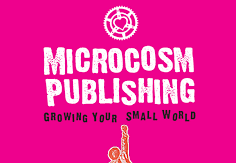 Microcosm Publishing will cease being distributed by PGW/Ingram and Amazon and begin self-distributing, the company has announced. Effective January 2019, Microcosm will handle most accounts through its website and internal sales team. Microcosm has hired field sales reps Traveler's West (West Coast), Como (East Coast) and Fujii (Midwest) to visit and solicit their books to bookstores. Microcosm has been making a concerted effort to reach out to indies in recent years.
"We are returning to our roots to create the world that we want to see," said company founder and CEO Joe Biel. "This isn't as staggering a change as it sounds. Reviewing the numbers, we have come to realize that we know better how to distribute our books than anyone else that we've tried to partner with. We've continued to handle 75%-90% of our own distribution over the past seven years with PGW and IPG before that. The simple fact is that the underground is much bigger than the mainstream." He added that sales are up more than 52% over last year.
With headquarters in Portland, Ore., Microcosm has a staff of 14 and a catalogue of more than 400 titles. It also distributes gift and specialty titles from other publishers. The company's focus is to equip readers "to make positive changes in their lives and in the world around them. Microcosm emphasizes skill-building, showing hidden histories, and fostering creativity through challenging conventional publishing wisdom with books and zines about DIY skills, food, bicycling, gender, self-care and social justice."
Regarding his decision to cease doing business with Amazon, Biel said, "Unlike our rep groups, Amazon isn't a team player. Besides, they comprise about 1% of our net sales so why bother with such a small, uncooperative account?"