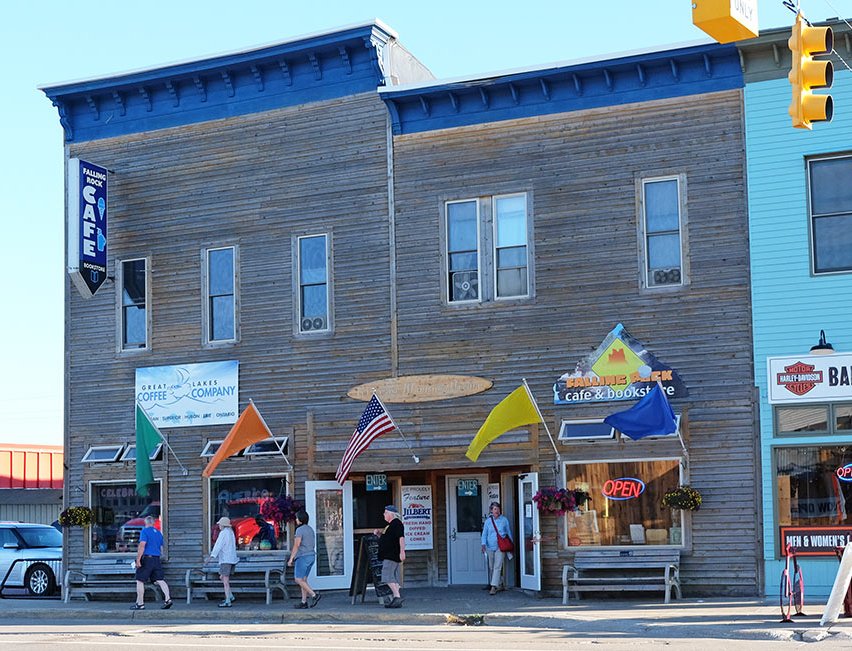 Falling Rock Cafe & Bookstore in Munising, Mich., has been put up for sale. In a notice posted on the website, Jeff and Nancy Dwyer, who opened the store in 2003, said they have decided to sell the business as well as the 4,000-square-foot building, adding: "It has been a wonderful 15 years and we are in no particular hurry, but believe it's time for us to consider alternatives for insuring the sustainability of the business and its impact on the community."
The description reads, in part: "This remodeled retail space is open and spacious with completely updated electricity, heat, water, sewer and additional infrastructure. Located in the historic 104 E. Munising Avenue building along the shores of Lake Superior, our building was built in 1896, the year that the City of Munising was incorporated. We have uncovered the tin wall panels, wainscots and the original maple floors, and have restored the walls and floors to their former beauty."
A "well-established brand known for community and customer service," Falling Rock Cafe & Bookstore "is a leader in the community serving many charitable functions. It's a favorite of locals and tourists alike, and we are affectionately known as 'Munising's Living Room,' " the Dwyers wrote. In addition to the café and bookstore, the property includes four rental apartments on the second floor of the building.