As might be expected on such a lively day, social media was buzzing with Indies First/Small Business Saturday posts from booksellers. Here's a sampling:
Off the Beaten Path Bookstore, Steamboat Springs, Colo.: "It's Small Business Saturday, and what could be cozier on this snowy day than our little bookshop? Come après-ski for a boozy latte warm-up and browse our newly reorganized clearance closet for specials... You never know what you'll find in our used book loft!"
Mrs. Dalloway's, Berkeley, Calif.: "Our fearless leaders and the Saturday morning crew are ready for #IndiesFirst and #SmallBusinessSaturday! Hope you'll shop local and indie today, wherever you are."
the river's end bookstore, Oswego, N.Y.: "It is a beautiful morning to head downtown and visit your favorite indie businesses! Come join the celebration of Indies First on Small Business Saturday. Stop in for hot mulled cider from Ontario Orchards, coffee from our friends at the Coffee Connection and yes, Mindy's home made craisin pumpkin bread!"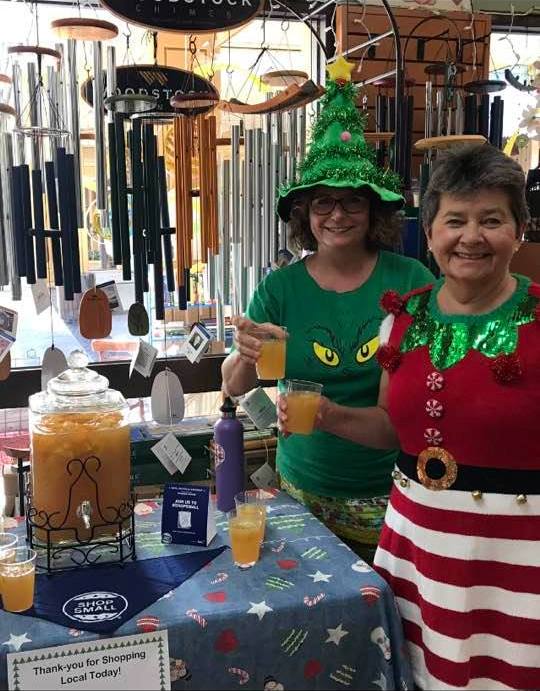 Partying at Kona Stories.
Kona Stories, Kailua-Kona, Haw.: "Welcome to the start of #shopsmall! Jump in for your free glass of Sangria... fresh fruit from our Keauhou Farmer's Market.--with Brenda Lea McConnell and Joy Vogelgesang."
Papercuts J.P., Boston, Mass.: "Get a start on your holiday shopping by supporting local stores this Small Business Saturday. Your friendly neighborhood booksellers at Papercuts would be happy to help you find books, holiday cards & more for all the people on your shopping list! Pop into the store today!"
Booksmith, San Francisco, Calif.: "Cookies, donuts & lemonade. #SmallBusinessSaturday"
The Spiral Bookcase, Philadelphia, Pa.: "Small Business Saturday is here! Giveaways, raffles, treats and local author appearances--could it get any better? We'll be here until 8 pm slinging bookish fun, holiday cheer and gift recommendations!"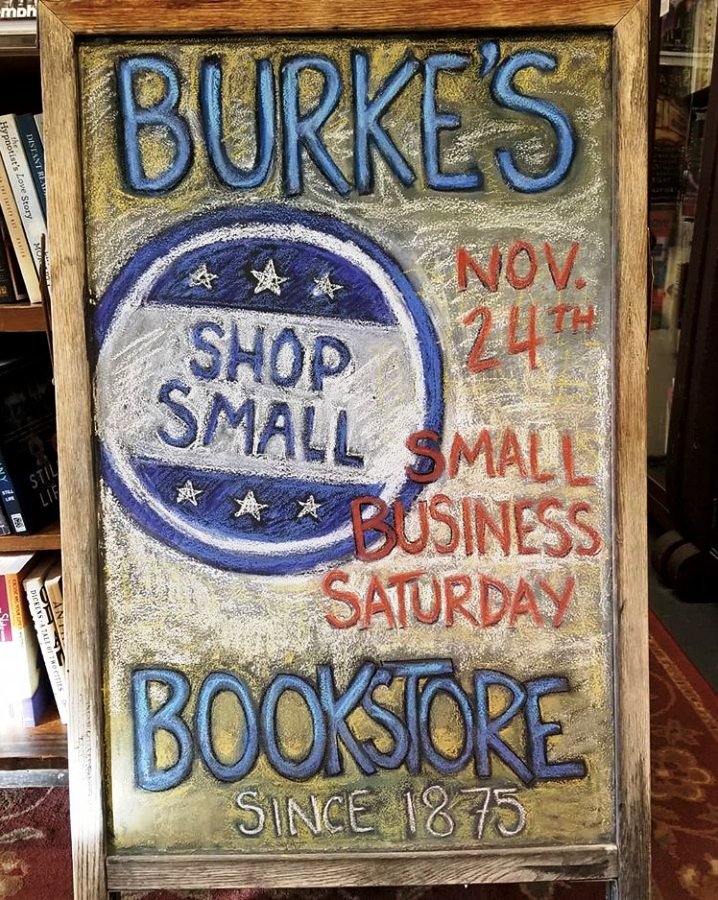 Burke's Book Store, Memphis, Tenn.: "It's a gorgeous day in Cooper-Young! Come celebrate Small Business Saturday with deals and discounts, prizes and giveaways, live music and more."
Foggy Pine Books, Boone, N.C.: "This is the first time we haven't been busy today so we took an opportunity to snap a picture of Boone's finest #indiebookstore. We appreciate all our amazing customers & look forward to helping you pick out holiday gifts this year.... So many great things going on today! Stop by to browse or get a recommendation from our booksellers!"
Brazos Bookstore, Houston, Tex.: "Ben got his portrait done by today's guest artist @kategavino! Yay!!"
Village Books, Bellingham, Wash.: "A deceptively quiet photo of a busy lovely day."
Run for Cover Bookstore and Café, San Diego, Calif.: "We are having so much fun! Come join us. The Typewriter Troubadour poet will be here from 2-4! Don't miss out. And we have books, gifts, coffee and treats for all of our wonderful Small Business Saturday shoppers."
Nicola's Books, Ann Arbor, Mich.: "Our chair has been has revealed! It has a beautiful coat of new paint and has already welcomed people of all ages to sit and enjoy a book. Thank you to everyone who supported us this small business Saturday and all the other days of the year."
One More Page Books, Arlington Va.: "The Great Bookseller Bake-off is underway! We appreciate how seriously you all took your voting responsibility and tasted ALL 6 entries (and didn't let yourselves be influenced by our booksellers). Stay tuned for results." And: "The joy of victory! @quainiac won The Great Bookseller Bake-off. She's been refining the recipe for her Nutella Cream Pie and as you can tell by the empty dish, it was a big success!"
Carmichael's Bookstore, Louisville, Ky.: "Bookseller Jonathan's fab sign is featured in this collage! If we didn't see you today for Small Business Saturday we hope to see you soon."
Milkweed Editions, Minneapolis., Minn.: "Here til 7 p.m. tonight folks, there are still plenty (too many?) books on these shelves!"
The Town Book Store, Westfield, N.J.: "We had another successful Small Business Saturday thanks to all of you who came out to show your support!"
Bogan Books, Fort Kent, Maine: "I just wanted to take a moment to thank everyone who came out this weekend to support me and my little bookshop. It means the world to me to see so many familiar and new faces walk through my door. I am going to take tomorrow and Monday with my family, but if you were unable to join us, I will be open on Tuesday. All raffle winners have been notified. Thank you!!!!"
Dotters Books, Eau Claire, Wis.: "Our first #smallbusinesssaturday in our little shop has us feeling so thankful. Thank you to everyone that stopped in today and spent some time with us. Thank you to all of the fellow small business owners who have encouraged and supported us as we work toward this dream. This is an incredible community and we're so honored to be a part of it...."
The Little Bookshop, Midlothian, Va.: "Thanks so much to all who came out to support us today for Small Business Saturday!! We saw so many familiar faces and made some new friends as well. It is our fantastic customers that keep us going!"
Newtonville Books, Newton, Mass.: "Thank you, friends and neighbors, for stopping by to celebrate #smallbusinesssaturday with us. I meant to take photos of the store bustling with shoppers but I was too busy so you'll have to just imagine it. Thank you, thank you all for keeping us so busy."
The Bookworm Omaha, Omaha, Neb.: "What a day, and we have to thank YOU for making it all possible! Whether you shopped with us today, tell your friends about your Bookworm visits, order Rainbow Rowell signed copies from across the country, stop in when you're back in town, or a host of other ways we feel the love, we have to say we've felt it! From Beth & Phil, and everyone else at The Bookworm, thank you for your continued support."