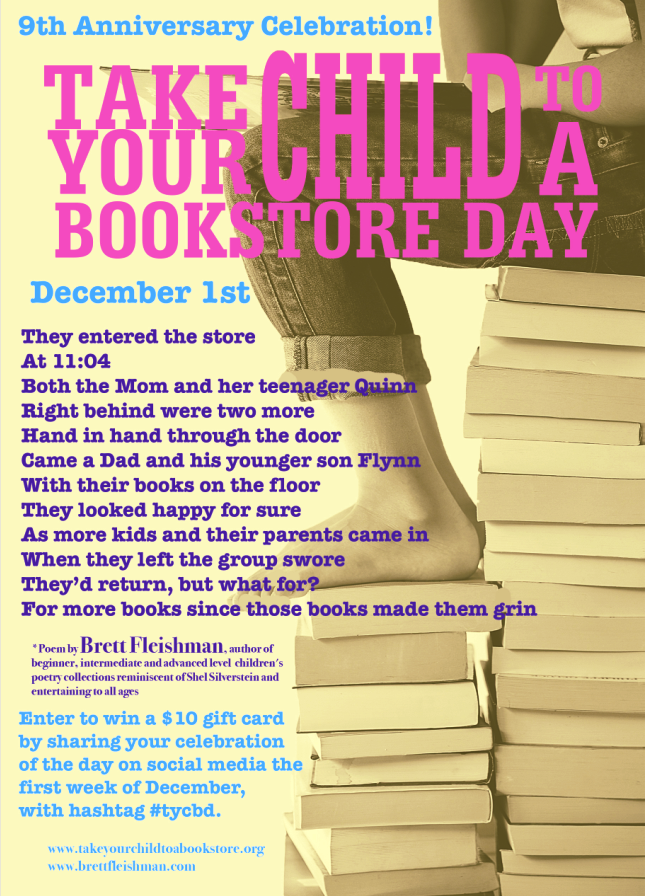 The ninth annual Take Your Child to a Bookstore Day, an initiative created to "instill a love of bookstores in children so that they will value and support this most precious of resources as they go on to enter and create communities of their own," will be held Saturday, December 1.
Founded by Jenny Milchman, author most recently of Wicked River, the first TYCTB was celebrated by 80 bookstores and has now grown to more than 800 stores in every U.S. state, seven Canadian provinces, and countries on five continents.
"Take Your Child to a Bookstore Day began when my kids were little and I was taking them to story hour at our local bookstore, Watchung Booksellers, every week," Milchman recalled. "I wondered if every child knew the pleasure of time spent in a bookstore--and the parents too, of course! I was bowled over by the response when I floated the idea for a Day.... In our digitalized, hyper-connected yet disconnected world, bookstores hold the key to true, authentic connection--and also a much-needed escape. My hope is for Take Your Child to a Bookstore Day to be celebrated for decades to come."
For the 2018 edition, Milchman has teamed up with children's poetry author Brett Fleishman, who wrote a special celebratory poem titled, appropriately, "Take Your Child to a Bookstore Day":
They entered the store
At 11:04
Both the Mom and her teenager Quinn
Right behind were two more
Hand in hand through the door
Came a Dad and his younger son Flynn
With their books on the floor
They looked happy for sure
As more kids and their parents came in
When they left the group swore
They'd return, but what for?
For more books since those books made them grin
Fleishman said: "It feels like yesterday when I was taking my (now teenage) sons to the local bookstore seemingly every weekend. I can still recall vividly those afternoons when we would sit together in a corner of the bookstore, and I would read them my favorite Shel Silverstein poems from way back when I was a kid. It was so much fun to share my childhood experience with them. Silverstein's poetry brought together two generations of Fleishmans, and it's now truly an honor to have been invited to write a poem celebrating Take Your Child to a Bookstore Day."
For this year's TYCBD, JKS Communications will be giving away nine $10 bookstore gift cards to winners across the country who celebrate the day on social media using the hashtag #tycbd, as well as one grand prize winner who will receive a $50 bookstore gift card and signed copies of Fleishman's poetry volumes and Milchman's latest book.