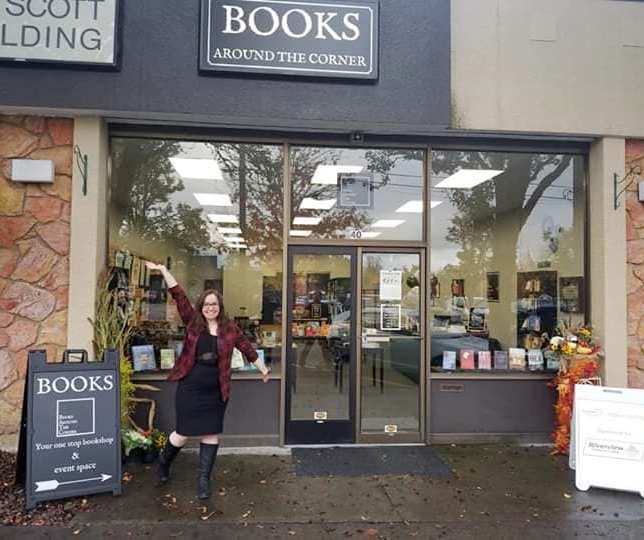 Stephanie Csaszar opened Books Around the Corner, a new and used independent bookstore in Gresham, Ore., on November 2. The general interest, all-ages store is around 2,000 square feet and carries roughly 60% used books and 40% new, and while Csaszar had always wanted to open a bookstore of her own, that dream became a reality much faster than she expected.
"It was 32 days from start to finish," recalled Csaszar, who spent the last two years as a librarian and had been a therapist before getting her masters in library and information sciences.
She'd begun looking into opening a bookstore earlier this year, after realizing that there were no general-interest stores serving a community of approximately 100,000 people, and she had a rough plan of potentially opening sometime in spring 2019. But in late September, while talking to the owner of an independent puzzle and game shop in downtown Gresham, she learned that a nearby retail space would be available in just a couple of weeks.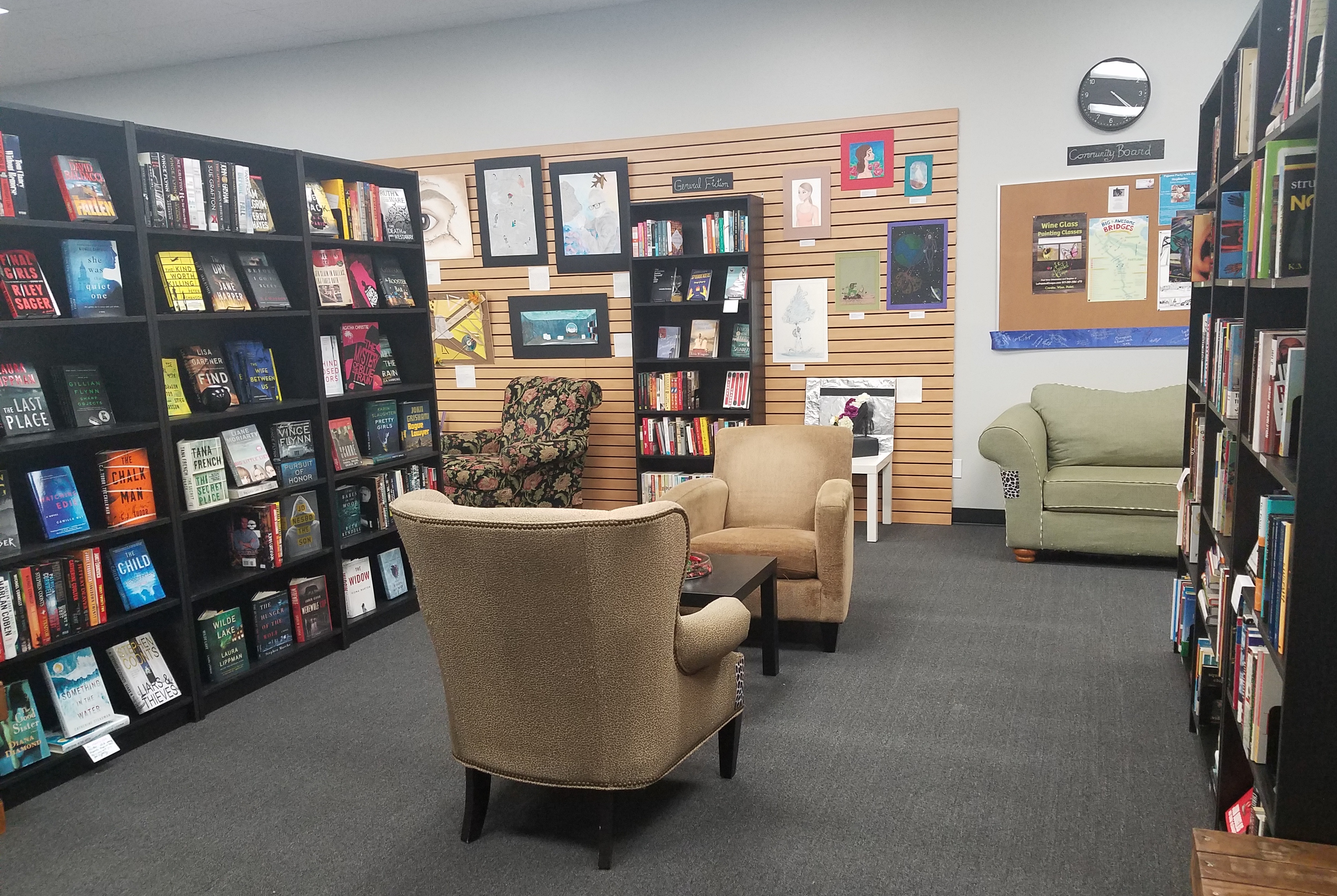 While it seemed like a dauntingly fast turnaround, Csaszar felt that spaces in downtown Gresham didn't frequently become available, and decided that it was too perfect an opportunity to pass up. She spent the month of October setting up accounts with publishers, ordering her opening selection of new books, acquiring used books, buying furnishings and setting up the store's website.
One of the first things she did was launch an Indiegogo campaign, which brought in around $700, and although she didn't have books for sale yet, she did have a booth at the local farmer's market every weekend in October. Community members could sign up for the store's newsletter and enter to win ARCs and raffle items donated by other local businesses. By the time the store officially opened on November 2, she had more than 100 people on the store's e-mail list and already something of a following.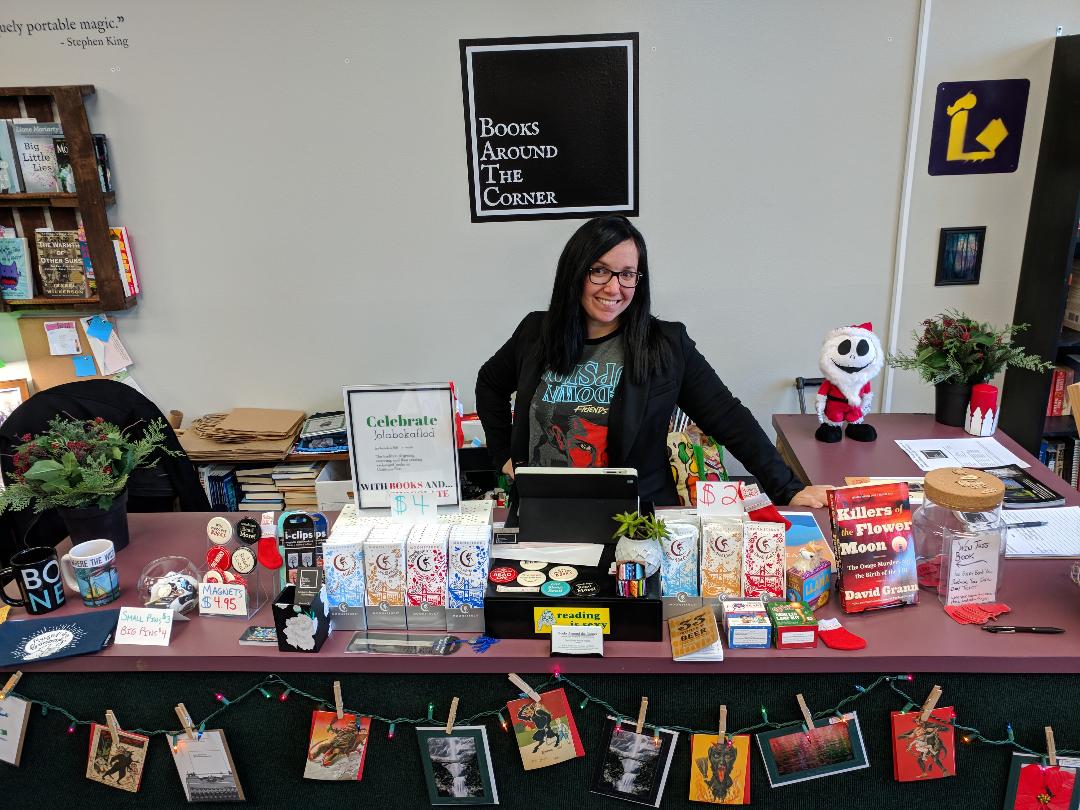 "I get people coming in and saying they can't believe it's finally here, after seeing the tiny booth with no books for sale at the farmer's market," Csaszar remarked, laughing.
Csaszar typically sources her used books from library sales or online. She is gradually moving toward buying used books from customers, but is still working out details and expects to be very restrictive about it at the start. She also doesn't sell heavily worn or damaged books, or used mass market paperbacks. Instead, she puts books like that on a free shelf, and customers are welcome to take one with each purchase.
In addition to a wide selection of books for teens and adults, Books Around the Corner has a small children's area with toys and an event space in the back of the shop. When the space is not in use, customers are welcome to hang out and read or work there, and the space can be rented out for private events.
So far, Csaszar has hosted a few local authors and plans to host at least one per month. One of the biggest events that Csaszar still has scheduled for this year is a Bring Your Own Donation ugly sweater Christmas party. Customers are encouraged to bring items that will be donated to local charities, and two local cider houses will do in-store tastings. In 2019 she'll launch the store's first book club and is currently polling her customers about what sort of book club they would prefer.
Csaszar doesn't sell any coffee or food, aside from locally made chocolates. Some of her other sideline offerings include literary-themed shirts and socks, locally printed greeting cards, magnets, bookmarks, pins and more. Each month, she displays the work of a different local artist in store. In November, it was the work of students at a local high school. This month, a photographer is having their work showcased. Csaszar reported that she already has artists booked through February.
Since the moment she first set up at the farmer's market, Csaszar said, the community has been almost "overwhelmingly supportive." People often come in, she continued, and mention how calming or relaxing the store is, and say that "they're just happy to see a new bookshop in Gresham again." --Alex Mutter