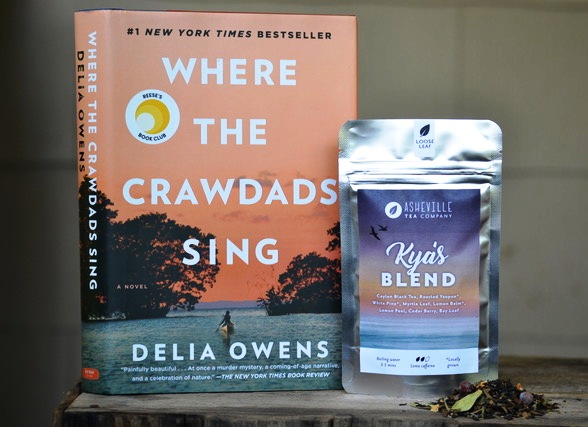 Asheville Tea Co. has released Kya's Blend, a limited-run tea blend inspired by the main character in the novel Where the Crawdads Sing by Delia Owens, who recently appeared at an author event hosted by Malaprop's Bookstore/Cafe, Asheville, N.C. The Citizen Times reported that Kya's Blend "pairs Ceylon black tea with native North Carolina coastal plants, including Yaupon, along with White Pine, Myrtle Leaf, Lemon Balm, Lemon Peel, Cedar Berry and Bay Leaf."
"Putnam Books were looking for a brand partner to promote the book and do a sweepstakes and specifically for a North Carolina-based tea company because the book is based in North Carolina," said Asheville Tea Co. owner Jessie Dean. "The original connection was reading and tea as a lifestyle, but it really became a custom blend that brings Kya's experience of living in the marsh to life with the tea, inspired by the native botanicals of the Carolina coast."
Dean said she met Owens for the first time May 8 at Malaprop's and gave her packages of the loose leaf tea: "It was really powerful and exciting and interesting to be able to hear more about her life story and background and how that brought the book into being....
"Our mission as a company is to source locally as much as possible and to promote environmental sustainability. So it was even more exciting to hear her background as a zoologist and conservationist and how those values really align with ours."