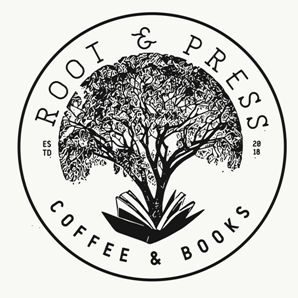 Root & Press Coffee and Books will host its grand opening this Saturday, May 18, at 623 Chandler St. in Worcester, Mass. The independent bookstore with an in-house cafe plans to "focus our book selections (nonfiction and limited fiction) on issues of the moment and area. Our retail selections feature some of the finest works of local artisans. Finally, our coffee is locally roasted and our food selections are locally sourced."
Co-owners Rich Collins and his fiancee, Nicole Cote, along with cafe manager Colleen Hickey "have been busy since October getting their vision realized," the Telegram reported, adding that "since the logo of the big tree surrounded by the name went up, passersby quickly showed interest, often walking in while the trio was installing equipment, cleaning the hardwood floors, or filling the shelves with books and largely homemade gift items."
"I think a lot of people are waiting for that 'open' flag to be out there," Hickey said.
Collins noted that they've already made their first sale: "Our landlord bought a book. That was nice." He also said he hopes the staff will fill a niche in the community, offering customers a comfortable space. "I'm big on team, and working together. You want people you trust around you, especially to open." Cote, a teacher at Chandler Magnet School, will help out after school and on weekends.
Collins observed that independent bookstores have shown resilience in the face of online competition, noting: "I think a lot of it goes back to how you interact to the community, how you present yourself, and how accommodating you are to certain groups."
Cote agreed that interacting with the community was an important part of the vision for the business. "If it's not 'read-alouds with your teacher,' it's going to be book clubs, game nights, trivia, that sort of thing," she said.