Indie booksellers nationwide shared highlights from their Bookstore Romance Day celebrations on social media over the weekend. Here's a sampling:
The Book Loft, Solvang, Calif.: "This Saturday come getcha some Summer Lovin' August 17th is Bookstore Romance Day! We're celebrating with treats, surprises, and our favorite local romance writers who'll be signing copies of their books. Plus all Romance titles are 10% off!"
Anderson's Bookshop, Naperville, Ill.: "Anderson's Bookshop and Romance Readers go together like @librofm and #Indies! Stop in tomorrow for #BookstoreRomanceDay! All three locations will have discounts, treats and surprises!"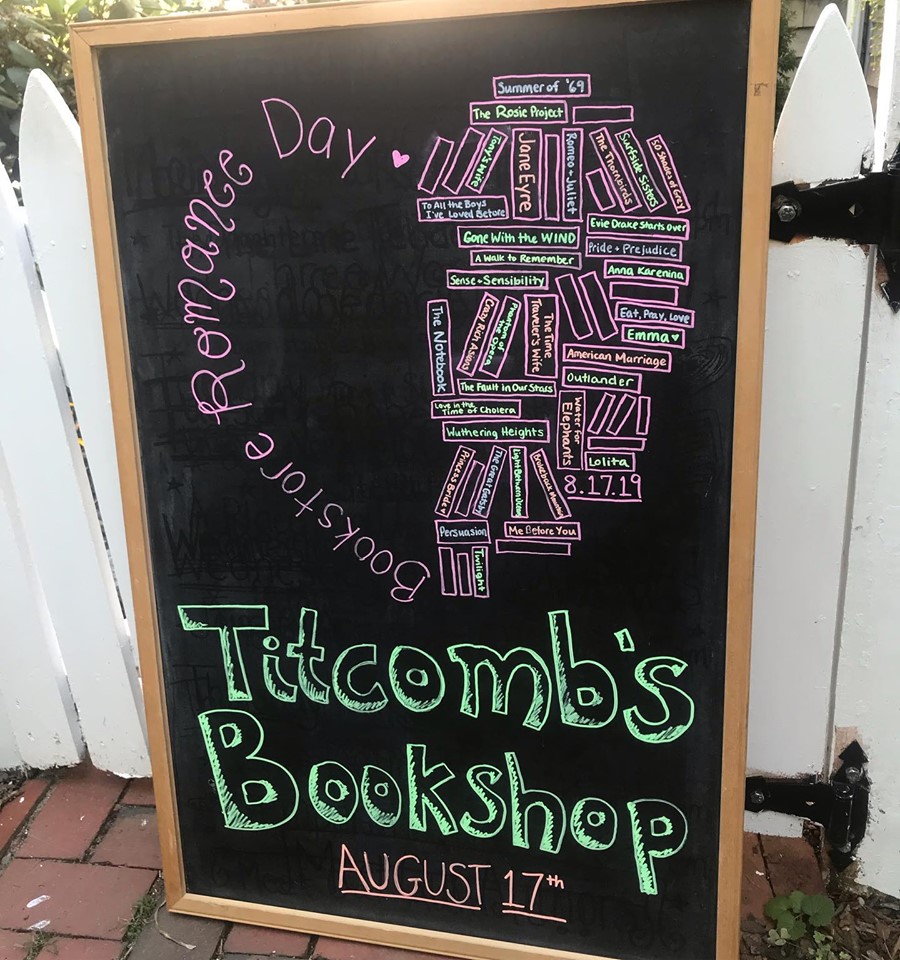 Titcomb's Bookshop, East Sandwich, Mass.: "Celebrating Bookstore Romance Day this Saturday! What's your favorite romance novel? chalk art cred: Jackie PLB"
Mysterious Galaxy, San Diego, Calif.: "Bookseller Maryelizabeth's #bookstoreromanceday recommendation: 'this novella of re-meeting cute offers a lovely New York adventure. The promise of the stunning purple cover delivers!' at Mysterious Galaxy."
The Willow Bookstore, Perham, Minn.: "Happy Happy Bookstore Romance Day!!!! I have a feeling this will be my most favorite day of the year. Here are some books I've read in the last year--come and chat with me at 3 TODAY! There may or may not be chocolate, flowers, and free books."
Fountain Bookstore, Richmond, Va.: Owner Kelly Justice was live for "#BookstoreRomanceDay at Fountain!" And: "Featuring @andrewtshaffer taking a turn with me in the photo booth!"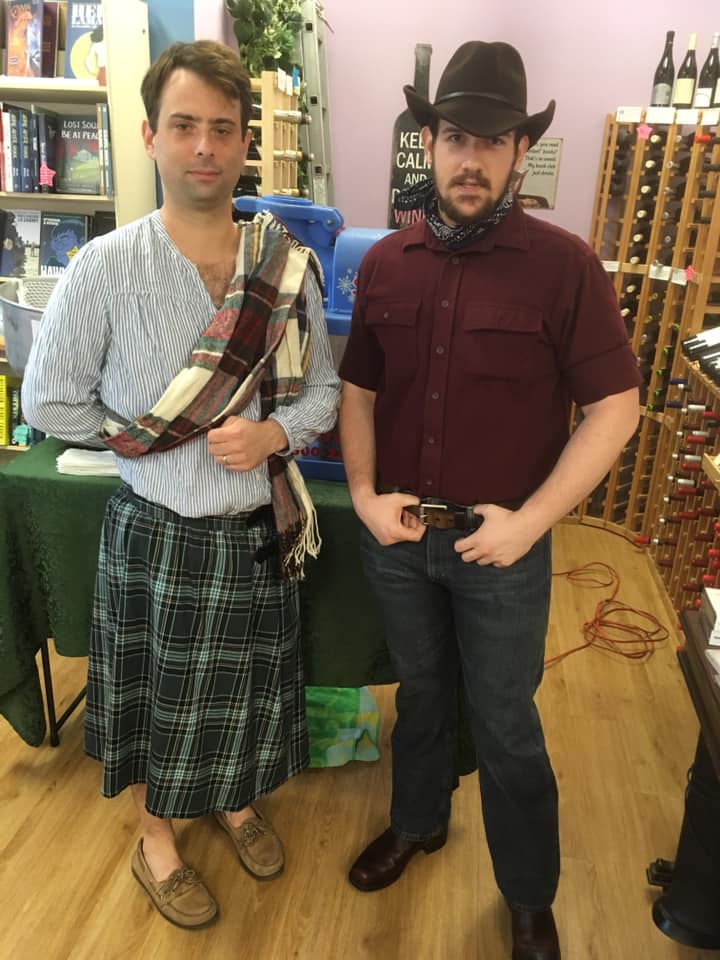 One More Page, Arlington, Va., offered "treats served to you by a genuine cowboy and Scotsman!"
Copperfish Books, Punta Gorda, Fla.: "Lucy, one of our wonderful booksellers, is a huge fan of romance novels and would love to talk to you about them this Saturday (8/17) as we celebrate Bookstore Romance Day! Can't we all use some happy endings in our lives?"
Oblong Books & Music, Millerton & Rhinebeck, N.Y.: "Happy #bookstoreromanceday! We're over on Instagram recommending some new romance novels AND some of our staff picks."
Blue Willow Books, Houston, Tex.: "TODAY is the first annual Bookstore Romance Day! Join us in celebrating this event in honor of romance fiction. Come chat your favorite romance reads + score a Mystery Date with a Book, then join us for romantic cocktails around 4 PM!"
Left Bank Books, St. Louis, Mo.: "We've got exclusive extra-romantic Blind Date Books for Bookstore Romance Day! Come pick one up in exchange for a donation to Left Bank Books Foundation!"
Postmark Books, Rosendale, N.Y.: "What's that strange stirring in the stony spot in the middle of our chests? It must be #BookstoreRomanceDay!!!"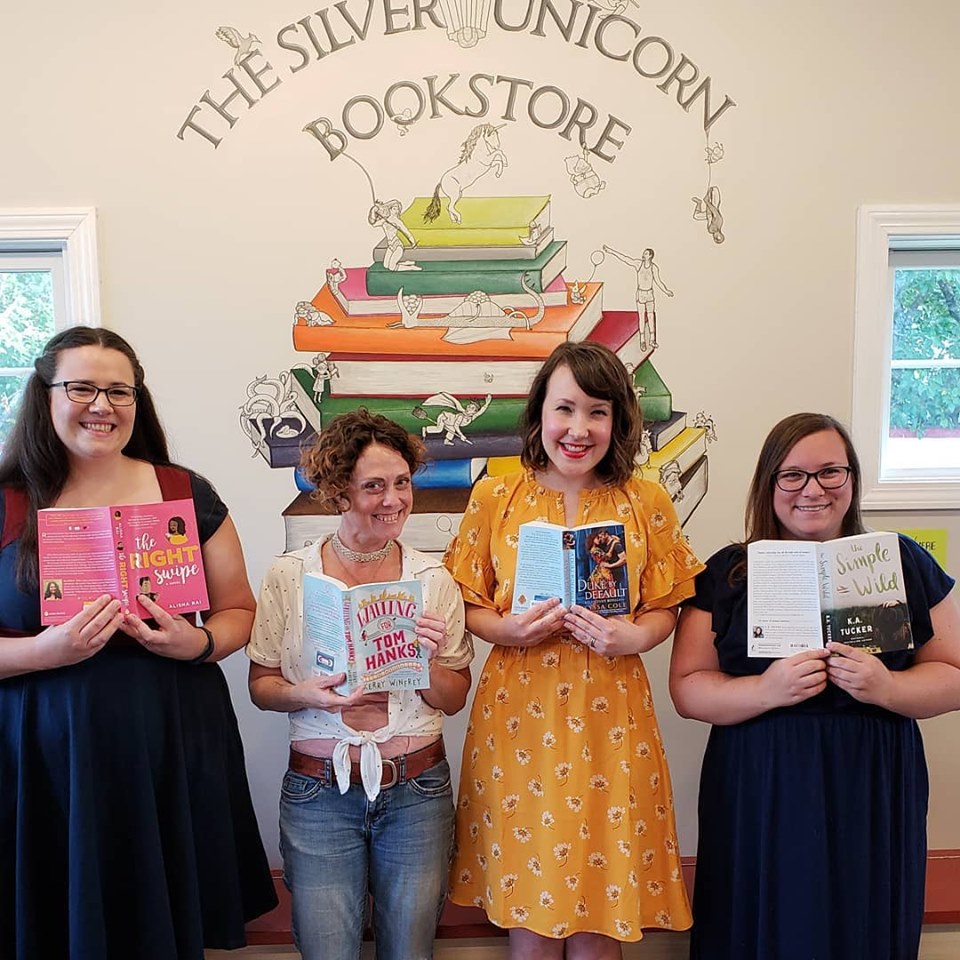 At Silver Unicorn, panelists Suzan Krohn, Stacie Williams, Kerry Winfrey and Lindsay D'Angelo discussed "Getting to Know Romance Books."
The Silver Unicorn Bookstore, Acton, Mass.: "Our first-ever Bookstore Romance Day was a huge success! Thanks to Kerry Winfrey, Lindsay D'Angelo, Suzanne Krohn and Stacie Williams for making it such a special day!!!"

Gibson's Bookstore, Concord, N.H.: "We had an amazing #BookstoreRomanceDay! Romance Displays, Blind Dates with ARCs, Love Letters to Favorite Books, and Cookies!"
Brookline Booksmith, Brookline, Mass.: "It's 11PM and time to close, but thank you all for joining us on the first annual #RomanceBookstoreDay. We hope you enjoyed our recommendations and that you're going to be with some wonderful books."