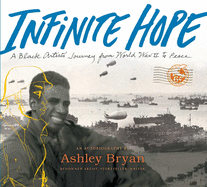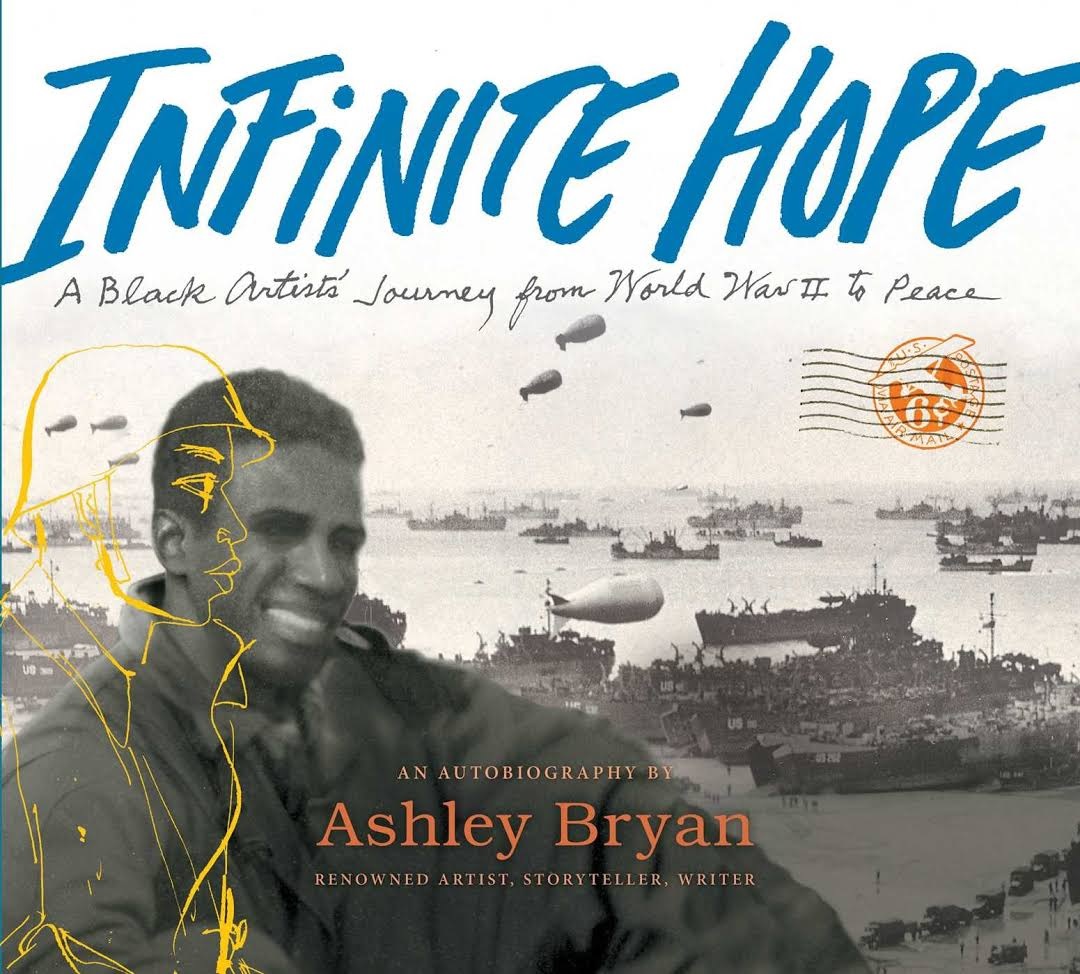 For four decades, Newbery Honoree and Coretta Scott King-Virginia Hamilton Lifetime Achievement Award recipient Ashley Bryan kept his military experiences in World War II a secret. The author and illustrator of children's books such as Freedom over Me and Can't Scare Me was 19 when the U.S. Army drafted him. Pulled from the Cooper Union for the Advancement of Science and Art in New York City, Bryan encountered something entirely foreign to him: segregation. "The sky, the sunlight--they enclosed us all equally. But the United States's policy of segregation... separated white people from Black people. While I had experienced prejudice in my lifetime... I had never experienced segregation before." Infinite Hope is Bryan's account of the war and the people, art and determination that carried him through.
Bryan's tour of duty started as part of the army's all-black 502nd Port Battalion, where "we were given training in automatically responding to orders and in acting as a group... it bored me terribly. To survive this boredom, I drew and drew...." Bryan wasn't mechanically inclined--it wasn't long before his comrades were doing his work and shooing him off to read or draw.
When the battalion was deployed overseas, they found acceptance and equality in places like Belgium and Scotland (where Bryan even had the opportunity to study at the Glasgow School of Art). No amount of kindness from the Scottish, however, could soothe the atrocities the black soldiers faced on the beaches of Normandy. "Black soldiers were ordered to use their mess forks to probe sand for anti-personnel bombs.... The fallen soldiers were buried in temporary mass graves, and it was again the Black quartermaster soldiers who were assigned this grim task.... Black soldiers were often removed first; the news media there did not want to show Blacks in their newsreels."
Despite the threat of death and the ugliness of racism, Bryan explains, "What gave me faith and direction was my art. In my knapsack, in my gas mask, I kept paper, pens, and pencils.... It was the only way to keep my humanity." Just as creating the art was an escape for Bryan, viewing it in Infinite Hope is an escape for the reader. Sketches and paintings he mailed home enrich this autobiography and show the depth of its subject. Juxtaposing the historical photographs with Bryan's work contributes to the reader's understanding of both the artist's perspective and his wartime experiences. And letters he wrote home to his friend Eva offer personal glimpses into his wartime thoughts and feelings. All together, these elements forge a striking exhibition of a master artist and national treasure.
Infinite Hope is a must for every library, public and personal. Whether readers enjoy history, literature or art, this book captures the intersection of them all in the life of a man who has made a lasting impression on the world. --Jen Forbus, freelancer
Shelf Talker: Renowned illustrator Ashley Bryan tells how art carried him through the horrors of war and racism during World War II in this memoir for young readers.