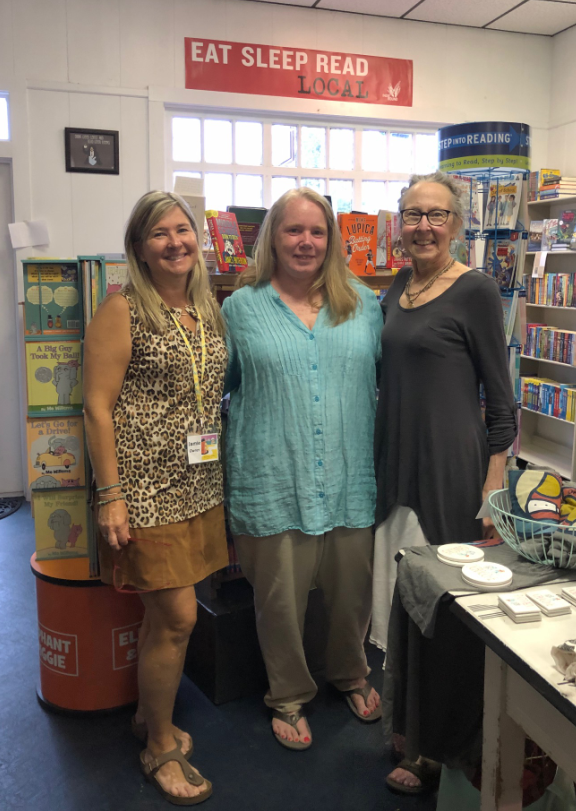 Jamie Anderson, Leslie Lanier and Gee Gee Rosell last week.
Independent booksellers on the Outer Banks of North Carolina have rallied around Books to Be Red in Ocracoke on Ocracoke Island, which was hit hard by Hurricane Dorian right after Labor Day.
According to Gee Gee Rosell, owner of Buxton Village Books in Buxton on Hatteras Island, Ocracoke had "many feet of smelly, sound-side tide flow over it, sinking homes that had never had water inside." Homes, roads, businesses and the town's school were all severely damaged, and in fact students finally returned to school just last Monday.
Leslie Lanier, owner of Books to Be Red, was facing the prospect of her business being shut down for weeks if not months, so Jamie Anderson, owner of Downtown Books in Manteo on Roanoke Island, had the idea of getting together with Rosell and lending a hand.
Rosell noted that the three booksellers frequently collaborate on group ads, and often share information about how the season is going. They've also all experienced significant storm damage at one time or another.
At Anderson's invitation, Lanier brought her sidelines and gift items (things "that are somewhat more waterproof") up to Downtown Books in Manteo to sell during the October First Friday event last week, and Rosell drove up from Hatteras to help out as well. Rosell reported that the evening was great, and Anderson has invited Lanier to sell her sidelines in Downtown Books on a longer-term basis.