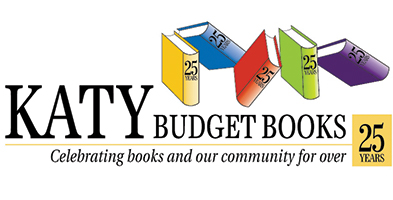 Katy Budget Books, the new and used bookstore in Houston, Tex., is relocating this week to the Mason Creek shopping center at 870 S. Mason Road #101 from its previous location on Fry Road. The bookshop closed December 1 for the move and will reopen December 6 in a space that "is significantly more convenient for most of our customers, but it is only 10 minutes from our current location."
Owner Tamra Doré launched KBB in 1983, when she "bought a shelf of books and a cash register," according to the shop's website. "In most of the 36 years since, KBB has remained at the same intersection. The Katy area, meanwhile, has grown in all directions. This growth has expanded our community--as the independent bookstore serving Katy, our customers now span great distances. Since its start, KBB has always evolved to meet Katy's reading needs."
Yesterday, KBB offered an update on Facebook, where it has been chronicling the relocation process: "Met at 8am Sunday morning and began what was a Herculean effort on day 1. Started taking all books off the shelves and placing them on large commercial rolling carts. Labeled each card with a number and the genre that it contained. As that progressed a second-team began to dismantle the wooden shelves.... The majority of these shelves will be transferred to the new location. 13 hours later, (9 p.m.) mission accomplished. We had removed probably 95% of the books; place them on the carts and dismantled the shelves.
"We are now back for day #2. We begin the process of transferring shelves to our new location and mounting them in the store. As these shelves are put in place and secured, we will begin the process of transferring books to the new location. Sounds simple but this process will take two to three days. During the process yesterday, we did find a 'Snickers' dated 1986 and an Apple I pc owner's manual."