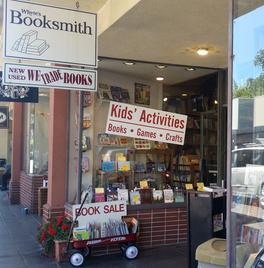 Whyte's Booksmith, San Anselmo, Calif., has been put up for sale again by owner Michael Whyte, who founded the store in 1980. The Pacific Sun reported that Whyte, who had previously put the business on the market in 2018, "has a popularity problem" because his bookstore "is so adored that its fans don't want him to sell it."
"I had a couple hundred customers come in and say, 'Don't you dare sell our bookstore,' " Whyte recalled. "Apparently, over 39 years, it's become more or less community owned--at least in the mind of the public."
Now Whyte is attempting to sell again with one new stipulation: He will sell only to buyers who will continue to operate the shop as-is. He also plans to leave the store on the market until it is sold. Pacific Sun wrote that Whyte's Booksmith has been profitable for its entire 39-year run, and the Craigslist advertisement has an asking price of $250,000.
Whyte credits part of his store's success to what he described as the "conscious community" of San Anselmo, where a good bookstore offers a much-needed gathering space.
"It's part of what enriches a small town," he added. "They don't have a lot of places to go and run into friends... [a bookstore] is a very easy place to strike up a conversation. Two people might be standing at a book table--one is holding a book and the other says 'I thought it was great' or 'if you like that, try this'.... Your local bookstore kind of has just about everything that you'd want."