Abrams is launching #HELPABOOKSELLER, a fundraising challenge to benefit the Book Industry Charitable Foundation (Binc), with the aiming of raising more than $100,000 to help booksellers whose livelihoods have been adversely affected by the COVID-19 pandemic.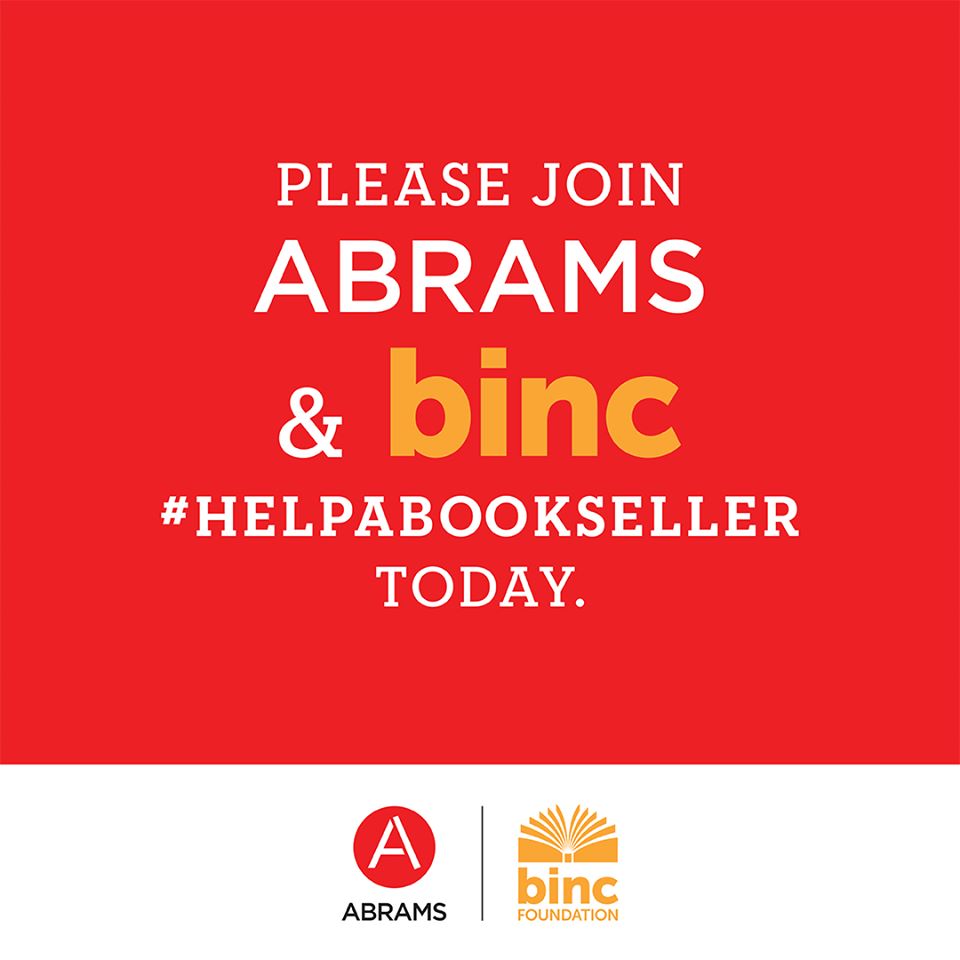 Noting that many booksellers "have been laid off with inadequate severance to sustain them through the duration of this crisis, and many without extended health-care benefits," Abrams said that its goal and Binc's "primary goal at this time is to get funds to those booksellers in order to support them in their struggles to pay rent and care for themselves." Contributions can be made here.
Abrams president and CEO Michael Jacobs said, "As a company, we've been focused and committed to taking care of one another during this extraordinary time. We realized that what we possess at Abrams is a will and a drive to make a difference. So, we decided to raise funds to help booksellers in a way that brought our larger, interconnected book community together around this goal. Abrams' corporate donation to Binc will comprise at least half of the $100,000, and we are encouraging our authors, vendors, partners, and our own staff to help fulfill our publishing mission and join us in raising this amount or more for the people that we rely on so greatly--the frontline booksellers."
Among the authors, illustrators and artists who have already joined the campaign at Abrams are children's authors Jeff Kinney (Diary of a Wimpy Kid), Henry Winkler (Alien Superstar) and Andrea Beaty (the Questioneers series including Rosie Revere, Engineer), and adult authors Gaby Dalkin (What's Gaby Cooking: Eat What You Want) and Laura Prepon (You & I, as Mothers).
Kinney, who is also owner of An Unlikely Story bookstore, Plainville, Mass., commented: "As brick-and-mortar stores shutter to slow the spread of the virus, booksellers are suffering in a very real way. The term 'nonessential business' is part of our vernacular now, but this crisis has caused us to reflect on just how essential bookstores, and their knowledgeable staffs, are to the community. We need to ensure that booksellers can make ends meet during this uncertain and difficult time. I'm proud to work with my publisher, Abrams, in this effort."
Binc executive director Pamela French said, "This has been the most extraordinary week in the history of the Foundation. The requests for assistance are coming in every hour, and the need is like nothing we have ever seen. What gives us hope is the equally extraordinary response we have seen from our book-loving community. Publishers like Abrams have answered the concerns and fears of booksellers with the strongest possible message of support and solidarity. Through their incredible donation, they are saying, We believe in the importance of booksellers and we believe in the power of this community."
---
In response to the COVID-19 crisis and by order of the state of Indiana, the Houghton Mifflin Harcourt distribution center in Indianapolis, Ind., has closed, effective yesterday, and will remain closed until April 7. During this period, no staff will be on site and the company will be unable to accept returns. HMH advises customers to hold returns, if possible.
Orders placed but not yet routed will be held until shipping resumes on April 7. If customers wish to cancel an order, they should contact customer service and their sales representative.
---
All Media Supply
(AMS), the U.S. sister company of Gardners, the U.K.'s largest wholesaler, and Gardners itself remain open and have put in place extensive measures to safeguard staff while continuing to maintain existing levels of service.
AMS provides provide a full range of new and backlist British books through its Florida warehouse.

---

Although the Westminster John Knox Press and Flyaway Books office is closed, staff is working from home and the warehouse in Louisville, Ky., is operating, using split shifts and alternate day shifts to make sure proper health measures can be taken place.
Because of "the challenges booksellers are facing," both Flyaway Books and WJK Press are offering independent booksellers an additional discount and extended payment terms through April 30. Effective immediately, orders of 5+ units will receive a 53% discount and 90-day billing, along with free freight.

---

Microcosm Publishing & Distribution has a skeleton crew shipping daily as normal, the company reported. The wholesale arm is fully stocked and is shipping orders within 24 hours. Microcosm is also going to net-90 terms for independent bookstores who place orders for its published titles and sidelines before April 30 directly from it or via partners Book Travelers West, Fujii, and Como. The company is also offering a Community Support display pack loaded with its most popular titles for mental health and staying occupied.

---

Note: Yesterday, National Book Network assured us that all was "business as usual." Since then, however, we heard from several staff members and one client publisher that most of the staff has been furloughed--not our definition of business as usual.