Many temporarily shuttered indie bookstores are finding innovative ways to serve their customers, spark engagement and keep lines of communication open during this challenging time.
A closer look at what's in stock was offered by Bear Pond Books, Montpelier, Vt., which noted: "Our videos of puzzles and activity books have been very popular and helpful for virtual browsing," along with "a video of games from the Children's Room and journals. What other products would you like a visual of to help you shop?
---
"During these times of social distancing it may feel really good to see a loved one you cannot be with right now a nice handwritten note," suggested Run for Cover Bookstore, San Diego, Calif. "We have some gorgeous boxed notes from Earth Sky +Water. Include them with your next book order.... Thank you and stay home and healthy."
---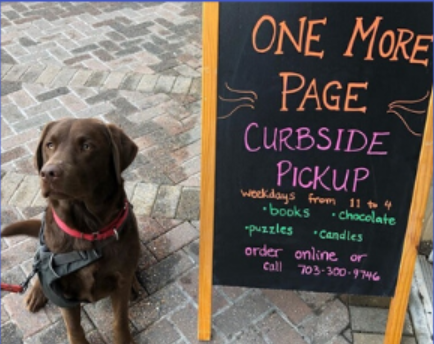 One More Page, Falls Church, Va., expressed gratitude "to everyone who has been ordering online and over the phone! We have been busy all week adjusting to this new temporary reality and reconfiguring the store space to most efficiently fill all your orders. We are adjusting our home delivery option (see below) and will continue to offer curbside pickup and shipping. We also received confirmation that we can sell wine for pick up, so, yeah!
While we've been making all of these changes, we've also been busy coming up with some fun ways to stay connected, while also distancing. If you are on Facebook , you will have already seen some of our quick video updates--even featuring camera-shy Eileen and also our State of OMP Union address. We will be rolling out more online fun via video conferencing tools. Stay tuned for virtual book clubs, author chats/readings and more.... We held our inaugural Friday State of the OMP Union Facebook Live last week, and we are going to do those every Friday at 4:30pm. Have your bookish questions ready and tune in! We miss you!"
---
Virtual LitKnit in Salt Lake City, Utah: "Join Catherine and the crafters of Weller Book Works on Zoom for a virtual #LitKnit! We'll remotely share 40 minutes of casual bookish conversation & snacking.... All crafts and crafters are welcome. BYOB."
---
Irish bookseller Dubray Books offered a treat for young readers: "Why don't you play @DubrayBooks Book Bingo at home. How many of the boxes can you fill in with names of books that you've read?"
---
Paying it forward with ARCS. Penguin Bookshop, Sewickley, Pa., wrote: "In our efforts to get creative to help our store and give back to the community, we are giving away some advance reader copies (ARCs) in boxes outside and asking those who take one to pay it forward by shopping with us on-line. We have also enclosed a special bookmark in each ARC that we hope you will bring back to the store when we re-open to celebrate and receive a special gift! (Trying to look forward). Also, let us know if you know of anyone home bound who could use our help with a book delivery. Stay healthy. Keep reading."