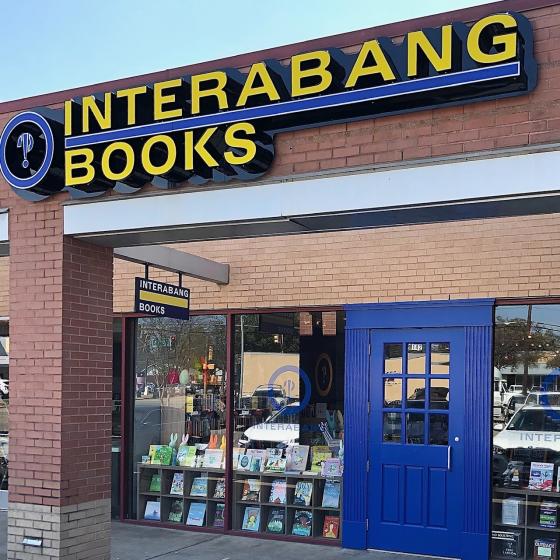 "This is a time when people need to be reading books. They might have more time. They might need to get their minds on other things and escape a little bit," Nancy Perot, co-owner of Interabang Books, Dallas, Tex., told the Morning News, which noted that the resilient indie bookstore has, in less than six months, faced a devastating tornado and now a deadly global pandemic. The bookstore has curtailed in-store shopping for an indefinite number of weeks.
"Of all things you worry about, a tornado was not on the list," Perot recalled. "And so, it really was disbelief. Complete disbelief. At the same time, nobody was hurt. We had good, solid insurance. Everything was completely replaceable. There were other people who suffered so much more.... I felt I needed to reassure my wonderful staff that we would reopen and that their jobs were secure. Yes, it was a low point, but then I think the high point was to see how the community responded. I think it made us deeply aware in a way that we had not seen before that people deeply cared about this store. Far more people than I would have even known."
Now, three months into the "very strange year that is 2020," Perot said that in the face of such moments, she "believes that all you can do is, well, stand. You really have no other choice," the Morning News wrote, adding that the tornado taught her "how deeply people have come to value Interabang. It also showed her that 'the worst thing that ever happened to us has managed to produce several silver linings.' The ceiling fell in, the walls fell in, the sprinklers came on. It started raining in Interabang. It found a cool new home, but then came the storm of COVID-19. And yet, Interabang is thriving. Alive, resilient, confident--much like its owner."
---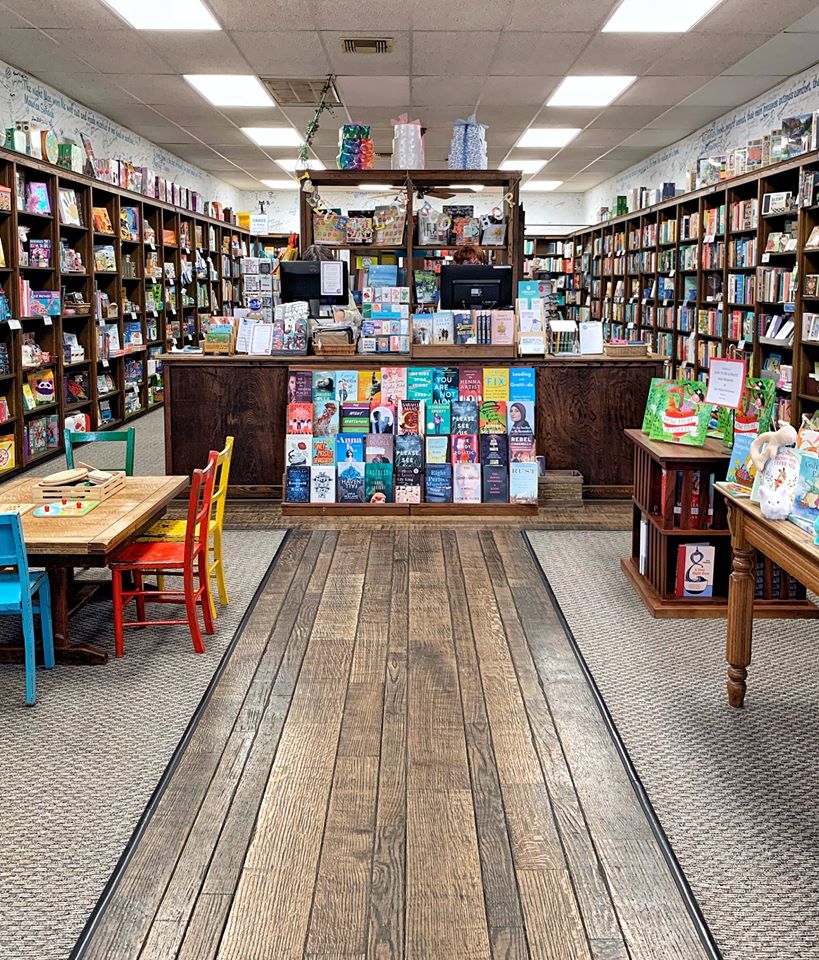 Blue Willow Bookshop, Houston, Tex., said yesterday that, "based on the official edict from Harris County that defines 'Essential Retail' as 'Businesses that supply products needed for people to work from home,' we will be offering outdoor pickup from 9:30-5:00, Monday-Saturday."
Just a day before, Blue Willow had announced that, "in accordance with Mayor Sylvester Turner's #StayHomeWorkSafe Order for Harris County (currently through April 3), our happy place will temporarily close its doors tonight.... We are supporting distance learning and feel strongly that bookstores should be considered essential. This would allow us to continue serving you via phone orders and curbside pick-up. If you feel the same, please feel free to join us in appealing to the city of Houston.
"We've shared our love of books with our neighbors in #Houston and beyond for over 23 years and know we have many more ahead. We appreciate your support of our small but mighty bookstore and look forward to gathering together again."
---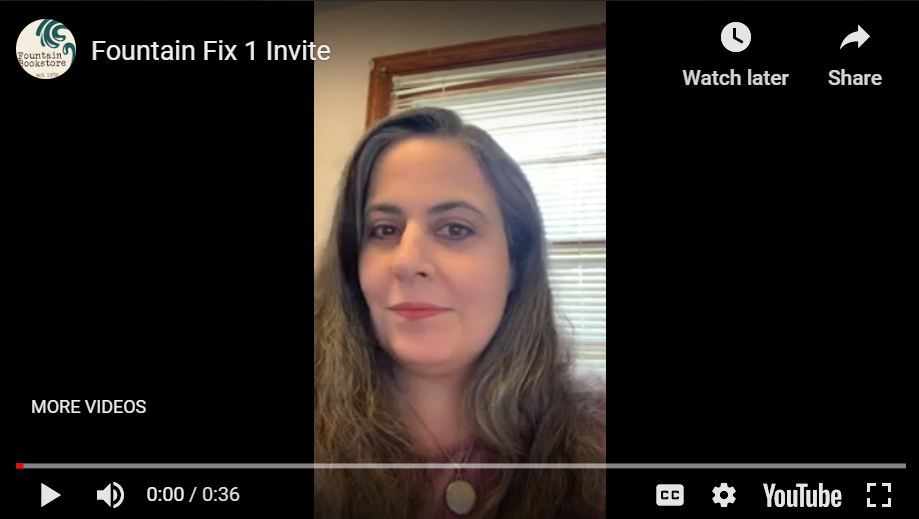 Kelly Justice, owner of Fountain Bookstore, Richmond, Va., asked: "Are you missing your face-to-face interactions with Fountain? We have the solution! Introducing Fountain Fix! Get down with some quality time with our booksellers, author guests, book industry friends, and your fellow readers in a casual, virtual format. Or it might just be me for an hour drinking a cocktail and talking to myself, which wouldn't be that different from my usual behavior, so if no one shows up, I won't be terribly put out. I don't know quite what we're doing yet, so I appreciate your patience while we figure this thing out."
---

With a shelter in place order in effect in Illinois until April 7, Unabridged Bookstore in Chicago is closed to browsing but still fulfilling online orders of books and gift cards. Store owner Patrick Garnett reported that all employees are being paid in full with health care through those three weeks. Garnett is also using this time to e-mail publishers about extending terms once business resumes, and while he and his team appreciate publishers extending 30-60 days for invoices now due, they are also requesting publishers extend to 180 days for released backorders and new backlist orders placed after shelter in place is lifted and stores reopen.

---
Watermark Books & Cafe, Wichita, Kan., paid tribute to a key player in its current business model: "Order online (yes, you will get your points) at www.watermarkbooks.com. For delivery we have to acknowledge Diana from the USPS. She is hauling *ss to get books to their readers. Or call 316-682-1181 to talk to us or make an appointment to visit the store (we miss you!!!). Curbside pickup available from 8:30-3:00."
---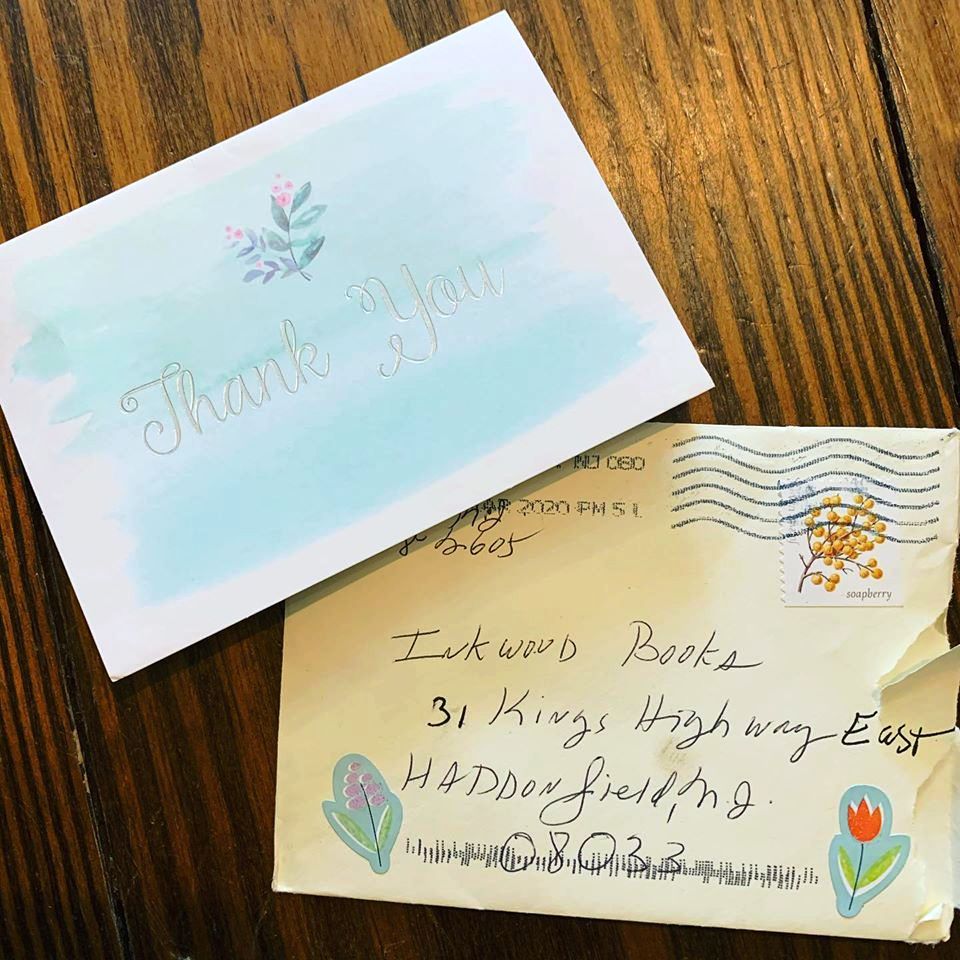 Posted on Facebook Wednesday by Inkwood Books, Haddonfield, N.J.: "It's a rainy dreary day and I'm alone in the shop. I could get really blue right now but instead I'm going to share what touched me in our GREAT COMMUNITY over the last couple of days: (1) thank you card I received from a customer thanking us for her delivery. She even took the time to put cute Easter stickers on the envelope. Seriously @djwelsh1977 will your mom adopt me?! (2) bouquets of flowers our neighbors at @haddonfield_floral_company gave away yesterday as they shut down their coolers for who knows how long. They didn't have to do that, but they did. (3) homemade cookies bookseller Sarah left in the mailbox for my family (macadamia nut white chocolate!!) (4) the fruit salad @bistronj added to our takeout order--delicious and nutritious! (5) neighbors putting stuffed animals and rainbows in windows all over town for the little ones to find as they take what I'm sure are much needed outside walks (at appropriate distances of course!), and last but definitely not least (6) all the books people are ordering and reading (and that I get to pack in my favorite and ugliest sweatshirt!) while shut inside. Books have always kept me company and I hope they are doing the same for you! We're all having some rough days, but there are so many lovely gestures of kindness and thoughtfulness in our community I can't help but feel hopeful. Thanks to all!"