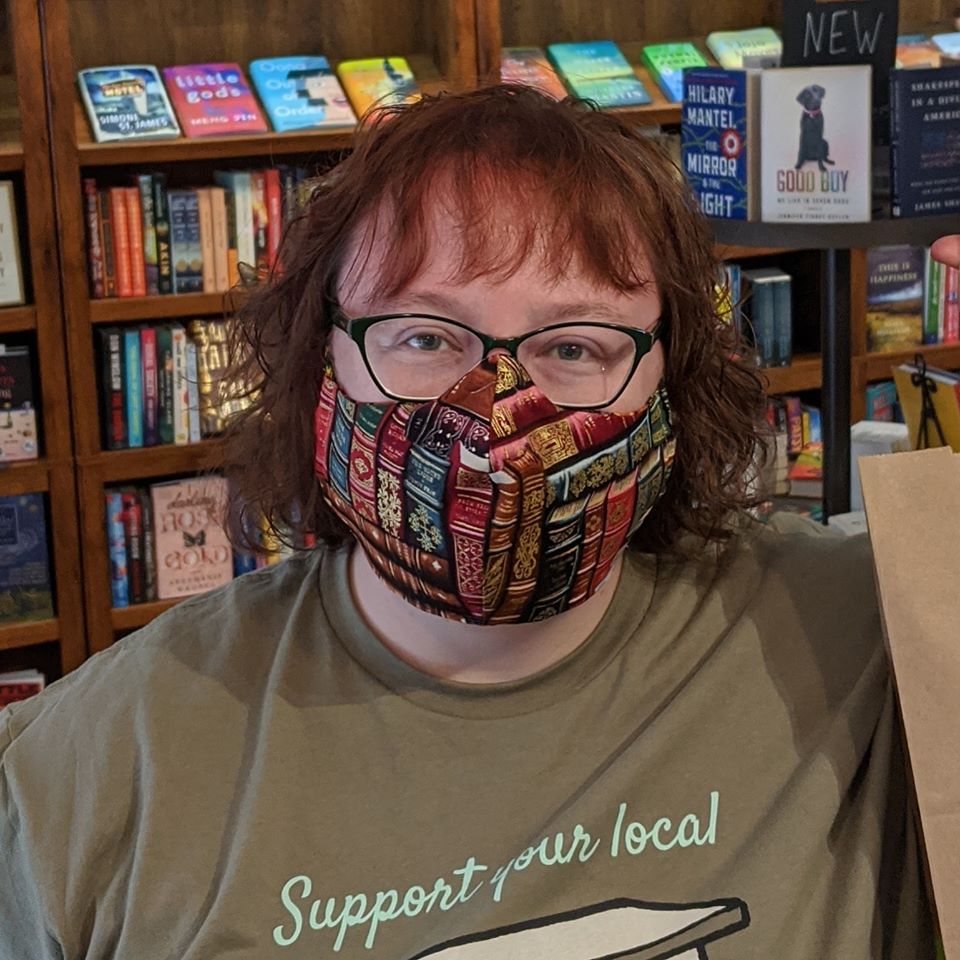 At Novel Bay Booksellers
In an apparently endless series of challenges facing indie booksellers during the Covid-19 crisis, one of the more recent dilemmas concerns masking up. While most bookstores during the reopening phase are requiring masks for both staff and customers, they must also prepare for negative reactions in the current political climate.
In a Vt. Digger commentary by Vermont House Rep. William Notte (D., Rutland City), manager of Phoenix Books in Rutland, called upon Gov. Phil Scott to make masks mandatory for customers in retail establishments during his emergency order.
"All the evidence we have been given makes clear that masks are an effective way to slow the transmission of Covid-19," Notte wrote. "They are an excellent tool in continuing to flatten the curve, especially as Vermont begins to reopen under your watch. My store is still working on getting as many safety measures in place as possible and we plan to reopen our doors to walk-in customers on May 26. When we do open, I am requiring everyone entering the store wear a mask. This requirement is for the safety of my staff, of my customers, and is in the best interests of my community.
"I have no qualms about enforcing this rule when I am working and firmly explaining to people as they come in that wearing a mask is a requirement for joining us in the store. But I am currently not in the bookstore many days as serving as a representative takes up most of my hours. I feel very strongly that my staff should not be forced to fight this battle....
"I know you wish for the use of masks to gain acceptance through educational efforts, but it is impossible to deny that for some masks have taken on deep-seated political meaning.... When the requirement to wear a mask originates with my store and not a state mandate that lessens its authority and unfortunately turns it into a personal disagreement between my staff and any individual who refuses to wear one. This will diminish compliance with an important effort to continue to curb the spread of Covid and unnecessarily direct personal ire towards my staff.
"While no action will ensure compliance by a defiant few, a gubernatorial mandate requiring masks be worn in retail businesses during your emergency order would protect innumerable Vermonters from potentially catching Covid-19 and serve to protect retail workers from negative reaction by buffering them from the decision-making process. This important action needs to originate with your office. Retail workers throughout the state should not be forced to fight this battle for you."
---
Leslie Lanier, owner of Books to Be Red, Ocracoke, N.C., posted: "The first thing I want to say is thank you to all of you that have shopped at Books to be Red this past week. I appreciate it more than I can say. If you shopped with me it meant you either had a mask or I gave you a mask and you put it on. I know how hot, itchy, and aggravating they are. Believe me, I know. This picture shows a lot of the masks that are mine, a few are home being washed. I change them up during the day because I don't like wearing just one for a 6 or 7 hour stretch. Did I mention they are hot, itchy, and aggravating?...
"I understand that there are hundreds of opinions about masks and believe it or not I respect yours. I thought long and hard about what my shop would be during the pandemic time. For my shop, you need to wear a mask and wear it correctly. I have one I will give you if you don't have one. Let me get that out of my mouth before you storm off. If you don't choose to wear one, no hard feelings. I hope you will shop here another time. I have had health care professionals applaud me for requiring masks and gripe at me for requiring masks. Clearly, there are hundreds of opinions. Yes, I know you DON'T have Covid-19. I don't either but neither of us really know who we have all been hanging around. Thank you, enjoy your visit to the island. We are happy everyone is here."
---
How about mask incentives? At Novel Bay Booksellers, Sturgeon Bay, Wis., "when you buy one of our book masks and wear it to shop at Novel Bay Books, you get 10% off your purchase. Same discount when you wear our logo T-shirt to shop. Many, many thanks to the 60+ people who purchased masks and/or T-shirts!!! Thanks Megan for modeling!"