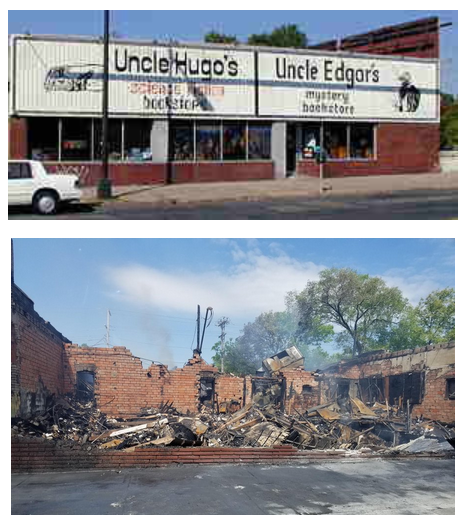 Uncle Hugo's Science Fiction Bookstore and Uncle Edgar's Mystery Bookstore, Minneapolis, Minn., which were burned to the ground last Thursday night in the first protests following the murder of George Floyd, have taken over a GoFundMe campaign that had been founded by a fan but wasn't officially run by "the Uncles."
In a statement on the Official Help Save Uncle Hugo's Fund page, Sam Blyly-Strauss, son of bookstores owner Don Blyly, said in part, "We're still not sure what form any eventual rebuild of the business will take or what the timeline might end up being, but you can all rest assured that any donations to this GoFundMe will reach Don Blyly for use in rebuilding. As my day job is managing security for a multi-building site in Downtown Minneapolis, I'm pretty swamped right now but will be placing updates here when they become available. The Uncle Hugo's Facebook page is another good place to check for general updates. I'll respond to any questions as I'm able, but I can't guarantee a super fast response time with everything else going on. Thank you all for your continued support in this difficult time."
The fund had been started by Alexi Vandenberg in Wayne, N.J. Blyly's comment, posted on Facebook: "The guy from New Jersey who set up the GoFundMe page without permission was an honest guy just trying to help, but was over-eager. Last night he transferred the site over to Uncle Hugo's. People no longer need fear that it is a scam from New Jersey. So friends, feel free to donate!"
As of this morning, the Official Help Save Uncle Hugo's Fund has raised more than $63,000 toward its goal of $500,000.
The store's website said that Blyly is meeting with his lawyer tomorrow and "should have more news for you here this weekend."
According to the Minneapolis/St. Paul Business Journal, the Uncles had more than 100,000 used and new volumes, including rare signed editions and "decades of collectibles," whose retail value Blyly estimated at about $1 million.
He added that for now he plans to run a small mail order business from his home, starting with Uncle Hugo's and Uncle Edgar's branded T-shirts and sweatshirts. In addition, "A lot of authors have offered to send me signed books, so I'll be selling signed books on the internet. And I'm going to start selling off my personal library one book at a time."