"This summer, the vacation has become a no-win situation: unattainable for those who can't afford it, dispiriting and unsatisfying for many who can." Pop quiz: Where did I just read this sentence? If you guessed a New York Times piece that bemoans the fate of holiday trips due to the Covid-19 pandemic, you're only half correct. Alex Williams did write this article on "staycations" for the Times, but it was published in the July 20, 2008 edition under the headline "Pfffffffffft! There Goes the Vacation."
He also observed: "To most Americans, a summer getaway is a crucial component of the life-work compact: they trade 50 weeks of cubicle-bound servitude for two weeks of sun-dappled bliss, and it seems worth it (well, almost). But halfway through the 2008 season, vacationers (and would-be vacationers) are being squeezed by a confluence of dismal economic realities...."
Fast forward 12 years and 2020 boldly proclaims: "Hold my beer."
Another accidental prognosticator in 2008 was R. Moke McGowan, president of the Long Island Convention and Visitors Bureau, who said: "We're in uncharted waters--there's no question about it. If anyone says they can draw on experience from the gas lines of the 1970s or post-Katrina or post-9/11, he is engaged in wishful thinking. Everybody is looking at their crystal balls hard and unknowingly."
Uncharted waters, aka: "You're gonna need a bigger boat." Or bookcase.
Deep into a Covid-infested summer when even staycations, depending upon where you live, can be death-defying, we are grateful, professionally and personally, that reading still has the ability to take us anywhere in the world. We've all heard a version of that philosophy a few thousand times, going back to when we were a kids. Now it's part of the business plan.
Even though thousands of unmasked, Covid-seeking zombies are apparently still invading summer tourist destinations, I suspect most rational people are not. Staycation season is underway, with indie booksellers happy to play the role of tour guides.
In Galway, Ireland, for example, Charlie Byrne's Bookshop advised: "Planning your #staycation in Ireland for this summer? We have loads of great books highlighting the best spots in Ireland to spend your holiday!"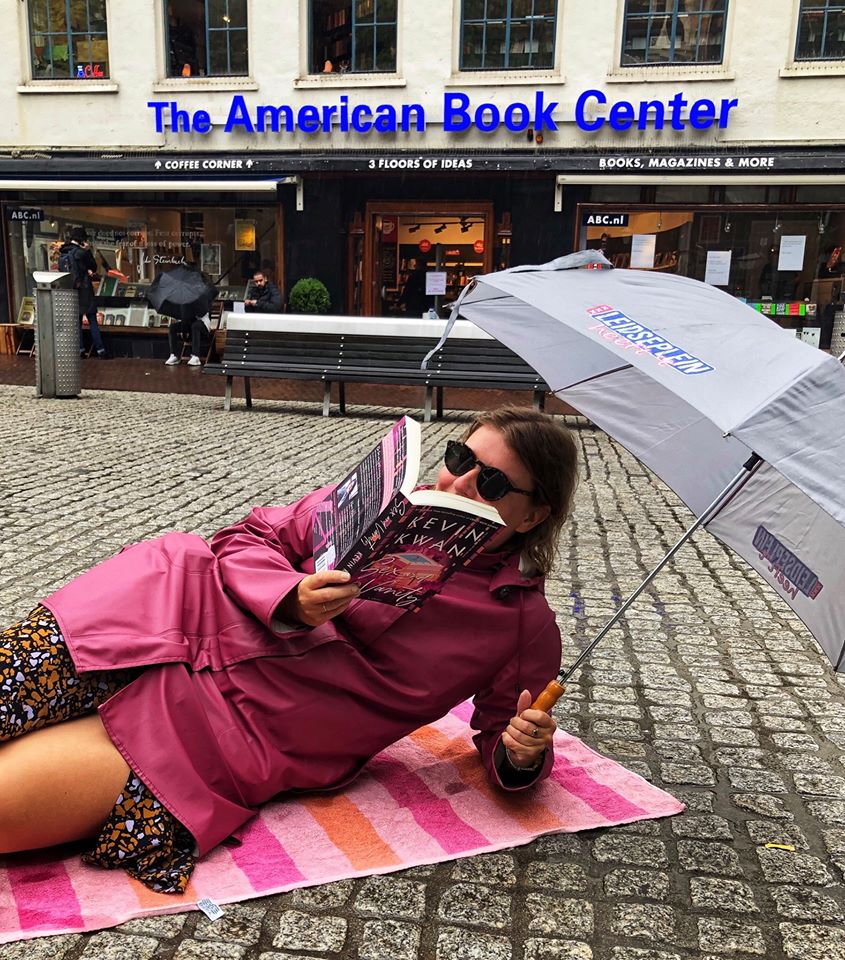 Dutch bookseller the American Book Center in Amsterdam asked: "Are you also having a staycation this year? Enjoying the wonderful Dutch summer weather with lots of rain, clouds and wind? Do like our Lea does: Take your towel out to the city beach called Spui and read an awesome summer read like Kevin Kwan's new Sex and Vanity. What are you planning to read during your holidays?"
Here in the U.S., a recent e-newsletter from Green Apple Books, San Francisco, Calif., noted: "Howdy fellow readers! As many of us defer our usual summer travel plans in favor for staying home and staying safe, we wanted to share with you some of our favorite books on travel. When all else fails, it's a great (and inexpensive) way to see the world.... Our other suggestion? Sign on to one of our many virtual events. This is an exceptional way to break routine and learn about something outside of your wheelhouse (like farming, alien encounters or stand-up comedy). We hope to see you there!"
Elliott Bay Book Company, Seattle, Wash., offered similar advice: "Travel may be out of the question for now, but there's plenty to explore right here in Seattle! Here are just a few guidebooks we'd recommend--check out our stories for a closer look and don't forget, we're offering curbside pickup and free nationwide shipping."
#ANovelStaycation travel package is being touted by Novel., Memphis, Tenn.: "Today's #staycation destination is the good ol' 901. Have you picked up I Love Memphis Holly Whitfield's new book SECRET MEMPHIS yet? It is full of weird & wonderful local landmarks, many of them outdoors and social-distancing-approved, including the Labyrinth Tree of Life at the Cancer Survivor's Park (shown by bookseller John here in photo 2). Novel also carries all sorts of local books, snacks, and gifts to help you toast our fair but sweltering city indoors in the AC!"
The Bluestocking Bookshop, Holland, Mich., asked the question of the season: "Okay, who else is getting sick of staying home...? I'm starting to think that it's time to #travel, but reality says that the world isn't ready for that yet. Where would you travel right now, if you could? We have guidebooks, but travel #memoirs and #artcollections are a fabulous way to get to know somewhere new!"
Staycations can take many weird and wondrous forms ("A woman re-created the entire travel experience in her home"; "This airport in Taiwan offers fake travel experiences"; "IKEA creates 'Vacations in a Box' "), but during this most hazardous of summers, we've opted for a reading staycation. And we're definitely gonna need a bigger bookcase.