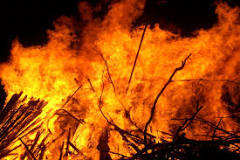 Terrible news from Oregon about one of the wildfires raging on the West Coast:
Although the Ashland, Ore., headquarters of Blackstone Audio has been spared during the Almeda Fire that devastated much of the area last week, 10 employees of the company have completely lost their homes and belongings in the fire.
Blackstone has set up a GoFundMe campaign to help employees affected by the fire and will match contributions. A little bit of good news: in just three days, the fundraiser has received almost $86,000 in donations.