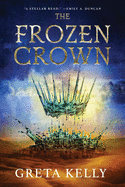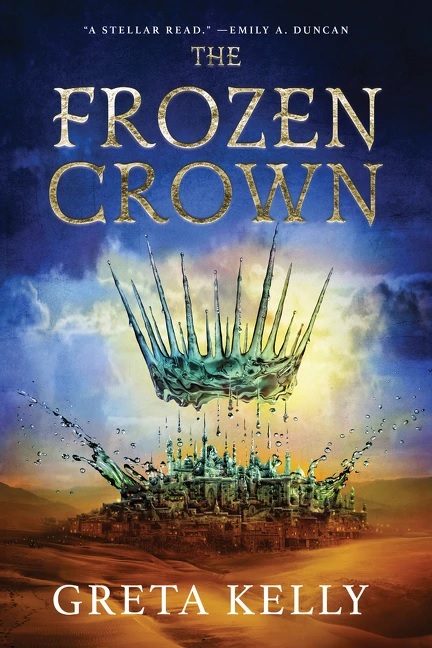 Packed with deadly intrigue, fierce and powerful women, and high stakes, Greta Kelly's fantasy-adventure debut, The Frozen Crown, is an exciting and intricate series opener.
Princess Askia, warrior and rightful heir to the realm of Seravesh, needs an army to take back her kingdom from the forces of Radovan, the mad emperor of Rovan. Her best hope lies with Emperor Armaan of Vishir, "so I would do my barbarian best to catch his interest from a thousand miles away." An appeal to Armaan's handsome, naive son, Prince Iskander, gains Askia passage to Vishir, though it takes seeing a razed village to convince him.
Once in Vishir, Askia finds herself ill-equipped to navigate court politics. Plain-spoken and with no grasp on Vishiri etiquette, she quickly makes enemies. Even Iskander's support causes trouble for her; meeting the prince unchaperoned earns her the initial disdain of his mother, Queen Ozura, Armaan's principal wife. Askia's one offer of protection comes from the Shazir, a priesthood of witch-hunting zealots who once tortured her and murdered her parents, and she could not accept it if she wanted to. Askia is secretly a death witch, able to see and speak with ghosts, and the Shazir would want her dead if they knew.
When she stumbles across the Vishiri witches' guild, Askia begins training her magic under the order's head and learns that the danger she faces from Radovan is more horrifying and personal than she imagined. Surrounded by strangers and enemies, Askia must weigh her options carefully as time runs out for her people.
Borrowing the young adult fantasy genre's staple of a young woman shouldering great responsibility while coming into her power, Kelly's series should have crossover appeal to YA readers as well as adult fantasy readers. Fans of Sarah J. Maas and Mary E. Pearson should make sure to snap it up. Though she's a formidable fighter, Askia's fish-out-of-water status makes her a sympathetic underdog much of the time. Kelly leaves some world-building details for later installments, but still creates a rich political dynamic of nobles jockeying for power while magic users dodge religious fanatics whose influence is growing. Askia has no shortage of love interests, and her choices will likely inspire plenty of anguished sighs as she weighs her heart against the best interests of her nation. Ending on an explosive cliffhanger, The Frozen Crown has the hallmarks of a successful series. --Jaclyn Fulwood, blogger at Infinite Reads
Shelf Talker: The first in a fantasy series, Kelly's debut features strong women, plenty of political intrigue and a magical world ripe for future exploration.