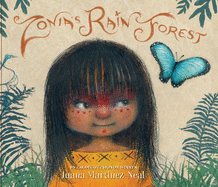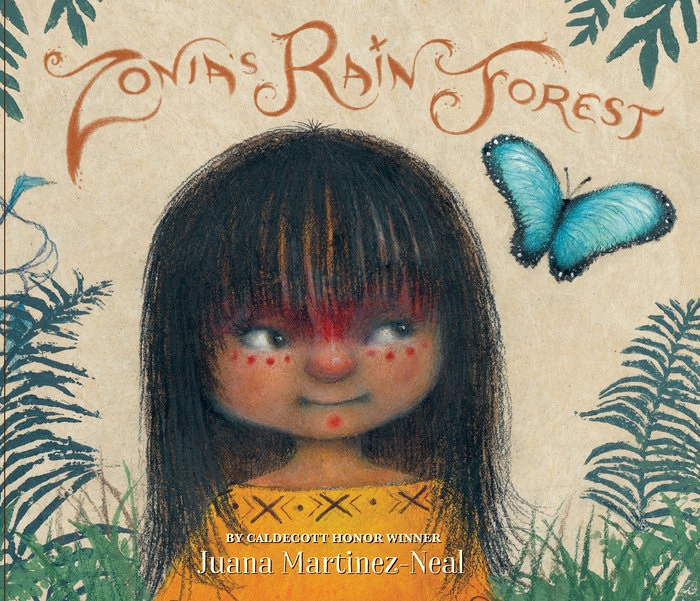 What is kid catnip if not a picture book full of adorable animals? In Juana Martinez-Neal's Zonia's Rain Forest, super-cute critters are out in full force, ready to woo lap sitters. But the book also offers something for their older siblings, who have outgrown Old MacDonald's farm and are ready to do some sightseeing beyond the familiar comforts of the First World.
Young Zonia lives in the rain forest among "those she loves"--namely, her mother, her baby brother and a bevy of creatures she greets at the start of each new day. "Good morning!" she says "one, two, three, four times"--that is, once for each of four shaggy, moonfaced Hoffman's two-toed sloths. "Welcome! I live next door," she says to some red-feathered, bitty-eyed Andean cocks-of-the-rock. "You are my favorite," she whispers to the most darling of a half dozen South American coatis, all charmers with mouselike snouts and the tails of raccoons. On it goes. For Zonia, the daily ritual is more than a series of salutations: "Every morning, the rain forest calls to Zonia./ Every morning, Zonia answers."
After she has finished making the rounds one day, Zonia encounters something she hasn't before: her friend the blue morpho butterfly is sitting on the trunk of one of several freshly cut trees. Zonia runs home and alerts her mother: "The forest needs help!" When her mother reminds her that the forest "is speaking to you," Zonia vows to answer it, "as I always do." "We all must answer" is the only text on a concluding two-page spread that shows Zonia standing with a protective hand on a tree, proudly defiant in traditional dress and face paint.
Zonia's Rain Forest's generous and valuable back matter includes, among other things, insight into the significance of Zonia's face paint, information about her background (she's Asháninka, the Peruvian Amazon's largest Indigenous group), and a pictorial glossary of her rain forest friends. Caldecott Honor recipient (Alma and How She Got Her Name) and Sibert Medal winner (Fry Bread: A Native American Family Story) Martinez-Neal created Zonia's art on handmade banana bark paper, which has a mottled-looking bamboo-colored surface against which dabs and swaths of well-chosen color blaze. (The art also includes a naturalistic image that's rare in picture books revolving around families with very young children: a mother nursing her baby.) Readers too young to appreciate the book as a call to environmental action will find sport in spotting the blue morpho butterfly that Martinez-Neal has introduced in each spread, nearly every illustration a tropical enchantment. --Nell Beram, freelance writer and YA author
Shelf Talker: A girl who lives in the rain forest begins each day by greeting her animal friends in this exuberant picture book crowned with an environmental message.