Sarah and Marc Galvin, owners of the Bookstore Plus in Lake Placid, N.Y., have launched Blue Line Book Exchange, which will distribute books and related products with an Adirondack focus to regional retailers. The Galvins said their new company fills the gap left by North Country Books, the publisher/distributor in Utica, N.Y., that will be closing at the end of January due in part to the Covid-19 pandemic. The closure threatened to leave small specialty publishers, authors and producers of Adirondack-themed books, maps and sideline products, without an efficient way to get their products into stores.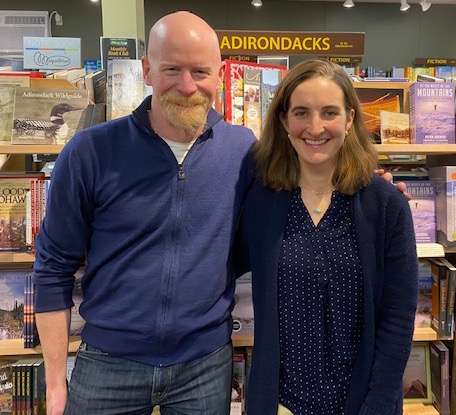 Marc and Sarah Galvin
"We knew first-hand the necessity of having a supplier of Adirondack materials for independent stores in the Adirondack Park, from museums to outdoor gear suppliers to general stores," said Sarah Galvin. "We knew this would be a great fit for us; the Bookstore Plus has been long-time customers of North Country Books."
Galvin also thanked Rob Igoe, owner of North Country Books, "for working with us to ensure a smooth transition so that we can be up and running in early 2021. We look forward to working with North Country's customers and suppliers."
The new company's mission statement reads: "At Blue Line Book Exchange, we distribute a wide range of quality Adirondack-themed books, maps, and sideline products to retail accounts, offering outstanding customer service and on-time delivery, while striving for a carbon neutral footprint in our operations."
Nick Gulli, long-time manager and buyer at the Mountaineer in Keene Valley, will be the manager of Blue Line Book Exchange, which will be located in Lake Placid. The first catalogue for retailers will be available in early February, offering a full line of Adirondack literature, including guidebooks, local history, art books, fiction and nonfiction, children's titles from board books through YA, maps, calendars, posters, note cards and more.

For more information, contact Blue Line Book Exchange at 518-637-5647 or bluelinebookexchange@gmail.com.