After a year in which Independent Bookstore Day was postponed until late August and held virtually, 2021's event seemed all the more vibrant and celebratory, with many stores reporting large crowds and eager buyers--and saying it was one of their best days for sales ever.
As Kris Kleindienst of Left Bank Books, St. Louis, Mo., posted on Facebook, "There was never not a line out the door from 10 a.m. to 6 p.m. Folks waited patiently in the rain, sincerely thanked me for their 'I visited an independent bookstore' sticker, and shopped like their lives depended on it. I know ours did. The love was extraordinary. These were people who hadn't seen the inside of our bookstore in over a year and it felt almost like a holy pilgrimage. It felt necessary and good. Like we were all waking up from a really bad dream to find out we are all ok."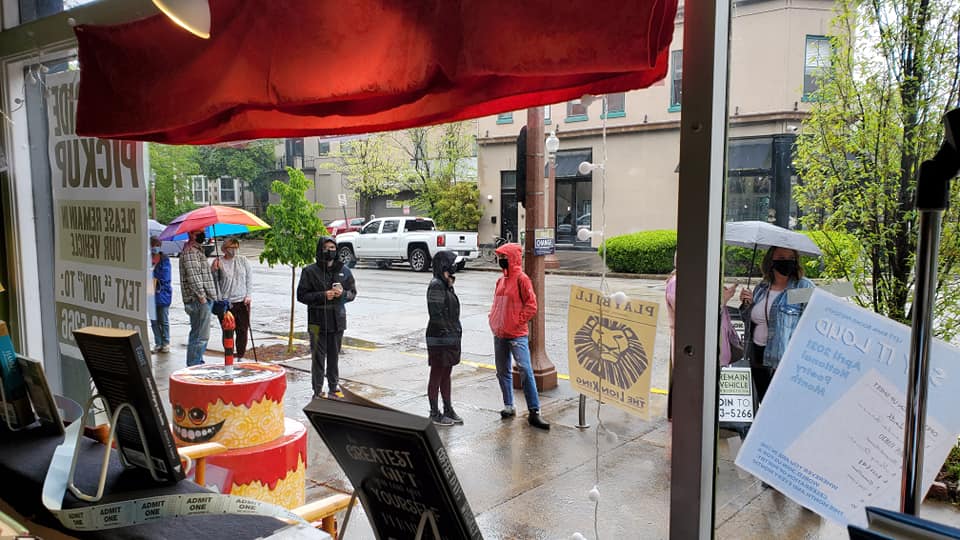 At Left Bank Books
Michael Barnard of Rakestraw Books, Danville, Calif., reported that Saturday was "a great, busy day," with "lots of engagement from customers and vocal support." Sales in the late afternoon were already up at least 30% above sales on IBD last August. It was also "the best online order day since Christmas."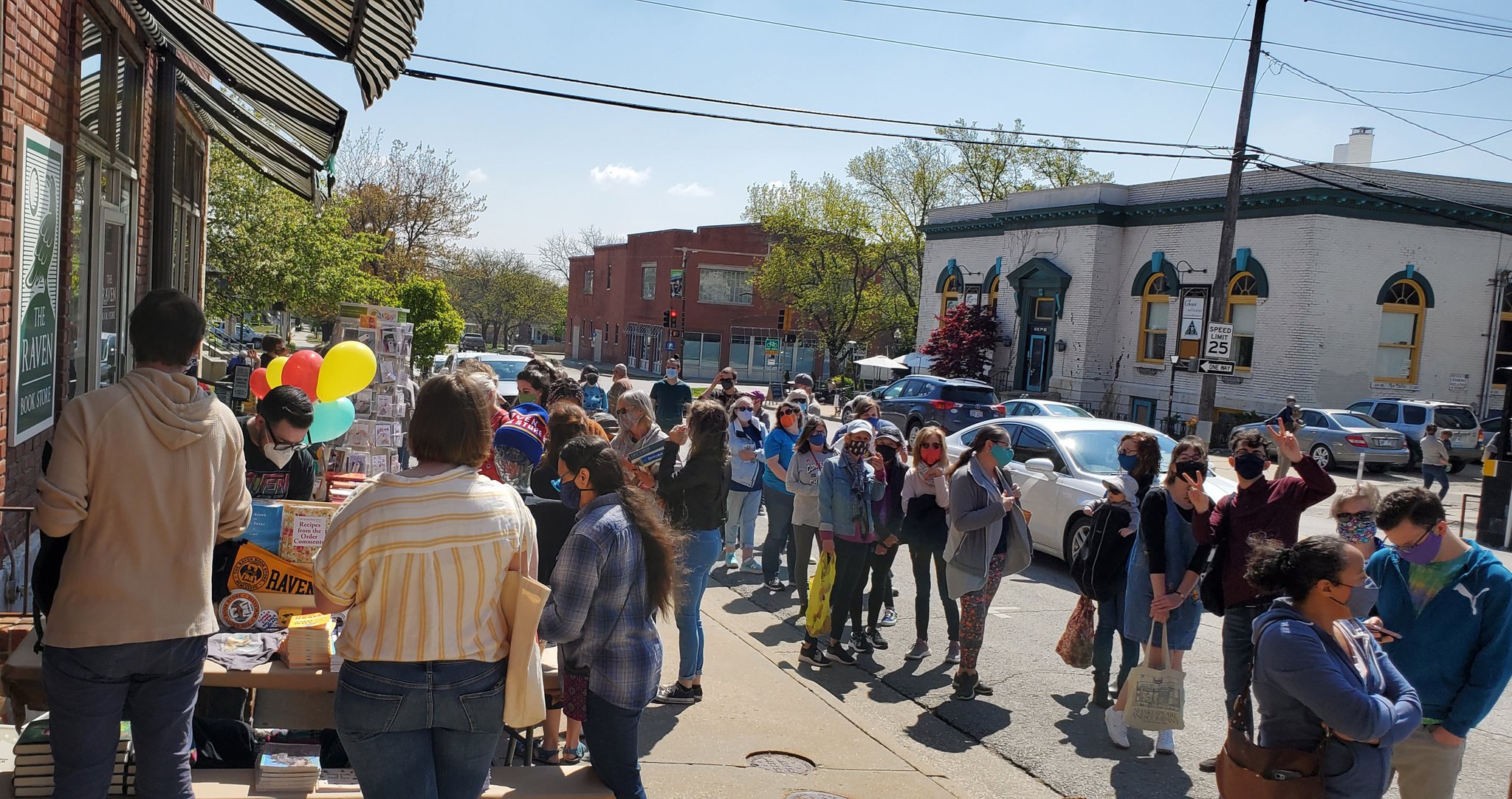 At the Raven Book Store
The Raven Book Store, Lawrence, Kan., tweeted on Saturday afternoon: "It's only 1:30 and we've already broken our all-time single-day sales record. We love you Lawrence, Kansas. Thank you for making a bookstore feel special on #IndieBookstoreDay."
At Zenith Bookstore, Duluth, Minn., "the day began with snow and cold temps, and people lined up outside the door to get in for most of the day (because of Covid we have a six-person maximum capacity)," owners Bob and Angel Dobrow wrote. "We had red, yellow, and blue balloons, cupcakes with our store's logo on them, ARC giveaways and a grand prize raffle for a wine-cheese-and-chocolate Zenith shopping spree. We are bursting with gratitude for our customers, community, and staff who made Independent Bookstore Day our second strongest sales day since opening the store almost four years ago. It was awesome."
In the Denver, Colo., area, a dozen bookstores created their first joint passport program. Britt Margit Hopkins of Second Star to the Right Books, Denver, reported that some readers made it to as many as seven stores on Saturday. At Second Star to the Right, there was "a steady stream of customers (and a line out the door), many of whom came specifically for the passport program.... We ran out of many indie exclusives and found ourselves running around the store to find more fun freebies for customers well before lunch. We also hosted virtual events all day long, kicking things off with a panel series with the For Growing Minds KidLit group, an afternoon murder mystery party for Middle Readers (with an in-store Clue component), and closing out the evening in conversation with YA authors Elaine B. Vickers and e. E. Charlton Trujillo!"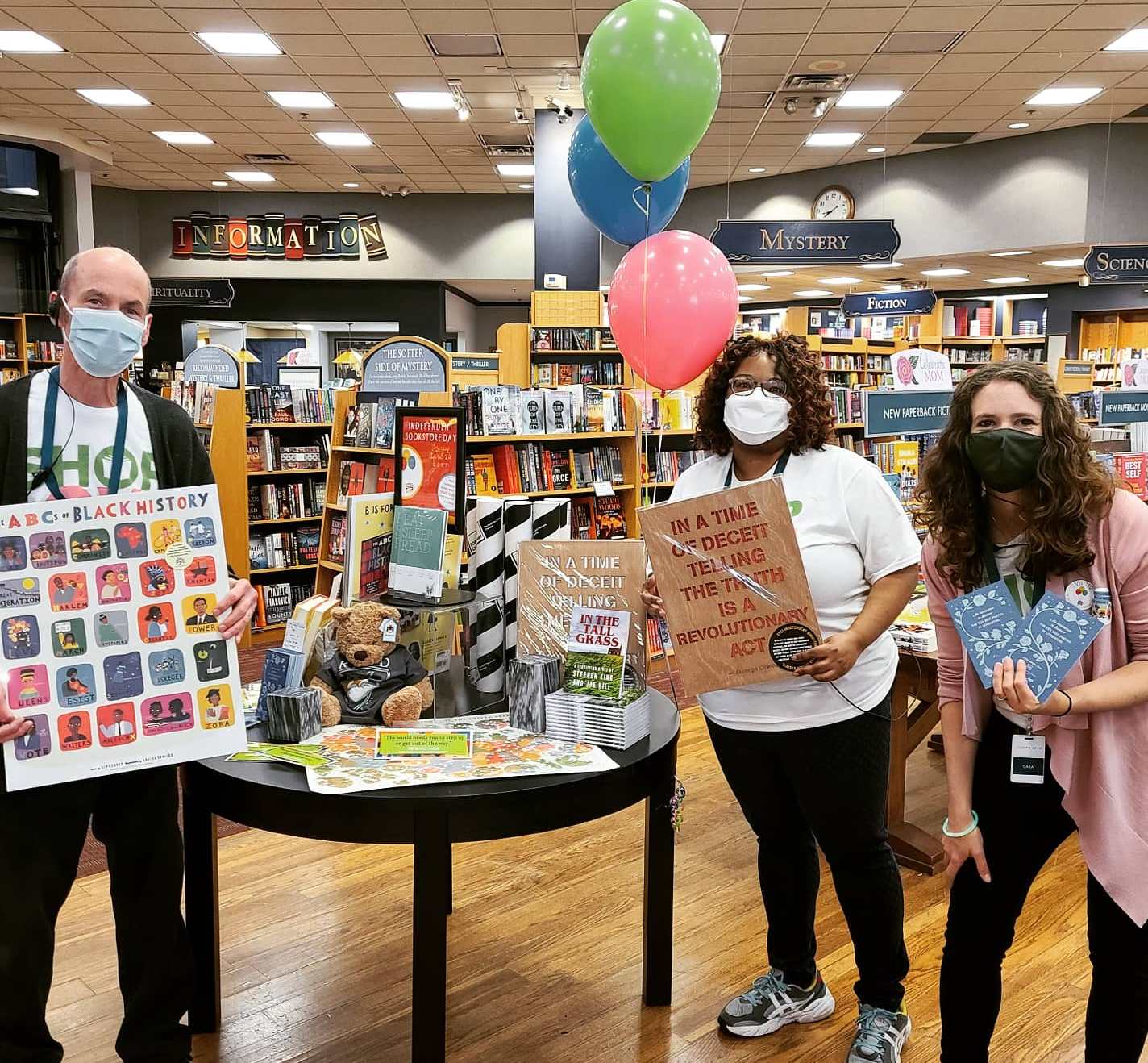 At Joseph-Beth Booksellers in Cincinnati, Ohio: Bookseller Kim Brock (center) made it a mission to "take a selfie with anyone I saw with a bookish shirt."
Some bookstores celebrated outside or with online sales. For example, MahoganyBooks, Washington, D.C., offered a 10% discount on all online purchases on Saturday, "something we've never done before." And Mystery Lovers Bookshop, Oakmont, Pa., offered $5 coupons for every $50 in purchases in store and online.
On Saturday, at Riffraff, Providence, R.I., the courtyard was open and the store provided café/bar service all day. Among the deals: everyone who bought $50 worth of books got a free mug, and all online orders of more than $50 on Saturday and Sunday came with a free tote bag and free shipping. Perhaps best of all: co-owner Tom Roberge was "making $8 negronis--his favorite drink."
Bookshop.org offered free shipping yesterday, to give readers "a second chance to support your favorite store." Founder and CEO Andy Hunter wrote to customers in part, "Local bookstores provide us so much enlightenment, community, and joy. We understand now more than ever that the small choices we make, what we buy and from whom, shape the world we live in. Let's make sure the future is filled with bookstores."
Libro.fm offered a free audiobook to anyone who spent $15 or more in a partner bookstore between April 24 and 26, a deal that many bookstores featured. As of late Sunday afternoon, Libro.fm had received requests for a free audiobook from more than 3,600 IBD customers who had spent "more than $175,000 combined on print books and other merchandise at their local bookstore," the company said.
Some bookstores took different approaches to celebrating IBD. At East Bay Booksellers, Oakland, Calif., the focus on IBD was, as owner Brad Johnson explained last week, "what we think distinguishes us as 'independent,' our booksellers. All day on April 24th, they will get a commission bonus on any purchase from their respective in-store Staff Recommendation displays or Bookseller Choice online catalogs. (Should you buy from mine, the bonus will go toward our first post-vaccine staff meal we're eagerly planning.)"
Powell's Books, Portland, Ore., celebrated in part by highlighting "fantastic books written by booksellers." They included Broken (in the Best Possible Way) by Jenny Lawson, owner of Nowhere Bookshop, San Antonio, Tex.; The Dutch House by Ann Patchett, owner of Parnassus Books, Nashville, Tenn.; All Adults Here by Emma Straub, co-owner of Books Are Magic, Brooklyn, N.Y.; and How to Resist Amazon and Why by Danny Caine, owner of the Raven Book Store, Lawrence, Kan.
In honor of IBD and with the help of its member publishers and magazines, the Community of Literary Magazines & Presses (CLMP) compiled a list of 140 indie bookstores in the U.S. and Canada that "do an especially good job carrying and supporting the work of independent literary publishers." As CLMP noted, "On #IndieBookstoreDay, CLMP members will be sharing our new roundup and giving a #BookstoreShoutOut to their favorites!"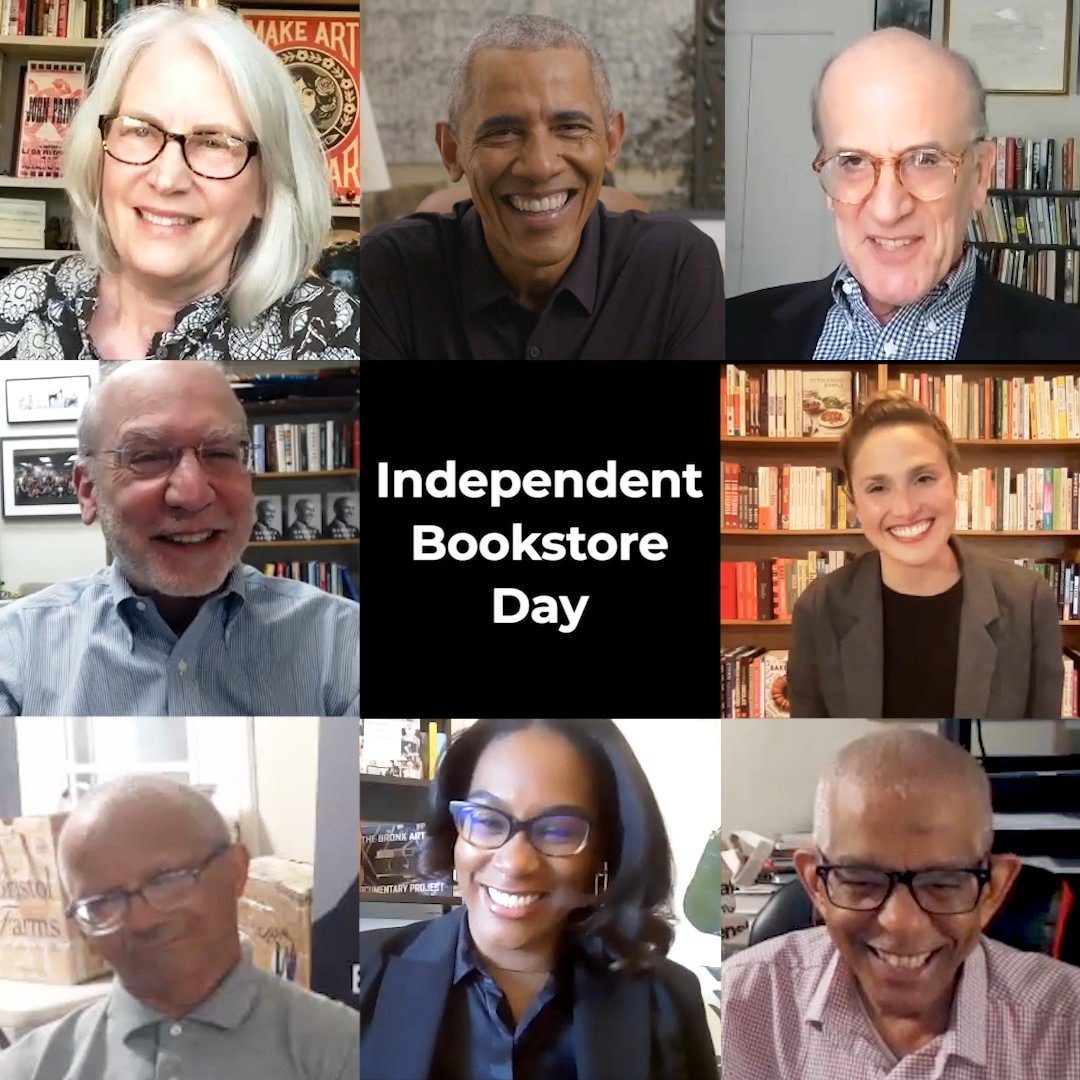 A Presidential Visit
A big highlight for six bookstores were the virtual conversations they had with former President Obama, recorded in advance and released on Friday. As he posted on Twitter: "I love wandering into independent bookstores and discovering new voices and new authors. So on Independent Bookstore Day, I wanted to talk with some of the folks who help support authors and nourish our communities."
The author of one of last year's bestselling books, A Promised Land, Obama talked with Noëlle Santos of the Lit.Bar, Bronx, N.Y. (which celebrated its second birthday on IBD), Richard Howorth of Square Books, Oxford, Miss., Brad Graham of Politics & Prose, Washington, D.C., James Fugate and Tom Hamilton of Eso Won Books, Los Angeles, Calif., Karen Hayes of Parnassus Books, Nashville, Tenn., and Hilary Gustafson of Literati, Ann Arbor, Mich.
Ranging from four to 12 minutes, the conversations touched on the president's support of independent bookstores over the years, the art and craft of writing, the joys and importance of reading and more. (We've listened to them all, and recommend them all!)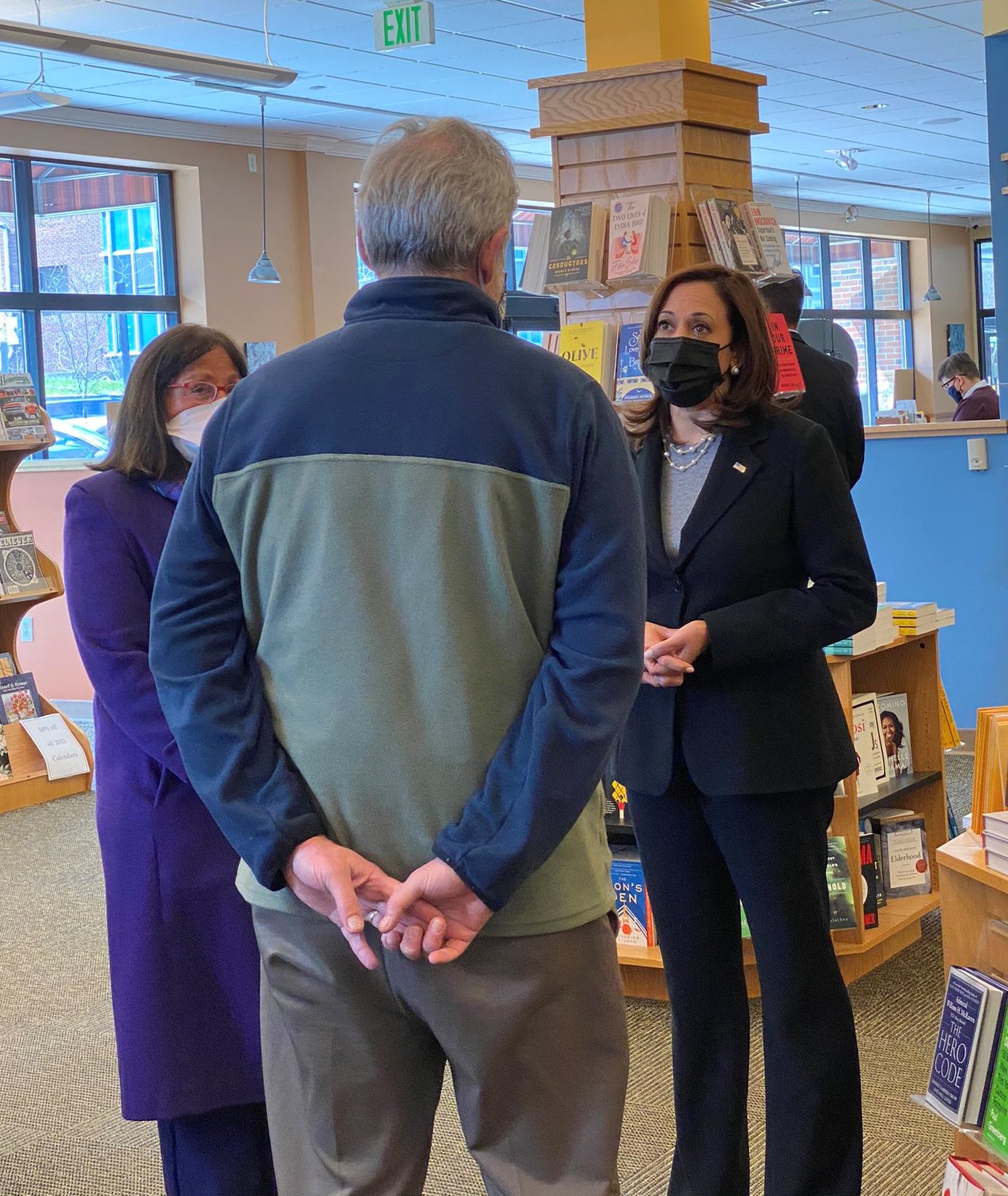 Kamala Harris talks with Gibson's Bookstore owner Michael Herrmann
A Vice Presidential Visit
On Friday, the eve of Independent Bookstore Day, Vice President Kamala Harris visited Gibson's Bookstore, Concord, N.H., while in the Granite State to promote the administration's infrastructure plan. Harris browsed the store, spent some time talking with staff and bought copies of Of Women and Salt by Gabriela Garcia and The Complete Mediterranean Cookbook. Gibson's made sure to have several copies of her book The Truths We Hold: An American Journey at the cash registers. It was the Vice President's second visit to Gibson's: she was also there in February 2019.