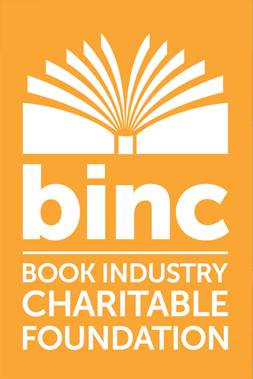 A group of 12 authors and illustrators has created a $40,000 matching pool for the Book Industry Charitable Foundation's Survive to Thrive grant program, which will provide independent bookstores and comic shops with substantial grants over the summer.
The group of authors and illustrators consists of Garth Stein (The Art of Racing in the Rain), Amor Towles (A Gentleman in Moscow), Sandra Boynton (Jungle Night), Michael Chabon (Moonglow), Anthony Doerr (All the Light We Cannot See), Gayle Forman (If I Stay), Linda Kass (Tasa's Song), Ann Patchett (The Dutch House), Chris Raschka (In the City), Charlaine Harris (the Sookie Stackhouse novels), Emma Straub (All Adults Here) and Kiki Thorpe (the Never Girl series). Stein, who is the chair of Binc's author leadership circle, led the push for the $40,000 matching pool.
"We are grateful to this stellar group of authors and illustrators for coming together to raise the visibility of the Survive to Thrive campaign, helping to get the word out among their readers and fans and for their generous donations which will double the next $40,000 in campaign contributions," said Binc executive director Pamela French. "Every gift will help us reach our campaign goal of $2 million total by June 1."
Binc launched the grant program on March 31 with initial gifts totaling $1 million from Ingram, Bookshop.org, Hachette, HarperCollins, Macmillan and Penguin Random House. The organization plans to provide grants of up to $10,000 each to as many as 200 bricks-and-mortar bookstores and comic shops throughout the U.S. Grants will be awarded based on a juried review process. Applications for the program are currently open and will be accepted until May 10 at 5 p.m. Eastern. Grants will be awarded in early June.
---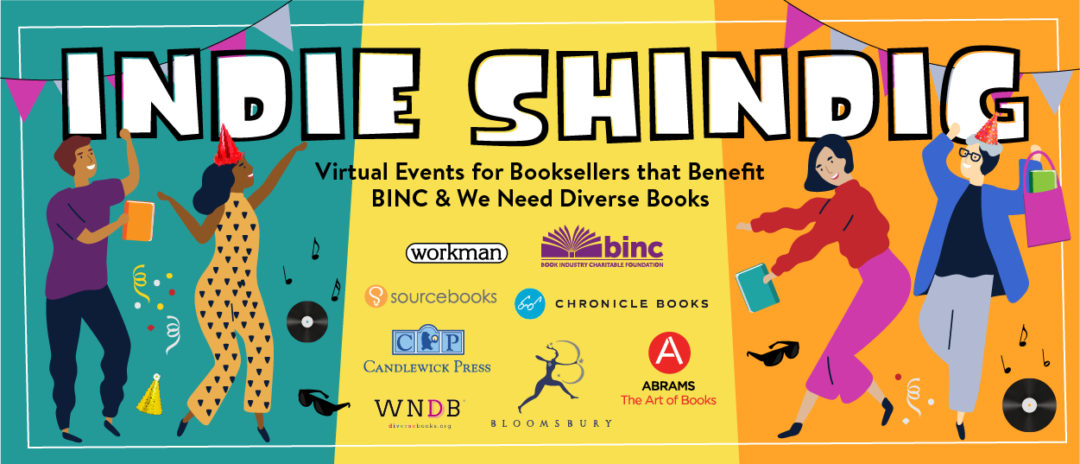 The virtual event series Indie Shindig, introduced last summer, is returning and features more programming for independent booksellers and will raise funds for Binc and We Need Diverse Books. The initiative is spearheaded by Workman Publishing in partnership with Abrams Books, Bloomsbury Publishing, Candlewick Press, Chronicle Books and Sourcebooks.
The 2021 Indie Shindig will consist of six hour-long events, on the second and fourth Mondays of each month, beginning Monday, May 10, through Monday, July 26, and starting at 4 p.m. Eastern. The participating publishers will split a donation of $20 per bookseller attendee for each event between Binc and We Need Diverse Books with a cap of $18,000 total.
Each event will have its own theme, and the structure will vary, from authors in conversation to rep picks and editors' buzz. Altogether, Indie Shindig will feature more than 130 titles from a variety of genres. The first event will feature authors Shruti Swamy, Jamise Harper, Jane Mount, Xio Axelrod, Hilma Wolitzer and Gene Kwak for an adult fiction panel moderated by Pamela Klinger-Horn of Valley Bookseller, Stillwater, Minn. Next up is an adult nonfiction panel, with Mari K. Eder, Molly Wizenberg, Trystan Reese, Emma Marris, Colin Nissan, Rowan Jacobsen and Brian A. Primack, which will be moderated by BrocheAroe Fabian of Sourcebooks and River Dog Book Co. The full schedule of events can be seen here; booksellers can sign up here.
Liz Hunter, associate director of field sales at Workman, said, "Although the outlook for in-person events has dramatically improved since we first launched Indie Shindig, it's clear that some things haven't changed: publishers need to deliver useful virtual content to booksellers and organizations like Binc and We Need Diverse Books need our financial support. In 2020, Indie Shindig raised $5,000 for Binc and brought together 163 bookstores, and I'm excited to see if we can beat those numbers with our stellar 2021 lineup of events."