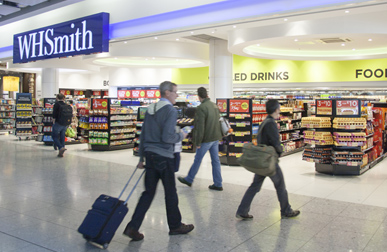 WH Smith is raising £325 million (about $452 million) in convertible bonds as it seeks to open about 100 more travel stores. The Bookseller reported that the company "has earmarked £50 million [about $70 million] from the bond funding to open new travel stores over the next three years in locations where it has already won tenders--mainly in the U.S.--alongside other growth opportunities." WH Smith reported a revenue decline of 44% in the six months up to February 2021.
Group CEO Carl Cowling said: "In travel, while many of our stores have remained closed, it is a credit to the team that we have kept up the momentum, focusing on our plan to increase average transaction value and spend per passenger while continuing to win new business. As a result, we are now operationally stronger than prior to the pandemic.
"We continue to see encouraging signs of recovery in North America and we are delighted to have won some significant tenders in the U.S. during the period. We have a strong pipeline of new store openings with circa 100 stores already won and due to open in travel over the next three years, the majority of these in North America."
---
Last week, the European & International Booksellers Federation hosted a webinar to discuss bookselling trends during the pandemic. Carol Hughes-Hallett and Hazel Kenyon from Nielsen Book International presented an overview of international book markets in 2020. Among the highlights:
Insights for upcoming year:
Important to consider: many countries are entering recessionary conditions following Covid-19 (high unemployment, lower levels of consumer confidence, and lower economic outlook predictions) which will impact consumer spending
Retailers can continue to maximize their appeal in a world where consumers take a very different approach to retail and online shopping
A larger portion of consumer spending will shift from grocery to out of home spend in sectors that have suffered, such as bars, restaurants and travel.
How booksellers can prepare:
Adapt to lower foot traffic and revamping stores accordingly, focusing on lower density locations
Deliver positive and successful user experiences to win online and offline
Stores may have needed to reduce stock due to supply chain pressures
---
Cool Swedish bookseller idea of the day: BookOracle. Posted on Facebook by the English Bookshop in Uppsala and Stockholm: "WE'RE LAUNCHING a new service--BookOracle! This is a way to let you access the in-store experience of getting real book tips from real people--without coming to the shop! You simply let us know what you like and our amazing staff will let you know what to read next. So--no algorithm--just good book wizards doing their magic!"
---
When Canadian bookseller Chris Brayshaw, owner of Pulpfiction Books in Vancouver, B.C., learned that his neighboring business, the Wallflower diner, had been denied an outdoor patio extension by the city due to major construction and parking protocols in the area, he stepped up.
Brayshaw "offered up some of his storefront space (which is technically private property) for two tables, giving the eatery a total of three dining spaces outside," Vancouver Is Awesome reported, adding: "While it may not seem like much, three tables make a big difference for a restaurant these days."
"It's good to know that they are supporting other local independent businesses. You don't know what's going to make the difference between survival and not," said Wallflower's owner Eric Neilson.
Brayshaw noted: "Hospitality businesses need much more support currently than a bustling independent bookstore does." --Robert Gray