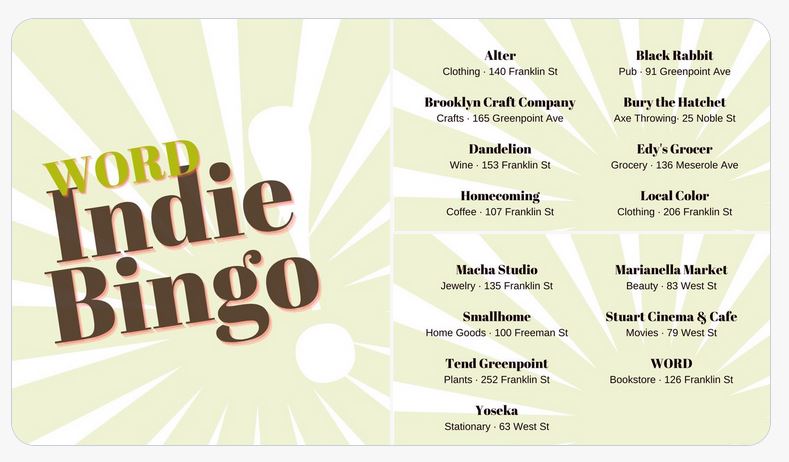 WORD Bookstore in Brooklyn, N.Y., has spearheaded a shop local bingo challenge that began on Memorial Day and will run through Labor Day.
Customers can pick up a bingo card at any of the 15 participating small businesses in Brooklyn's Greenpoint neighborhood. They can get their cards stamped or signed at the other participating businesses, and customers who return the cards to WORD with rows completed will earn prizes and be entered into a grand prize drawing. The grand prize will include plenty of gifts from the participating stores, as well as a three-month subscription to WORD's subscription service. Customers who fill every square on the bingo card, meanwhile, will have their names entered into the grand prize drawing five times.
Bookseller Mindy Chen reported that she came up with the idea during a brainstorming session on how the bookstore can get more involved in the neighborhood. Some of her colleagues had mentioned ideas such as bingo and a scavenger hunt, and she "combined those two ideas." The bingo cards list businesses to visit as well as "challenges" specific to the neighborhood or to bookselling.
Chen described the process of getting other local businesses on board as "trial and error." After coming up with an initial list of independent Greenpoint businesses, they had to scale down the final list by distance and type of business to make it manageable. After that, Chen e-mailed many of the businesses and visited some of the closer shops. She noted that the final list includes many different kinds of businesses, including boutiques, a movie theater and even an axe-throwing bar.
"The main goal is really to make the best of the summer after an extremely crazy and stressful year," Chen said. "We've seen so many of our local businesses shut down or go on hiatus during the pandemic, so we wanted to do something that would be fun and celebratory."