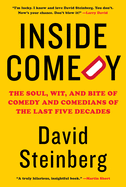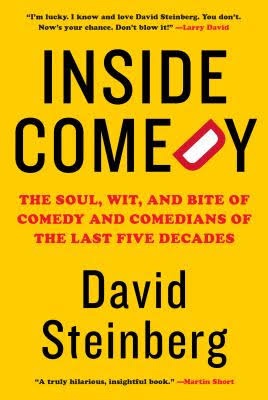 Inside Comedy: The Soul, Wit, and Bite of Comedy and Comedians of the Last Five Decades is unpolished, repetitive, digressive and occasionally braggadocious. This is arguably a felicitous approach to stand-up legend David Steinberg's splendid subject: the unpredictable, ego-driven, and literally and figuratively improvisational world of comedy in the latter half of the 20th century.
Steinberg (The Book of David), who grew up in Winnipeg in the 1940s, can offer valuable generational perspective on his chosen field: "I lived through a time when stand-up comedy was a poor relation to other forms of entertainment," he writes early on in Inside Comedy. "But I think I was one of a group of people--along with Steve Martin, Richard Pryor, George Carlin, and a few others--who pushed stand-up forward as an art form and made comedy an important part of the culture." Inside Comedy proceeds as a memoir/love letter/victory lap hybrid.
While attending the University of Chicago, Steinberg saw legendary comic Lenny Bruce perform, and it altered his destiny. Steinberg scrapped his plan to follow a religious path, although his yeshiva days would inform his comedy act. During his six years with the Chicago improv comedy group Second City, Steinberg became known for doing mock sermons that would make him a reliable comedy-club and TV fixture in the late 1960s. That these mock sermons would play a part in the 1969 cancellation of the censor-testing Smothers Brothers Comedy Hour comes across as a source of pride for Steinberg, second only to his collected 140 invitations to appear on or guest host Johnny Carson's Tonight Show.
Steinberg stayed the showbiz course--he turned to directing sitcoms in the 1980s; his name is attached to everything from The Golden Girls to Curb Your Enthusiasm--and the famous funny friends he racked up along the way, among them Julia Louis-Dreyfus, Martin Mull and Wanda Sykes, are spotlighted in the book's lengthy concluding chapter. But Inside Comedy's calling card is Steinberg's historically attuned firsthand accounts, as of the rise and fall of the Smothers Brothers, Richard Pryor's notorious onstage freak-out at a Human Rights Campaign event in 1977, and the marvel that was Carson's Tonight Show. "If you are looking for any scandalous or critical anecdotes about Johnny from me," Steinberg writes, "you are not going to get them." Fortunately for readers, he is only too happy to let Bea Arthur have it. --Nell Beram, author and freelance writer
Shelf Talker: In this engrossing look at comedy in the latter half of the 20th century, stand-up legend David Steinberg has much to say about his peers, their art, and himself.