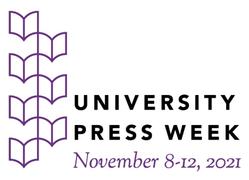 The Association of University Presses (AUPresses) has chosen "Keep UP" as the theme for the 10th annual University Press Week, which will run from Monday, November 8, through Friday, November 12.
The theme was chosen to reflect the ways university presses have worked to "explore new ways to reach readers, amplify ideas, and sustain scholarly communities while remaining steadfast in their commitment to advancing knowledge" over the past 10 years. Members of AUPresses have put together a "Keep UP Gallery" and reading list featuring books, journals, open access platforms, podcasts and more. Most of the titles on the reading list can be found on the AUPresses Bookshop.org page.
The university press community will host online celebrations of this year's theme via a blog tour, and there will be a virtual panel discussion about the strengths and challenges of university press publishing scheduled for Wednesday, November 10. Organized by Seminary Co-op in Chicago, Ill., the panel will feature author Deesha Philyaw, University of North Carolina Press publisher John Shere, bookseller Stephen Sparks (co-owner of Point Reyes Books, Point Reyes, Calif.) and Alena Jones, Seminary Co-op's director of buying and content.
"The inaugural theme of University Press Week back in 2012 was 'Contributing to an Informed Society," said AUPresses executive director Peter Berkery. "In the ten years since, the university press community has stayed true to this goal, keeping up the highest standards of scholarship and championing the power of ideas."
Lisa Bayer, director of the University of Georgia Press and AUPresses president, said: "As the world changes, so do university presses, adapting subject areas, author lists, and publishing know-how to grow into an ever more diverse, ever more global community. An informed society is as important as ever, and we are proud to honor the forward-thinking work that has made university presses leaders in their fields and a force to keep up with."
The full gallery and reading list can be found here.